A priest resigns from priesthood
Mr Miller, a well-known priest of a church in New York located on East 50th Street, has resigned from his post because he was fed up with the current and established Christian beliefs. His statements have been published in the newspapers. He says:
1. The concept of Jesus' divinity is wrong
2. There is no proof of his fatherless birth
3. The Bible is not free from error
4. Some Christian doctrines are simply baseless and fabricated
5. The war proved that Christianity has failed
We have sent relevant literature and satisfactory letters to the said priest.
Treatment of tuberculosis
After much experimentation, Dr Mattel Nico has announced that the butterfly has a substance in its body that can kill the germs of tuberculosis. Hence, he is preparing a serum that will be used to treat [tuberculosis].
Compelled to be "Hazrat"
I have a friend named Syed Muhammad Mohsin Sahib in Cuttack. When he was a student, he came to Qadian and took some lessons of translation of the Holy Quran from me and since that time, he holds me very dear to him. From time to time, he provides support through donations as much as he can.
He sent me seven shillings through a money order to express his admiration, which were received here as slightly above one dollar after conversion. He wrote my name as "Hazrat" Mufti Muhammad Sadiq on the money order. When I received it, I signed it as Muhammad Sadiq. The postmaster said that he could not give the money order unless I wrote the words "Hazrat" and "Mufti" in my signature. On this, I had to add "Hazrat Mufti" to my name to receive the money.
The people of foreign countries do not recognise the actual meanings of the words of another language. Everyone is known here by the last part of their name. People call me Mr Sadiq, Prof Sadiq or Dr Sadiq. Those who are more frank with me, call me Mr Mufti or just Mufti.
The lady from the White Island in whose house I used to live, wrote, "As I cannot memorise such a long name, I will call you Mr Muhammad." Everyone on this island knows me by the name of Mr Muhammad. Even now, "Dear Mr Muhammad" is written on the letters that are sent from that place.
Weather
On 1 January 1921, sunrise took place at 7:28 am and sunset was at 4:39 pm. The length of day is 9 hours and 11 minutes, and night spans 12 hours and 49 minutes. The current months are the coldest in this country. Temperatures sometimes drop several degrees below zero, but this year has not been as cold as it used to be in the past.
People say that in the last 40 years, they have never seen January as pleasant as it is this year in Chicago. I say that this is the grace of God on this humble one because I am not used to cold weather.
Just as there is severe cold weather over here, so are the extreme measures to protect from this cold. There is a fire place in the basement of each house and its ducts run through all the walls of the house into all the rooms which keep the whole house warm. Electric or gas heating is provided in trains and trams. All shops have reasonable heating systems. Hot and cold water is present in washrooms of every house all the time. Almost every house is powered by electricity. During daytime, electricity is used to light up most of the houses and offices.
Thank you, friends
I have come to know by reading the Al Fazl newspaper that my friends are responding very generously to my proposed magazine. May Allah the Almighty grant the best of reward to everyone. There is also a need of subscribers. Annual subscription costs will be at six rupees per magazine. Friends should pay the cost of the magazine and benefit people of this country by their subscription. These contributions should be immediately sent in advance through the department of Talif-o-Ishaat, Qadian […]
Gambling
I am praise personified for that Holy Messenger[sa] who conveyed the commandments of Allah to his people in such effective words that all shortcomings were removed in an instant. According to a newspaper, gamblers lost seven billion rupees in a year in the central country of Christian civilisation, the United States. The wise men of the country are worried as to how they can get rid of this evil from their country.
The cure is very simple; persuade everyone to accept Islam and gambling will disappear automatically. I hope they soon understand this point.
Lectures
Nowadays, two lectures are being held every Sunday. One of them is delivered in the Church of Love and the other is held in our own lecture room. After the last lecture, a gentleman stood up and said, "There was a time when we considered the people of the East to be uneducated and used to send our missionaries over there, but now we have come to know that we are spiritually blind and the East has sent a missionary for our education."
Acknowledgement of the lecture
The subject of my speech was the life of the Holy Prophetsa. A lady named Miss Hunt, who is the poet laureate of Aurora city and has authored several books, gave a short speech after the lecture. She said, "I agree with every word of this speech. Surely, it is great narrow-mindedness of Christians that they did not pay heed to the attributes of the founder of Islam."
Robbery
Incidents of theft and robbery during Christmas had increased so much that there were 40 cases every day in the city of Chicago alone.
Although the number of such incidents has declined now, 10 to 15 cases still occur on a daily basis. Banks are robbed, items are stolen from homes and people are mugged in the streets. The reason behind these incidents is said to be unemployment.
Observers opine that boys wanted to give presents to their partners on Christmas day and due to a lack of money, they started stealing and robbing. May Allah the Almighty safeguard us [from such incidents].
A priest
A young Indian named Abdul Wadood called me to his house. When I went there, by chance, a priest named Lucas was also present at his place.
During our discussion, the priest said, "Jesus has told us to worship him and this is proof that he was God."
I said to him, "Alright, if you can show me the reference of this saying of Jesus from the four Gospels, I will give you a reward of 20 dollars."
The priest immediately got up and brought the Gospels. He kept turning the pages, one after the other, for some time and finally said, "I cannot find it right now, but I will show you some other time perhaps."
I replied, "Sure, show me at another time."
It has been two weeks, but he still hasn't showed up.
A claimant of prophethood
In a lecture on 16 January 1921, a gentleman named Mr Purdle appeared. My speech was on the subject of revelation and prophethood. After the speech, the said person stood up and presented his claim before the gathering. After a few questions and answers, it was decided that next Sunday, Mr Purdle would present his claim of prophethood and I would present proof of [the claims of] the Holy Prophetsa and the Promised Messiahas. The audience will decide by themselves as to who deserves to be believed in. Hopefully, people will listen to this debate with great interest.
وَ‭ ‬مَا‭ ‬تَوۡفِيۡقِيْٓ‭ ‬اِلَّا‭ ‬بِاللّٰه‭ ‬الْعَلِيِّ‭ ‬الْعَظِيْم
"There is no power in us save through Allah, the Most High and the Great."
Humbly yours, Muhammad Sadiq, 17 January 1921
4334 Ellis Avenue, Chicago, Illinois, USA
Hazrat Maulana Abdur Rahim Nayyar's letter
Departure from England
I finally left London for Nigeria at 10 o'clock this morning. Then, I boarded a ship called Abinsi from the port of Liverpool, which links with America and West Africa. Now, I am on the way to my destination.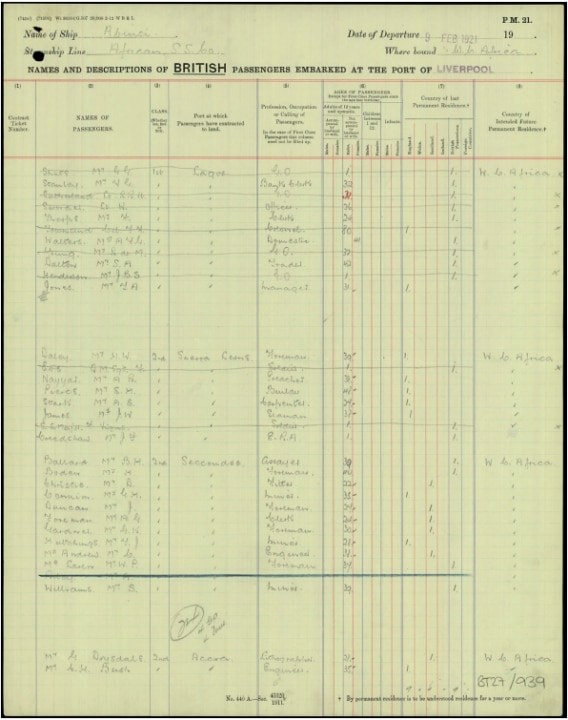 After the train arrived in Liverpool, I immediately boarded the ship. Maulvi Mubarak Ali Sahib, Babu Azizuddin Sahib and Chaudhry Maula Bakhsh Sahib came with me to the station in London. Apart from them, two newly converted British women also came to see me off. May Allah the Almighty grant the best of rewards to everyone.
They bade me farewell with great warmth and love. The new converts of England have expressed great sincerity and affection towards me and I am much obliged.
Every matter is cheerful
The farewell on my departure from London and the inaugural jalsa of the new house [markaz] was a great success. The Daily Mirror, The Daily Graphic, The Times, The Morning Post and many other newspapers published its proceedings. The Daily Mirror has published a photograph of this humble one and Chief Oluwa of Lagos, while we were shaking hands [as seen in the picture given on this page]. Ahmadi missionaries, Mr Augusto Chief of Lagos, Dr Arnold, author of the book, The Preaching of Islam, and Dr Leon are also present in this photograph. Hence, the union of the three countries, namely England, Nigeria and India, is a good omen that came about by the efforts of Ahmadiyyat.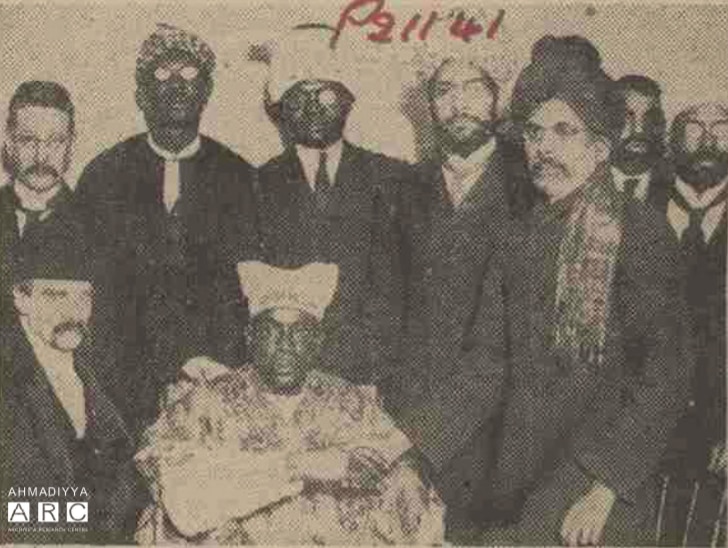 I have every comfort on the ship and thus far, I have not experienced seasickness. While I am on the ship, I have had the special opportunity to pray for friends, families of Khulafa of the Promised Messiahas, Hazrat Amirul Momineen[ra] and the Ahmadiyya Jamaat, alhamdulillah!
Tabligh has started
Some Nigerian Christians were aboard the train. I had the opportunity to convey the message of truth to them. An honourable sheikh of Tripoli is onboard the ship, along with his family. I met him and also had a little conversation with him. I will certainly get another opportunity to carry out tabligh to him, insha-Allah!
Request for prayers and postal address
I request all the friends who are associated with me by any means and who are yearning to spread the message of Ahmadiyya Jamaat, to pray for me that Allah the Almighty keeps me in good health and grants me the strength to convey the truth without any fear of reproach by a fault-finder. My current postal address is as follows:
"Ahmadi Missioner, West Africa, c/o Post Master, Salt Pond, Gold Coast"
The more my friends will inform me of their well-being and situation of the homeland, the more I will be happy and motivated to pray. That is all.
Diploma
I wrote a paper on Persian and Sanskrit being of the same origin. On the basis of that [paper], the Société [Internationale] de Philologie has given me a diploma of Phil B.
Prayer seeker, Humbly yours, Nayyar, 9 February 1921
(Translated by Al Hakam from the original Urdu in the 7 March 1921 issue of Al Fazl)