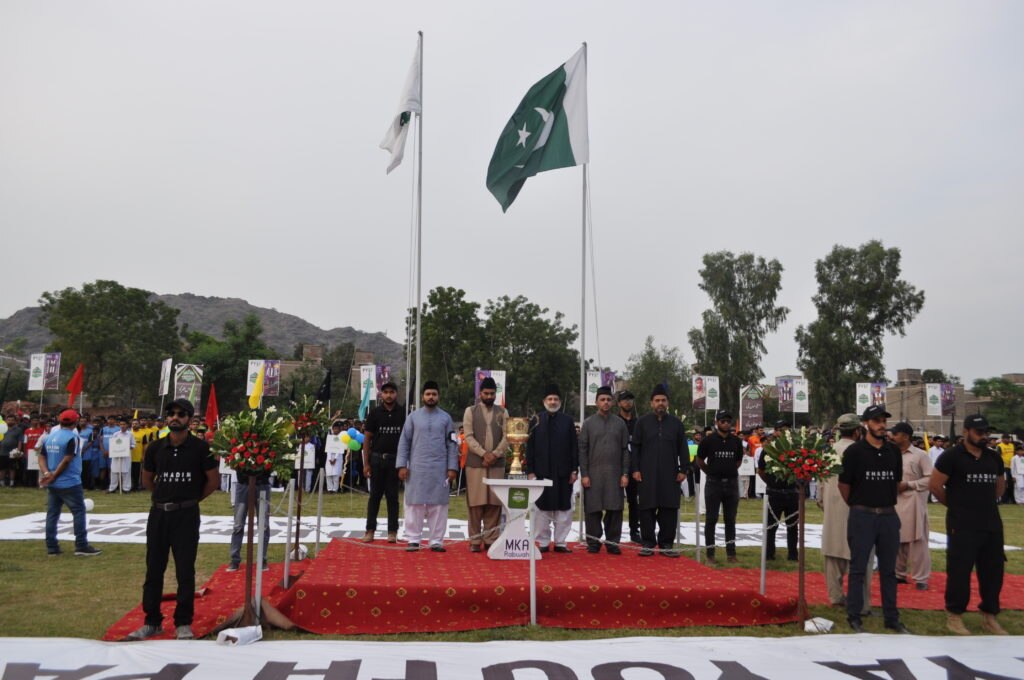 In accordance with the saying of Hazrat Musleh-e-Maudra, "Nations cannot be reformed without the reformation of its youth", Majlis Khuddam-ul-Ahmadiyya frequently arranges events for the spiritual, physical and moral upbringing of Khuddam.
MKA Pakistan Muqami Rabwah, under the supervision of Majlis Khuddam-ul-Ahmadiyya Pakistan, is currently undergoing a month-long youth festival.
The month will host a total of 52 sports events and a wide-range of competitions, comprising of marathons, swimming, javelin throw, martial arts, weightlifting, archery, badminton, table tennis, cricket, squash, rock climbing, tug of war, body building, snooker and volley ball, to name a few.
The opening ceremony of the youth festival was chaired by Syed Khalid Ahmad Shah Sahib, Nazir-e-Ala and Amir-e-Muqami. Khuddam from 72 different regions within Rabwah partook in the event and entered the ground, holding Pakistani flags in their hand.
This was followed by another march from the students who came from special education centres and demonstrated exceptional capabilities in commemoration of the ceremony.
Khuddam members of Khail-ur-Rahman club, a horse-riding club situated in Rabwah, also walked past the spectators. This parade was preceded by a group of Khuddam cyclists from a renowned club in Rabwah.
Later, the flag hoisting ceremony took place.
Khuddam then presented an anthem to demonstrate their love and devotion for the country. The official ceremony began with the recitation of the Holy Quran by Hafiz Waqas bin Raees Sahib. Following this, Sadr Sahib Majlis Khuddam-ul-Ahmadiyya Pakistan led the Khuddam pledge.
Shams Iqbal Sahib, Nazim Sports Majlis Khuddam-ul-Ahmadiyya Muqami Rabwah, presented the initial report and agenda of the festival.
In his opening address, the chairperson, Syed Khalid Ahmad Sahib emphasised on observing patience and displaying sportsman spirit. He said that the foremost duty of Khadim was to demonstrate high morals even in the face of defeat and the decision of the referee should be accepted whole-heartedly, even if one felt that it was wrong. With this, he formally inaugurated the festival.
The festival aims to instill within Khuddam a spirit of promoting a healthy lifestyle, fitness, well-being, character development and discipline.
May Allah enable Khuddam-ul-Ahmadiyya Pakistan to achieve this goal and continue to succeed under the spiritual guidance of our beloved Imam, Hazrat Khalifatul Masih Vaa.