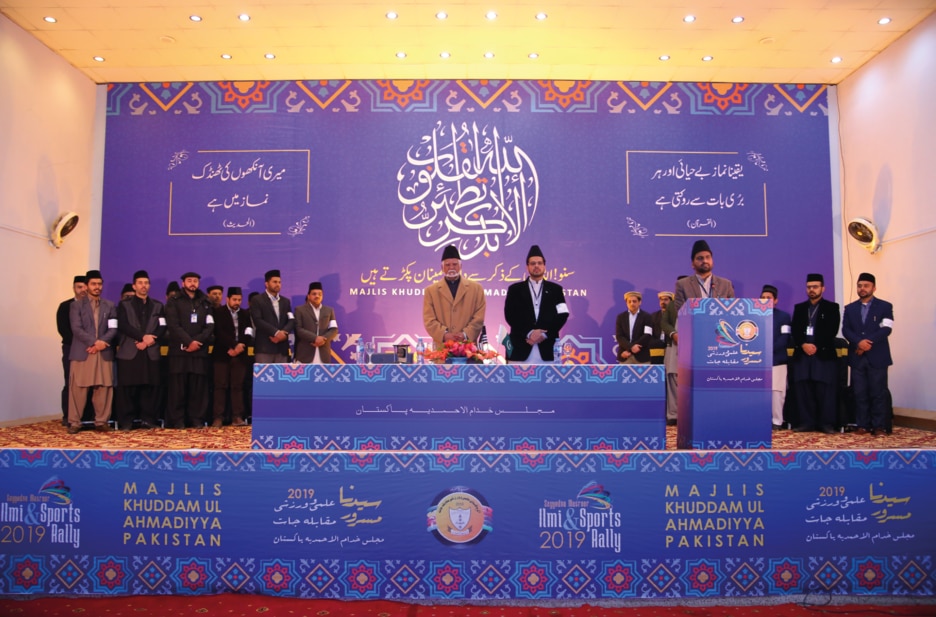 Haseeb Ahmad
MKA Pakistan
Under divine guidance, Hazrat Musleh-e-Maudra founded Majlis Khuddam-ul-Ahmadiyya, an auxiliary organisation of youth, on 4 February 1938.
Initially established in Qadian, the tenets of this organisation rest on the principles of service and sacrifice and to inculcate commitment to one's faith, country and to the whole world.
With the spread of the community, the branches of Khuddam-ul-Ahmadiyya expanded internationally. The seed sown in 1938 spread to the corners of the world and the organisation entered a new era of progress.
Today, Khuddam from all around the world partake in competitions that are held nationally as well as internationally as a means to excel and propagate good spirit of brotherhood.
To enhance the above-mentioned principles of service and sacrifice, to inculcate commitment to one's faith, to train Khuddam to become a beneficial part of the society and to enhance in them the religious, spiritual and physical qualities of Khuddam, Majlis Khuddam-ul-Ahmadiyya Pakistan organised Syedna Masroor Ilmi and Sports Muqablajat (Academic and Sports Competitions) from 15 to 17 February 2019 following the gracious approval of Hazrat Amirul Momineen, Khalifatul Masih Vaa.
The competition was inaugurated after giving out Sadaqa as instructed by Hazrat Khalifatul Masih. Likewise, Sadaqa was given on a daily basis during the competition.
An executive committee was formed under the supervision of the vice president of Majlis Khuddam-ul-Ahmadiyya Pakistan.
The opening session of this three-day event was presided by Mirza Muhammaduddin Naz Sahib, President of Sadr Anjuman Ahmadiyya Pakistan. He gave guidelines to the participants and led them in silent prayer marking the beginning of this three-day event.
In these three days, 22 academic competitions were conducted. To name a few, tilawat, nazm, Urdu and English formal and extempore speeches, observation text, memorisation of qaseeda (Arabic poem in praise of the Prophet Muhammadsa) by the Promised Messiahas, memorisation of portions of the Holy Quran, an exam on the sermons of Hazrat Khalifatul Masihaa and an assessment of the study of books.
Sports competitions included 100-metre race, 200 metres, 400 metres, 800 metres, long jump, high jump, javelin throw, football, table tennis and badminton.
Team games included football, badminton and table tennis.
403 Khuddam from 48 districts of 9 regions took part in these competitions.
The chief guest for the concluding ceremony of these competitions was Syed Khalid Ahmad Shah Sahib, Nazir-e-Ala and Amir-e-Muqami. He awarded the winners with prizes after which he addressed the gathering. The three-day Syedna Masroor Ilmi and Warzashi event successfully ended with dua.