Miscreants, along with local authorities, in Sialkot demolished a major part of a historical Ahmadiyya mosque and a neighbouring house of historical importance located in Kucha Mir Hasam Uddin in the old part of the city.
Around 30 employees of a Tehsil municipal committee escorted by police came to the Hakeem Hasam Uddin building around 10:45pm on Wednesday and began demolishing it.
In the meantime, more than 600 miscreants, chanting slogans, joined in and started demolishing the Ahmadi mosque near the building. The vandalism continued until 4:30 in the morning.
The incident caught attention on social media when pictures and videos showing a mob destroying the religious site started circulating early Thursday morning.
Another video showed a man, who is said to be a leader in a major political party, thanking the district police officer, the deputy commissioner, religious parties and teams of the town municipal administration for their support in removing minarets — "which are a symbol of Islam" — from the mosque.
"The mosque and the building vandalised by the mob possessed historical significance for the Ahmadi community and had been standing for more than a century," said Salimuddin Sahib, Nazir Umoor e Aama and the spokesperson for the Ahmadiyya Muslim Jamaat in Pakistan, in a Press Release.
The press release went on to say that the building had been "renovated a while back, after which the municipal committee sealed it."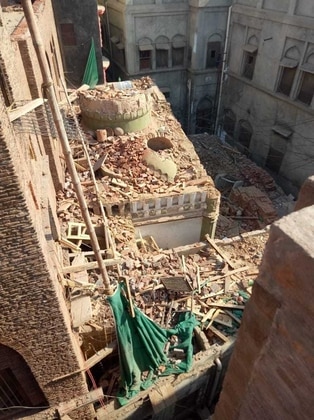 "We are seeking legal action against [the attackers]. Vandalism of buildings by the governmental administration for the mere satisfaction of extremist forces without any judicial order only goes to demonstrate the fact that the civil establishment has given up in front of elements that use religion to seek their personal and organisational interests," it was regretfully stated.
The local authorities, however, insisted that the building was demolished because it was an "illegal construction".
Mayor of Sialkot, Chaudhary Tauheed Akhtar, talking to a private news channel in Pakistan, stated that members of the Ahmadiyya Community were constructing a building without having an approved design. The administration received complaints about the illegal construction and subsequently sealed the building, he added.
According to the Mayor, the illegal construction continued in violation of rules and the corporation, therefore took action and demolished the building.
It will be interesting for our readers to note that the local authorities have absolutely no evidence to support the illegality of the building while the Ahmadiyya Muslim Jamaat in Pakistan have documentary evidence to prove otherwise.
Our readers are also requested to make a note that the miscreants – claiming to be the custodians of Islam – chose the month of Ramadan for this act of violence, cruelty and demonstration of sectarian hatred. The Jamaat, as always, decided not to retaliate. Who follows the practice of the Holy Prophetsa of Islam? We leave it for you to decide.