Syed Shamshad Nasir, Missionary, USA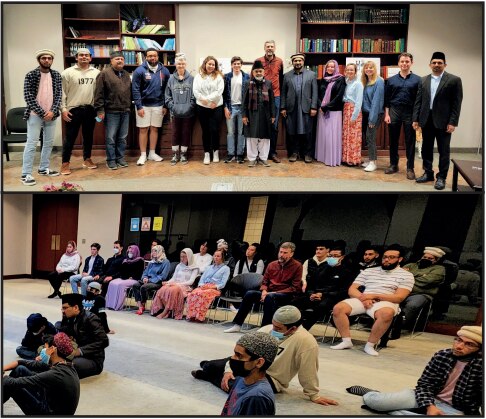 On 13 April 2022, Dr Keith Huey of the Rochester University and 20 students visited the Mahmood Mosque to join the daily Ramadan dars (religious lecture).
The purpose of this visit was to introduce the students to Islam Ahmadiyyat, the Holy month of Ramadan and Islamic teachings.
The local president, Maqbool Tahir Sahib welcomed the guests. Muhammad Ahmad Sahib, secretary tabligh, Jamaat-e-Ahmadiyya Detroit provided a basic introduction of Islam Ahmadiyyat and the mosque facility to the guests just before the Asr prayer.
The formal programme started with Asr prayer in congregation where students observed the members pray. After the prayer, I welcomed Professor Keith and the students and said:
"Since this is your first time here, we hope that your visit to the Ahmadiyya Muslim Community's mosque is beneficial and you may learn something new about Islam and the Ahmadiyya Muslim Community."
I then started the regular daily dars, on the basic Islamic teachings.
In the end, students were allowed to ask questions. Students asked interesting questions on a varied set of topics that included Islam, Ahmadiyyat, Ramadan and the Holy Ka'bah.