Kashif Virk, Missionary, Sweden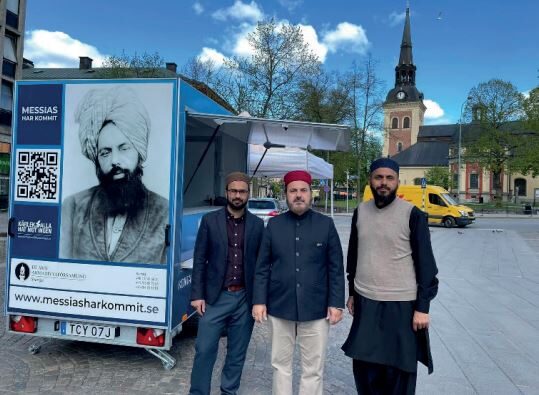 Recently, copies of the Holy Quran were burnt in Sweden, causing violent riots in suburban cities. These tragic events resulted in a very heated debate about immigration, freedom of speech and whether or not Islamic values are compatible with the Swedish society.
On the one hand, staunch defenders of freedom of speech propagated this right as non-negotiable and absolute, on the other hand, Muslims and other minorities felt that this right is being abused to express racist and hateful sentiments towards them.
In the wake of this, three Ahmadi missionaries in Sweden, Agha Yahya Khan Sahib, Rizwan Ahmad Afzal Sahib, and myself embarked on a five-day tour specifically targeting on the cities where these events unfolded. These were the cities of Borås, Jönköping, Linköping and Norrköping. In addition, Södertälje was also visited and thus the major cities situated along the highway between Stockholm and Gothenburg were covered.
Permission was sought from the local police and municipality to erect a tent and the newly designed caravan. This caravan is adorned by the picture of the Promised Messiahas, a QR code, as well as the hashtags #FrågaEnMuslim (#AskAMuslim), and #MessiasHarKommit (#MessiahHasCome). On the backside is written "Islam in Media" along negative headlines published over the years which are normally featured when writing about Islam. The caravan was thus very inviting and prompted many to come forward to discuss or take a picture.
The campaign was very much appreciated by the public and considered as an apt response to the tragic events of the past weeks. Many visitors expressed their appreciation.
By the grace of Allah the Almighty, the media coverage was extensive during the course of the tour. Radio, TV and press visited the stall in all of the five cities. The largest Arabic news outlet in Sweden also published an interview. In total, the campaign was covered in 20 different news items, and was also shared widely on their social media.