Al Fazl, 6 January 1921
On 27 December 1920, Hazrat Mirza Bashiruddin Mahmud Ahmad, Khalifatul Masih IIra, came to the stage in the second session of Jalsa Salana Qadian and said:
"Before I start my speech, I want to say that a gentleman will recite one of my poems to you. In this poem, those youth of the Jamaat are addressed and given some advice who have not yet reached the stage where they can bear the burden of work of the Jamaat. However, they are expected to carry out the works of the Jamaat in the future.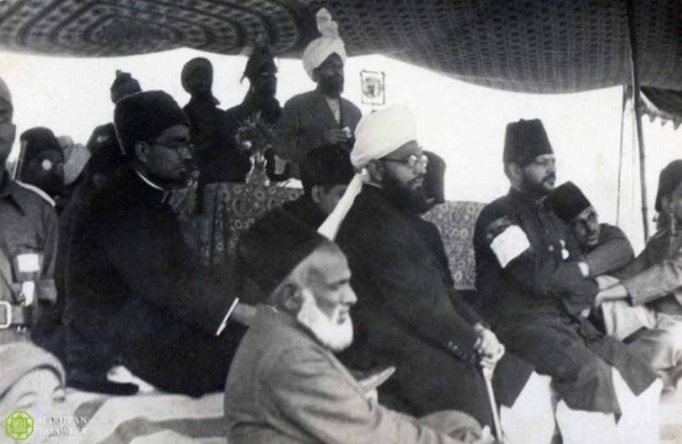 "Moreover, this [poem] is also addressed to those whose have left the age of youth, but as they have recently joined the Jamaat, they are also our youngsters. Hence, my poem is addressed to the youth who have not yet taken on the burden of the Jamaat's work and will be entrusted with responsibilities in the future and also those who are new converts.
"All the advice I have given in this poem is essential and it was in my mind at the time of writing. I wanted this poem to be widely published and circulated. This work was undertaken by Mir Qasim Ali Sahib and he has got it printed in a very high quality which can be distributed among others and can be hung in houses. I have also written notes on this poem which are present on its margins. In order to never lose its sight, members of the Jamaat should put it in frames and hang it on the walls."
After this short speech, Master Muhammad Shafi Sahib Aslam recited the said poem of Hazrat Khalifatul Masih II[ra]. [The name of the poem is لوح الھدیٰ (Lauh-ul-Huda: Tablet of Guidance) and its first couplet is:
نونہالانِ جماعت مجھے کچھ کہنا ہے
پر ہے یہ شرط کہ ضائع میرا پیغام نہ ہو
[To the youth of the Jamaat, I wish to say a few things. But there is one condition: my message must not go unheeded.]
The couplets of the poem created such an emotional effect that tears flowed from the eyes of most of the companions and some of them even started weeping.
Hazrat Khalifatul Masih II[ra] stood up after the poem for his speech. After reciting Tashahud, Ta'awuz, Surah al-Fatihah and [verses 191 to 196] of Surah Al-e-Imran, he said [the following about the progress of the Jamaat in the year 1920]…:
Ahmadiyya Mosque, London
"First of all, Allah the Almighty, by His grace, helped our Jamaat make arrangements to build a mosque in London. The centre of Christianity is London as compared to Rome. Roman Catholics live in Rome and Protestants reside in London. Roman Catholics are not as passionate about preaching as Protestants and Christianity is but dead. However, the people of England are still trying to help this corpse move.
"The work of the mosque in London was a huge task. People were surprised but God instilled in our Jamaat the strength to do it. The idea of a mosque came to my mind only a week after last year's Jalsa. At first, we thought of taking a loan, but in the end, the requirements were fulfilled and a large sum of money was collected in chanda [donations] and an overwhelming enthusiasm was witnessed in our Jamaat.
"Non-Ahmadis consider Khilafat to be everything, but 600 students of one of their colleges could not present even 2,000 rupees. On the other hand, our 70 students of the same college gave 2,000 rupees [in chanda].
"The land has now been purchased in London. It is in the neighbourhood of merchants and there is also a house in it. By the grace of God, it has been bought at a low-cost and it covers a vast area.
Missionary in America
"The second work that was done this year is the American mission. The American government stopped Mufti Sahib because he was a follower of a religion in which polygamy is allowed. The Muslims of out region were very happy to hear this. However, when I went to Sialkot in those days, I stated in my speech that we would definitely enter America because the American government had come face to face with the divine government and the divine government would surely succeed.
"Hence, Mufti Sahib entered that place by the grace of God. Thus far, 34 people have joined the Ahmadiyya Jamaat. Moreover, Mufti Sahib recently wrote asking permission for a second nikah as he states that the law has somewhat relaxed [regarding polygamy].
"In a previous year, I mentioned that I saw the Promised Messiahas in a vision with respect to this country that he came quickly and said, 'I have lived in America for five years and now I am going to Bukhara.'
"Our mission has been established in America and, insha-Allah, it will be established in Bukhara as well. The divine visions of the Promised Messiahas also testify that Ahmadiyyat will soon spread there. The sceptre of Russia has been taken. Now, what remains is to kill the lion with the bow and arrow of the Amir of Bukhara.
Tabligh of Ahmadiyyat
"Along with the [above mentioned] good news comes the sad news that though Jamaat-e-Ahmadiyya donated sincerely, offered great sacrifices and great work was done in order to build a mosque in London, on the other hand, there was less progress in tabligh this year and fewer people entered the Jamaat as compared to previous years.
"This is a debt on you and you should pay it. For the future, it is suggested that just as the budget of chanda is distributed district-wise to be fulfilled and then an announcement is made in the Jalsa about the amounts of donations that come from various Anjumans, something similar should be done with respect to tabligh.
"Every Jamaat should be told a figure that they should endeavour to convert at least this many people to Ahmadiyyat in a year and nazir talif-o-ishaat [central publications and propagation directorate] should announce at Jalsa Salana as to how many people have converted to Ahmadiyyat through the efforts of such and such Jamaat.
"However, the shortfall of the last year is a debt on your heads and even more than the debt, I would call it a penalty. Thus, try to pay it next year.
"During the formation of nazarats as departments of the Jamaat, I had suggested we should do the same as was done in the time of the rightly guided Khulafa that each jamaat used to have their own amir [head].
"As an experiment, an amir was appointed in two jamaats, i.e. Khan Sahib Munshi Farzand Ali Sahib of Ferozepur Jamaat and Chaudhry Zafarullah Khan Sahib of Lahore Jamaat were appointed as their amirs. The condition of these jamaats is much better now, so I do not order but recommend all jamaats to do the same and inform us by suggesting a person whom they like to be their amir.
Newspapers of Ahmadiyya Jamaat
"Now, I would like to say something about the Jamaat's newspapers and magazines. I had drawn attention towards them last year, which proved beneficial for The Review of Religions, Al Fazl and Tashheez, but apart from them, less attention has been paid to Akhbar Faruq, Al Hakam and [Akhbar] Nur. Their subscribers are very few.
"One of the qualities of Al Hakam is that it preserves the history of the Jamaat and breathes life into [members of] the Jamaat and even Al Fazl does not possess this attribute. However, Al Hakam does not seem as good as it was before and there are mistakes also, but the reason is that its current editor is a novice and inexperienced. Anyhow, good work is still in progress.
"The articles of [Akhbar] Nur are also useful and through them, the door to tabligh has opened in the Sikhs. This [work] is the continuation of the mission of the Promised Messiahas which was established through [his book], Satt Bachan, to convince the Sikhs that Baba Nanak was a Muslim. [Akhbar] Nur has had considerable success in this endeavor as many Sikhs are drawing near to joining Islam.
"Then, I also call the attention of our friends to [Akhbar] Faruq, but where I draw the attention of our friends towards these newspapers, I would also like to ask the teams of newspapers to pay special attention and put in their efforts in every aspect and divide their work.
Books
"I have noticed that a spirit of trade has taken hold of the book sellers. Therefore, I need not make any special recommendations regarding them. However, I would surely say to those people who are scholars and have the ability to write and publish that they should pay attention to writing and publishing beneficial works …