The Moslem Sunrise, October 1921
Hazrat Mufti Muhammad Sadiqra (1872-1957)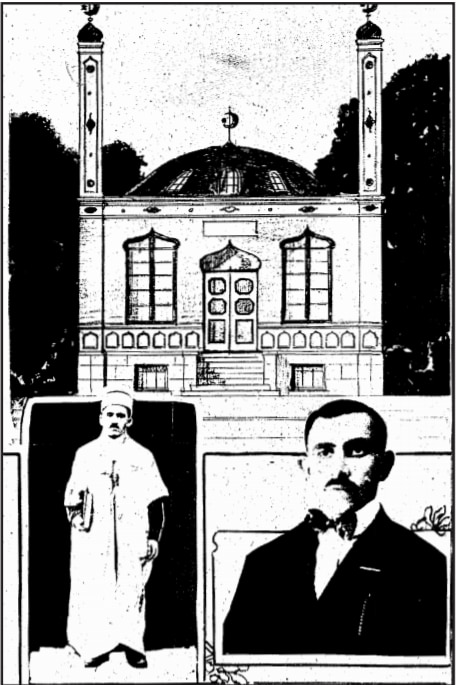 [First American Ahmadi Muslim]
Mr Ahmad FL Anderson, the first American Ahmadi Moslem. [He] first corresponded with me in the year 1901 and joined our faith. He is in the First Scientific Station, New York City, [America]. […]
[First Ahmadiyya Mosque in America]
On the opposite page is a sketch of the Mosque (Muhammadan Church) built by Mr Muhammad Karroub (whose photo is on the right) in Highland Park, Detroit, at the cost of $55,000. Mr Hussain Karroub, in Arabian dress, who is shown on the left will be the imam (pastor) of this Mosque.
Karroubs are three brothers here, the name of the third being Mr Osman Karroub Ahmadi. They come from respectable family from Mjdal Angar, in Syria, and are now American citizens. Mr Muhammad Karroub conducts a Real Estate Business and owns several apartment houses in Highland Park and Detroit.
A word on the Moslem art
How precious are the creations of Moslem art. European amateur nowadays outbid each other in golden offers for its vestiges, hoping through them to introduce into their homes a few gleams of the mirages that inspired their authors. Radiant, stained glass, variegated glassware, stuffs worked with gold or silver wire, sparkling silk, damaskeened, inlaid bronzes, exquisite miniatures in the dwellings of the West, do they not all sing the glory of Islam?
Among these treasures, connoisseurs already begin to prefer those of calligraphy which animates the transcription of the divine verses by the delicate coloring of copies of the Quran, or of thick enamel of earthware. By so doing, the buyers of Europe follow the example of Mussalman princes of the best epoch, who, to possess a page of a celebrated artist, lavished madly as much money as is given in our time for masterpieces of painters. May not these sacred inscriptions, causing their new possessors to be thrilled with admiration by reason of the refined elegance of their form, reveal one day to their purchasers the sublime beauty of the Islamic soul lurking in these writings? (The Life of Mohammad[sa] – The Paris Club, Paris.)
I and my love
Some couplets from the great teacher Ahmad's[as] poems rendered into English verse by Dr MM Sadiq and Lady Mary Amelia Hunt, the Aurora Poet-Laureate:
1
I am the water, which came
From Heavens in time;
I am the light of God which has made
The Daylight shine.
2
That friend of mine is hidden in me–
Hidden from head to feet;
O evil-wisher be careful
In attacking me when we meet.
3
My heart is the Throne of the Lord.
My nearness to Him has so increased that He
And I are now welded together;
O! that friend has come down in me.
4
No way is nearer and shorter
Than the path of Love–which is my aim
The Salik–the spiritual Pilgrim–
Crosses thousands of prickly deserts in its name.
5
Love is the only way of getting to Him.
Learn the secret, O companions of mine;
This is the Alchemy of unlimited gold,
A Treasure that will never come to decline.
(Transcribed by Al Hakam from the original in The Moslem Sunrise, October 1921)