The Review of Religions [English], June, July & August 1922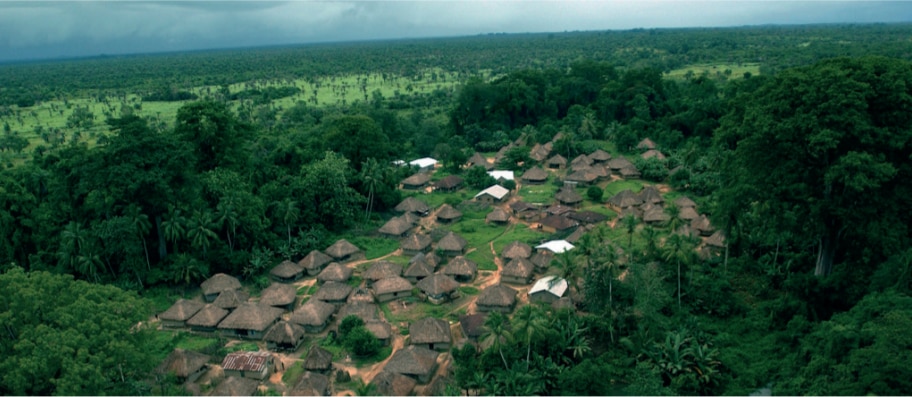 West Africa
Brother Nayyar made up his mind to make a last tour of the Gold Coast Colony. Travelling by a motor car he reached Cape Coast, the educational centre, in one hour and a half. The road to Seccondi being closed he had to wait for a special car, and to best utilise his time he stopped there to deliver the message of the Promised Messiah[as] to the people of Cape Coast, ninety-nine percent of whom are professed Christians. It was noon and the schools and colleges were closing for the rest of the day, while the teachers and the taught were flocking out of their institutions to go home for their day's rest. Our brother deeming it a good opportunity took up his position in a square close by and began preaching gathering a goodly number of intelligent professors and students. Hardly had he done with the brief but intelligent interpellations than somebody cried out "Master, car for Seccondi." Urgency of call at other places left no alternative but to start on the onward journey, although from our brother's point of view justice was hardly done to the need of Cape Coast town which is a flourishing town of considerable size and at the same time centre of Christian learning and propaganda.
However, the die was cast, and our brother set out on his onward journey passing through Elmina where he stopped for a short time and addressed the people on the new message under the walls of the grand old Dutch castle which is still proudly raising its head. A few of the Hausa Mussalmans that are to be found here and there have set a very bad example and are a disgrace to Islam. Anyway, leaving Elmina our brother reached Seccondi in the afternoon and put up at the 'Wonderful Store' of Messrs Mitha Ram and Brothers. Our brother went round the whole city and delivered his lectures in the public park and various other squares. These lectures covered the extensive fields of comparison between Islam and Christianity, Muhammad[sa] in the Bible, the death of Jesus, and special addresses to the Hausa and Yoruba peoples. Moreover, our brother gave private and public interviews to many seekers after truth and devoted most of his time in discussing with Christian gentlemen of light and learning the various religious problems that are agitating the minds of the people. As a matter of fact, he had to make so much speechmaking that at last he began to suffer from the clergyman's sore throat. Ten men entered into the fold of Ahmad[as] and an Ahmadiyya association was formed.
Nine miles from Seccondi on the sea coast is situated the village of Abdani peopled by Moslem Africans who are all engaged in trade and commerce. A Fante Moslem, Omar by name, who became an Ahmadi sometimes back, had informed these people of our brother's landing and his peregrinations for the propagation of faith in those parts of Africa. These people are very skeptical about mere hearsay; hence they deputed two of them to see for themselves and if the rumour as they said should turn out to be a fact, they were to invite our brother who seized upon this news with great avidity and set out for the latter place doing most of the journey on foot. Here he delivered two lectures and answered their interrogatories; at the same time, he invited them to take part in the Saltpond conference.
Kumasi
In the last Ashanti War of 1904, Kumasi was the centre of a great carnage and bloodshed, yet the English armies occupied it and now it is a thriving town of considerable importance. It is some 162 miles away from Seccondi with which it is connected by means of a railway line. Propaganda [tabligh] work carried our brother even there. Though the town is still under military administration, yet special permission was obtained for addressing open-air meetings and the services of a constable were requisitioned to serve as an interpreter. At first an extended round was under-taken to see each and every chief who had served with the late king that had fought against the English. Our brother called on all of them individually at their houses and delivered the message of truth, and then in two public lectures he conveyed the same message of peace and good-will to all and sundry alike. The first meeting he addressed [was] at the house of a wealthy Moslem gentleman of the Hausa tribe where he addressed the Moslems who had assembled together to hear our brother speak of the message of God. Here he was assisted by three interpreters, a Hausa, an Angra and a Yoruba. The second meeting he addressed at a place where stood the former palace of the Kings of Kumasi and here he was assisted by an Ashanti interpreter. Praise be to God who enabled our brother to pull through this arduous work and attended his efforts with success. One of the great Ashanti chiefs through the grace of God had his eyes opened to the noble and shining face of Islam and has been renamed Farooq. Owing to political expediency, however, this our new brother does not deem it fit at present to make an open declaration of Islam, but the time is not far distant when this land will reecho to the sounds of Allah-o-Akbar (Allah is Great).
At Kumasi, brother Nayyar met with a party of Moroccans and the Sudanese, some of whom seemed to be well versed in the Quran and the sayings of the Prophet[sa]. He lost no time in preaching to them and incidentally he gave them much illuminating information on the vexed question of dabatual arz (the insect of the earth) referred to in the Holy Quran, solar and lunar eclipses spoken of in the traditions, the overshadowing of the earth by Gog and Magog and the Dajjal or the Antichrist. Touching on the question of the death of Jesus he acquainted them with the truth of the Mission of the Promised Messiah[as]. These people all speak Arabic, and only an Arabic knowing preacher can preach with any success in all those outlying territories where these people live. One can do without English but not without Arabic if he is to achieve any success in these Arabic speaking Mussalmans.
The Amir of Nigeria
The Amir is an enlightened gentleman. He had been to Mecca for the Haj ceremony and had returned by [SS Appam]. Our brother went to see him on deck before he could land. Before meeting our missionary brother at Seccondi, this nobleman had met brother FM Sayyal while he was in London. On his return home he was accompanied by Mr [Mathed] who is the British resident in one of the States of Northern Nigeria. Mr [Mathed] very graciously condescended to act as our brother's interpreter and thus he had the opportunity to talk to the Amir for about half an hour. On parting, brother Nayyar presented him with copies of English translation of Holy Quran Part I, Teachings of Islam and the pamphlet Al Masih ul Maood which were gladly accepted. The Amir invited our brother to his own part of the country.
The extent of the consolidation work our brother has had to do is easily realisable from the fact that the West African Ahmadiyya community has been divided up into four districts, every district has got its Library, Reading Room, Ahmadiyya School, propagation, conservation and Financial departments.
That our brother and his work are much appreciated not only by the natives but also by the English community can be learnt from the following incident:
Brother Nayyar dreads the sea and therefore the very sight of blue waters makes him sea-sick. He was leaving Saltpond for Accra to take part in the Ahmadiyya conference. The boat that was to take him to the coasting vessel SS "Sir George" had to take him through flying spray and heaving waters which rendered him unconscious. But the crew of the ship recognising our brother from his green head gear at once hauled him up and the Captain and Mr Benwarden (Engineer), Saltpond, and other English passengers and high officers treated him very kindly. The Captain, Mr Johnson, had Kheer (rice cooked in milk) prepared for him and he sat by and saw to our brother's taking it in his presence.
At Accra, our brother passed very busy days. In connection with the reopening question of the Accra Mosque which was before the Gold Coast Government our brother interviewed all the leading Mussalmans. It is to be hoped that the Mosque will be reopened to the Muslim public for worship in the near future. In this connection our brother had to see the Deputy Inspector General Police, the Director of Public Instruction, the District Commissioner and other Civil authorities who all received him very kindly. The Indian Colony of Aura is deserving of our community's deep thanks in that they again sumptuously and generously entertained our brother.
It was at Accra that our brother entertained all the leading Moslems to a party whereat he laid the claims and teachings of the Promised Messiah[as] before them all. He read to them a few portions from an Arabic work of the founder of our movement. When he had finished reading, Imam Ahmad Fota, who is the inhabitant of Senegal and who is the instructor of Tajania Movement and who is moreover a great Moslem theologian, made an open and public declaration of his faith before the whole assembly.
A Syrian who had become a convert to Christianity made a solemn retraction and reentered the fold of Islam. It was at this time that the Chief A'la who is the head of the 3rd Circle [i.e. Senya, Gold Coast] and who had happened to be at Accra came to see our brother who was under the impression that the Chief A'la was a solitary member of our community in that part of the country and whom our brother had only counted as one soul, but it now transpired that he was not alone. He had at least a thousand souls with him and therefore this addition brings our community to between five and six thousand souls in Gold Coast alone.
Before our brother left Accra, he waited on His Excellency the Governor of Gold Coast whom he presented a copy of "A Present to the Prince of Wales." His Excellency very graciously introduced our brother to Her Excellency. That His Excellency's reception of our brother was most friendly and courteous may be gauged from the remark which he humourously dropped during the conversation. He said, "Do you want to convert me?" To which our brother replied, "Yes, Sir."
The climate of Western Africa has been proving greatly trying for our brother whose health has always been indifferent. The English residents generally go home for a six months' change of air, after every 12 months and the Indian Colony that has no such outings generally suffers from the unhealthy climate.
On his return to Nigeria, brother Nayyar suffered from a malignant fever which reduced him to a mere skeleton and the doctor in attendance had to pronounce that his case was "very near death." But thank God he recovered and in spite of the medical advice he is clinging to his post.
His success has its counter-vailing difficulties too. Some of the Indian opponents of our movement have begun to poison the ears of the West Africans against our people while some evil-minded irreligious folk have taken up their cause, and they have begun to incite the people against the Ahmadis whom they still reverently style as the "Observers of Prayers and the forbidders of drink, dance and idolatry." Herein the priestly class is again in evidence, since their occupation of fleecing the credulous on trifling matters is gone. Some of the Christian preachers availing themselves of our brother's absence from Gold Coast have begun preaching against Islam. And to all this may be added the trade depression and the financial anxieties. But under fair weather or foul our brother means to stick to his guns and will, we hope, come out successful in this long quadrilateral contest.
In the French Dahomey, regular discourses on the Holy Quran have been taken up and weekly sermons and lectures [are] delivered. Similarly, the work of propagation in Sierra Leone is being taken up in right earnest and Maulvi Al-Hadi S Egbaji and Mrs Egbaji are on their way to Freetown. The Maulvi Sahib who has been sworn on this propaganda work has set apart a house of his own rent free for the propagation work.
(Transcribed by Al Hakam from the original published in The Review of Religions, June, July & August, 1922)