Al Fazl, 31 May 1920
Hazrat Maulvi Abdur Rahim Nayyarra
The Promised Messiahas is the only light
Dear friends! the world is in darkness. 4 Star Street is a place in Europe from where the rays of light are reaching and will reach the gloomy world through God's newly created means.
Now, there is only one light under the sky. Only one light of God and it is the Promised Messiahas. Whoever believes in him will be blessed and whoever rejects him will be rejected from heaven. Whoever leaves him will surely be left. He who hates his poor servants will be hated by the God of the Messiahas. Fishermen have become human influencers [i.e. simple men are effectively persuading people towards Islam] and the insignificant were granted fame.
Unfortunate are those who are far from the [spiritual] food of the Promised Messiahas and fortunate are those who not only take pride in eating of his table but also present them to others.
This is the belief and faith with which Ahmadi missionaries work and owing to it, they have the confidence and certainty of conquering the world, insha–Allah!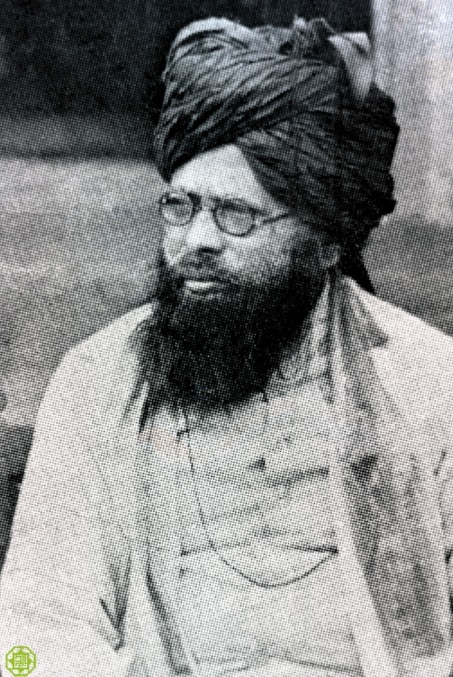 Series of lectures in Richmond
Richmond is a beautiful place in the suburbs of London with plenty of fresh air and inhabited by high class people. A series of lectures has been started with the intention of conveying the message of truth to the people there. In addition to publishing lecture advertisements in the Richmond Times, posters i.e. large advertisements were pasted on the walls of Richmond, Twickenham and nearby areas in eye-catching, bold blue letters.
If you come to the UK in the world of imagination and happen to see a place of posters in the bazars of Richmond, you will be delighted to read the following announcement:
Ethrington Hall, Richmond
"A series of lectures on Islam and British Empire will be delivered by Fatih Mohammad Sayal MA, Qadian, Punjab (India).
On May 3rd, 10th and 20th at 8pm
Admission free All are cordially invited"
The first lecture of the said series was delivered at its scheduled time with great competence and excellence. The missionaries of Ahmadiyyat conveyed the message of truth to the people in the best possible way and mentioned the name of God's chosen one, the messenger of the age, Ahmadas of Qadian, in the Ahmadiyya style. Insha–Allah, the rest of the lectures will be held on 10 and 20 May with their full glory.
Sincere letter of respected Hameeda Bottomley
Respected Hameeda Bottomley, may Allah safeguard her, sent her request of Bai'at in the court of Khilafat. Below is her sincere letter:
"Your Holiness! I am writing this letter of request to you so that Huzoor accepts my request of Bai'at and bless me with the honour of entering the Ahmadiyya Jamaat.
"I developed interest in the teachings of Ahmadiyyat ever since I took a magazine entitled Call to Truth from Mr Nayyar (on the occasion of the arrival of the Shah of Iran at Victoria Station). After studying it, I sent it to my husband. My husband was delighted to read this magazine. Immediately, he started corresponding with Mr Nayyar and ultimately became a true Ahmadi. I will sincerely do the same as what all faithful and sincere Ahmadis do. I hope that Huzoor will include me as a servant in the Ahmadiyya Jamaat and pray that I may be able to help in this good work which Mr Sayal and Mr Nayyar are doing here.
"I am a sincere servant of Huzoor, Gertrude Litaya Hameeda Bottomley"
Birthday of Saeeda and Fatima Faith
In this country, it is customary to celebrate birthdays and give presents to children on their birthdays. The birthday of respected Saeeda Faith, elder daughter of Brother Muhammad Suleiman Faith, was on 18 April.
A handkerchief sent by Sheikh Fazl Karim Sahib, brought by Babu Azizuddin Sahib from Bombay reached Saeeda right on her birthday.
The innocent Saeeda received the handkerchief and said:
"Allah knew it was my birthday."
On 22 May was the birthday of Brother Faith's youngest daughter, Fatima. Yet again we went to the house of Brother Faith to cause a positive impact on the little hearts of the children. We prayed for little Fatima, her parents and siblings.
Tabligh in various ways
A very scholarly article of Maulvi Fateh Muhammad Sayal, carrying the title "Imperial Politics" was published in the magazine Britain and India.
On May Day, i.e. on 1 May, the labours here staged spectacular processions and demonstrations. Taking advantage of the opportunity, a large amount of Ahmadiyya literature was distributed among them.
(Translated by Al Hakam)
An Ahmadi Muslim lady convert from Norway and her passion for Islam
Al Fazl, 31 May 1920
Hazrat Maulvi Abdur Rahim Nayyarra
Our new Sister
I had a letter of sister Amina Thomson published in one of the previous issues of Al Fazl under the title "Islam in Norway" and her intentions to correspond, to come to London and to write letters to Norwegian newspapers etc. was mentioned.
According to this resolution, sister Amina came to London and presently, she is the guest of honour at the Ahmadiyya Mission, located at 4 Star Street [London].
At the time of publication of the previous letter, our sister was a Muslim by faith and had in her heart a sense of reverence and respect for Prophet Muhammadsa of Arabia and the Holy Quran, and she was also associated with the Ahmadiyya Mission.
However, by then she did not have the honour of doing Bai'at of Hazrat Khalifatul Masih II[ra]. The very day she arrived and stayed over here resulted in the blessing of Bai'at for her and thus, in the current week, a "white bird" flew from the east coast of the German Sea, i.e. the country of Norway and submitted to the Promised Messiah of God, Ahmadas Nabiyullah [Prophet of Allah], may my parents be sacrificed for him.
Consequently, Mrs Thomson had the honour of receiving the enviable title of Amina Ahmadi Lady, Alhamdolillah! Sister Amina Thomson intends to spend some money for the promulgation of Ahmadiyyat in Norway through the income of her property in Norway (which is currently under trial) and also, from the earnings of her property in East Africa.
[She desires that] Ahmadiyya literature should be published in the Norwegian language and the message of Islam should be spread over there because sister Amina says from personal experience that most people in Norway are very unfamiliar with Islam.
In their opinion, Muslims are idolatrous and very ill-mannered, uncivilised people. They consider what some clergymen have told them as the word of God.
Ah! The same is the condition of other European countries and unfortunately, the declining state of Muslims has strengthened these ideas.
(Translated by Al Hakam)