Bilal Ahmed, Missionary, Zambia
Jamaat-e-Ahmadiyya Zambia is always committed to help the government in carrying out works for social betterment and improving people's lives.
By the grace and blessings of God Almighty, our efforts are acknowledged and this also helps to spread the message of Islam Ahmadiyyat to the higher authorities.
Recently, the President of Zambia, Dr Edgar Chagwa Lungu, while addressing the nation, re-launched the remarkable campaign of "Make Zambia Clean, Green and Healthy."
In response to the appeal, plans were made so that Jamaat-e-Ahmadiyya could also play its role in the service of country and humanity.
A letter was written to the president through the area's MP who is also the minister of gender (Hon Elizabeth Phiri), regarding the donation of 1,000 fruit seedlings that the Jamaat wanted to donate.
The president of Zambia replied by expressing gratitude over the efforts of Jamaat-e-Ahmadiyya and directed the minister of gender to receive the seedlings on his behalf and distribute them in various government institutions.
The ministry of gender arranged the whole programme in consultation with myself. On 27 November 2020, the Jamaat's delegation participated in the programme. This delegation included the Missionary-in-Charge, Muhammad Javed Sahib, two missionaries, a devotee teacher and 12 other locals.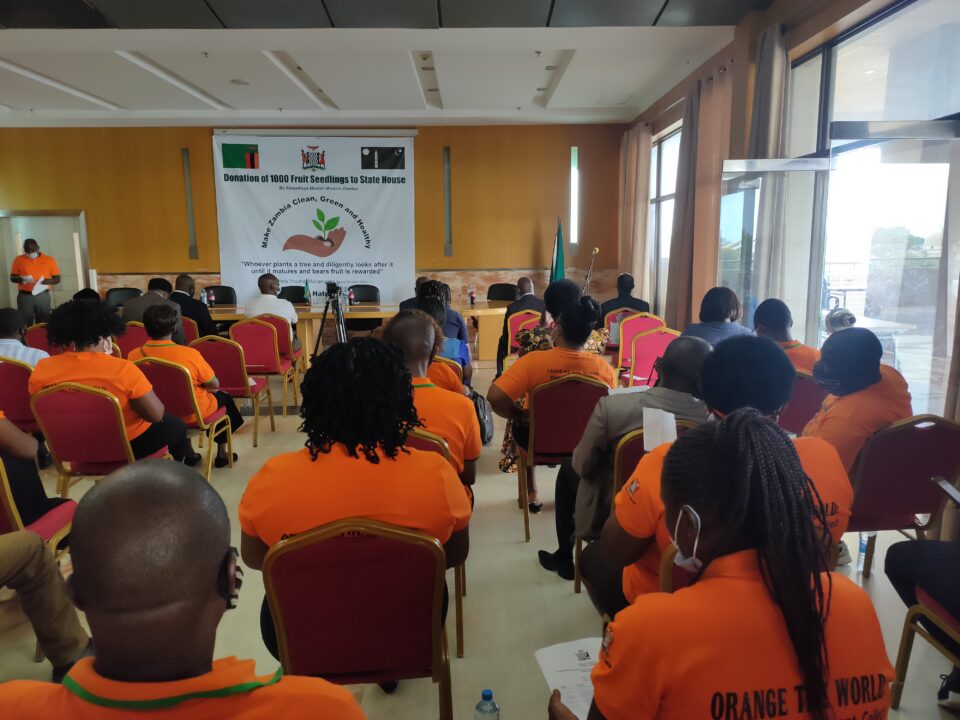 The programme started with the recitation of the Holy Quran. The missionary-in-charge addressed the audience and explained the Islamic teachings regarding the planting of fruit trees and an excerpt of Hazrat Khalifatul Masih V, may Allah be his Helper, was also presented.
Later, the minister of gender addressed the gathering. In her speech, she acknowledged the activities of the Jamaat and appreciated the fruit trees initiative as well. She acknowledged the Jamaat's efforts in supplementing government efforts especially in the education sector, considering that the Jamaat's school is in her constituency. She also echoed the fact that the initiative of planting trees would open up entrepreneurial opportunities and aid in public health too.
At the end, a vote of thanks was presented by the Missionary, Tahir Ahmed Saifi Sahib. In attendance were three cabinet ministers and one MP, while the rest of the ministers and MPs were represented by their permanent secretaries and senior government officials.
After the event, all respected guests were gifted Jamaat's literature, which included the Holy Quran, World Crisis and the Pathway to Peace, and a DVD that gave an introduction to Jamaat-e-Ahmadiyya.