Syed Mukarram Nazeer, Canada Correspondent
Abbotsford is a city located in the province of British Columbia, adjacent to Canada–United States border, Greater Vancouver and Fraser River. With an estimated population of 141,397 it is the largest municipality in the province, outside Metro Vancouver. The metropolitan area of Abbotsford-Mission has the third highest proportion of visible minorities in Canada, after Greater Toronto Area and Greater Vancouver Area. It is home to Fraser Valley Trade and Exhibition Centre, University of the Fraser Valley and Abbotsford International Airport.
As of the 2016 census, Abbotsford is the largest municipality of Fraser Valley Regional District and the fifth-largest municipality of British Columbia. Abbotsford–Mission metropolitan area of around 180,518 inhabitants, is ranked as the 23rd largest metropolitan area in Canada. It has also been named by Statistics Canada as Canada's most generous city in terms of charitable donations for nine straight years. 
Jamaat-e-Ahmadiyya British Columbia region hosted their first World Religions Conference (WRC) in 2006. This was the year when the southern coast of Indonesia was devastated by a Tsunami. Accordingly, the topic was chosen to be "Reconciling the existence of God and human suffering". The attendance then was over 310 and it was held in Victoria, provincial capital of British Columbia.
Given the Covid-19 pandemic, this year's topic was chosen as "Where is God during Pandemic suffering?" Unlike 2006, multimedia resources were fully available to promote the event. The attendance number demonstrates how successful the promotional efforts were.
The total online viewers on YouTube were 494, with another 22 sign-ins on Zoom. An interesting fact about online conferences is that often they are watched after the event has ended. People can benefit for months to come. As of 9 March, YouTube is showing 505 watched conference. YouTube promotion reported 8,500 viewers who watched at least a 30-second segment or more of the conference recording. With this data, it is estimated anywhere between 700-900 people watched and participated in this wonderful event.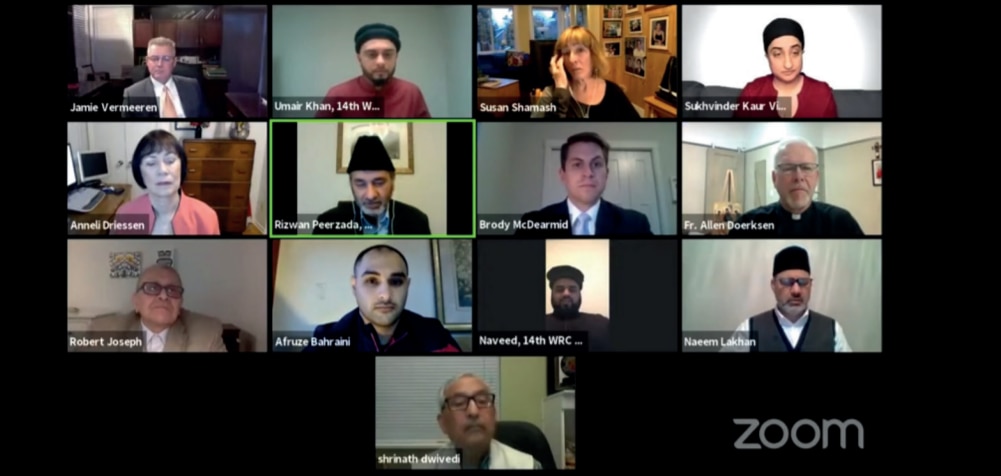 The Facebook campaign garnered 3,000 views, 39 comments and 19 reactions. Similarly, Instagram had 1,221 views, 35 comments and 102 reactions.
The traditional media campaign promoted the conference on Abbotsford local newspapers and radio station.
Abbotsford Jamaat, British Columbia, held the 14th World Religions Conference on 2 March 2021. The programme was virtual and started at 6 pm (local time) with a recitation from the Holy Quran. President Jamaat Abbotsford, Rizwan Peerzada Sahib welcomed everyone to the event.  The event was moderated by Chief Dr Robert Joseph, OBC, OC of Gwawaenuk First Nation. Regional President British Columbia Jamaat, Naeem Ahmad Lakhan Sahib gave the opening remarks.
Several dignitaries attended including:
1. Councillor Kelly Chahal, City of Abbotsford
2. Mr Jamie Vermeeren, President of The Church of Jesus Christ Latter Day Saints
3. Mr Ali Mirza, RCMP Officer
A total of eight faiths were represented in the conference. The respective faith speakers were as follows:
1. Bahaism: Mr Afruze Bahraini
2. Christianity (The Church of Jesus Christ Latter Day Saints): Mr Brody McDearmaid
3. Islam: Missionary Umair Khan
4. Sikhism: Ms Sukhvinder Vinning
5. Christianity (The Anglican Church): Rev Allen Doerksen
6. Judaism: Rabbi Susan Shamash
7. Hinduism: Mr Shrinath Dwivedi
8. Metaphysical: Dr Anneli Driessen
All panelists spoke on the topic considering their respective faith. Attendees benefitted greatly by getting the point of view of multiple faiths in one sitting.
Some of the feedback included:
"Congratulations again to another successful event last night. The energy was good and everyone was supportive and respectful." (Dr Anneli Driessen)
"The conference was very informative. We appreciate Ahmadiyya Muslim Community uniting religions of world." (Harold Rosen)