Qamar Zafar, Missionary, UK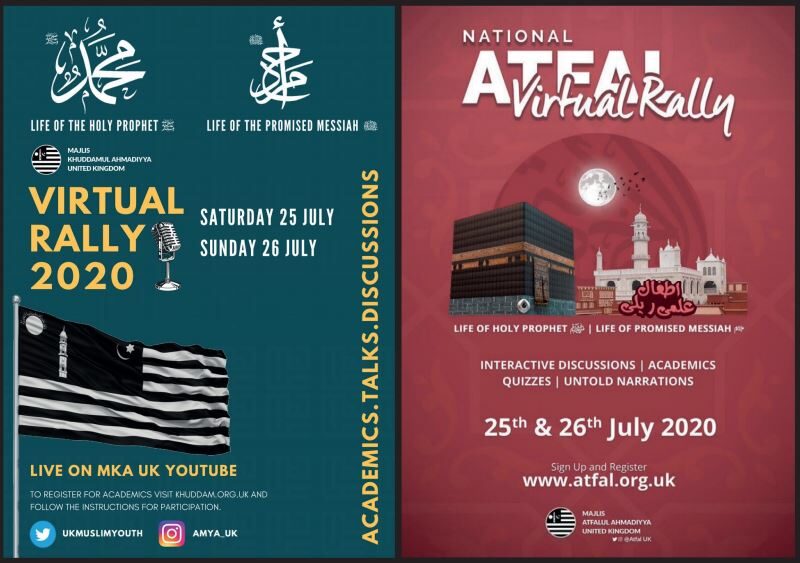 Majlis Khuddam-ul-Ahmadiyya UK held its first ever Virtual Rally on 25 and 26 July 2020.
On the first day, the opening session started with Tilawat, a welcome address by Tariq Hayat Sahib, Naib Sadr Majlis Khuddam-ul-Ahmadiyya UK, and an opening address by Mirza Mahmood Ahmad Sahib.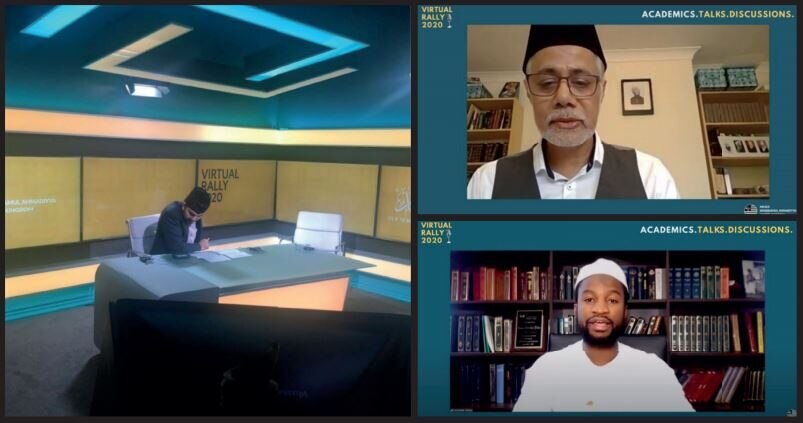 After this, Mohtamim Talim, Sabahat Karim Sahib made announcements for the Khuddam competitions and programme. Similarly Mohtamim Atfal, Farhad Ahmad Sahib made announcements for the Atfal.
Tariq Sahib then handed over to the host of the first academic session.
The second academic session started at 2pm with the teams being called up one by one. The sessions included kasoti (21 questions), team quiz and presentation competition. It was an engaging session and included various aspects of light-hearted discussions, but still a very competitive session.
The nau-mubai'een session, part of the MKA Virtual Rally, was held on the first day, on Zoom. The session started at 2pm with a short welcome and introduction by Sammar Malik Sahib, Mohtamim Tarbiyat Nau-Mubai'een.
This was followed by an inspirational speech by Hamza Ilyas Sahib, Naib Secretary New Ahmadis, where he described his own experience of joining Ahmadiyyat and what helped him to strengthen his beliefs.
Following on from that, a presentation on the life of the Holy Prophet, peace and blessings of Allah be upon him, was given by missionary, Humayon Uppal Sahib. The presentation was divided into three sections. After each section, a quiz was held on the Zoom platform, where participants were given 10 multiple choice questions related to the slides and had 15 seconds to answer each question.
Other academics competitions then took place, starting with tilawat. This was followed by azan and then prepared and extempore speeches.
Next, a question and answer session was held in which Khuddam had the opportunity to present questions and receive answers by missionaries; namely, Raza Ahmad Sahib, Mujeeb Mirza Sahib and Zawar Ahmad Sahib. The session concluded at 4:45pm.
The total attendance of nau-mubai'een was 12, alhamdulillah.
A "Sports and Religion" talk was hosted by Mohtamim Tabligh MKA UK with international guest panellists. The experiences of the panellists were shared and they all engaged in discussions on what religion teaches about sports activities. This proved to be a very engaging and successful discussion.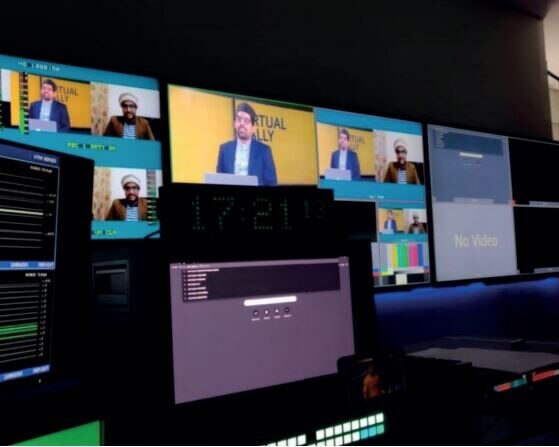 The last session of the day was a keynote session with Imam Ataul Mujeeb Rashed Sahib, where he shared various personal experiences with Khilafat. The session was broken into two segments; first Imam Sahib delivered a speech and in the second segment, we had a question and answer session, which included questions submitted via a Google form by the viewers. At one point, we had a maximum of 429 viewers during that session.
For Atfal, there was a session named "Untold Narrations" with Syed Taalay Ahmad Sahib, speaking about Hazrat Amirul Momineen, may Allah be his Helper. The Atfal greatly enjoyed this along with other Khuddam viewers.
In relation to the Atfal sessions, the total views for the day were 3,622 and the playback figure was 7,000. YouTube had 5,900 views. Feedback from the regions have been very positive. Atfal thoroughly enjoyed academic competitions and other sessions.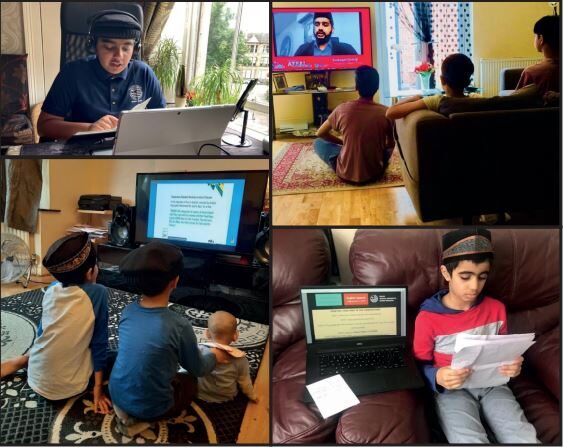 On the Second day, the opening session started Tilawat and a welcome address by Ali Khan Sahib, Naib Sadr MKA UK. After this, a missionary, Ataul Momin Zahid Sahib delivered a speech on the topic of "Prophets and their successors".
After the inspiring speech, Mohtamim Talim MKA UK, Sabahat Karim Sahib made announcements for the Khuddam competitions and programme. Similarly Mohtamim Atfal, Farhad Ahmad Sahib made announcements for the Atfal.
"Inspiring Stories from converts" was an engaging panel discussion with different converts sharing their stories and experiences that took place. Stories shared involved explanations of feelings of when they converted and how they established their love for Khilafat.
As part of the virtual event, an International Competition was held as the exhibition. We had invited various countries' MKA teams to compete and alhamdulillah, we had USA, Ghana, Australia, Germany, Canada, Sweden, Norway and UK represented. The teams were quizzed in various formats.
The closing session started at 5:30pm, where Adam Walker Sahib, Naib Sadr MKA UK, welcomed everyone to the closing session and introduced Sadr MKA UK to chair the session, which began with recitation and translation of a portion of the Holy Quran followed by a Nazm and its translation.
Sadr MKA UK then requested Mohtamim Talim MKA UK to provide a report of the Khuddam proceedings and competition winners. Similarly, Mohtamim Atfal UK was requested to provide a report of the Atfal proceedings.
After the reports, Sadr MKA UK delivered an address about the ongoing work MKA provided within the UK during the Covid-19 pandemic and reminded everyone how Islam and our beloved Huzooraa teaches us the importance of helping those in need.
After the inspiring address, Amir Sahib Jamaat-e-Ahmadiyya UK joined the closing session via a Zoom call and delivered an address on the things we take for granted and how technology can divert our attention away from what is important. The Virtual Rally was then concluded.