A selection of brief incidents from the first and second era of Khilafat-e-Ahmadiyya
21 February 1921: A reception was held for Hazrat Musleh-e-Maud's, may Allah be pleased with him, marriage with Hazrat Syeda Maryam Begum Sahiba.
21 February 1936: The Jamaat's mission in Budapest, Hungry was established.
21 February 1949: A water sample from the newly established Jamaat headquarters in Rabwah, Pakistan was sent to a laboratory in Lyallpur (now Faisalabad) for analysis. The sample was taken from an area that was proposed for the Nusrat Jahan College. After an in depth analysis, experts said that the water of Rabwah was not suitable for domestic and agricultural use. Despite this, today, Rabwah blooms as a lush green town; another example of Allah's grace and Hazrat Musleh-e-Maud'sra prayers.
21 February 1955: Members of Jamaat-e-Ahmadiyya England met with the King of Iran, Muhammad Reza Shah Pehlavi and gave him a copy of the English translation of the Holy Quran.
21 February 1959: Hazrat Musleh-e-Maudra was in Sindh, Pakistan where his stay continued until 10 March.
22 February 1917: The marriage of Hazrat Syeda Amtul Hafeez Begum Sahibara, the youngest daughter of the Promised Messiahas, took place with Hazrat Nawab Muhammad Abdullah Khanra.
22 February 1922: Hazrat Musleh-e-Maudra delivered his famous lecture about the truthfulness of Islam and the manner to spread its teachings. This historic speech was delivered at the famous Vande Mataram Hall in Amritsar, India.
22 February 1926: A series of attempts were made to expel members of the Jamaat from the historic mosque in Sialkot, famously known as "Kabotran wali masjid". The Promised Messiahas had graced this mosque on many occasions. On this date, the court repelled the ill wishes of those who wanted to ban Ahmadi Muslims from the mosque and announced a decree in favour of the Jamaat.
22 February 1929: Hazrat Hakim Maulvi Fazl-ur-Rehmanra laid the foundation stone of a mosque in Africa.
22 February 1935: Hazrat Musleh-e-Maudra graciously donated 500 Rs towards the fund for the construction of a Gurdawara.
22 February 1944: Mr King, the Commissioner of Lahore division visited Qadian on this date.
22 February 1954: Hazrat Musleh-e-Maudra laid the foundation stone of Darul Zikr, Lahore. For the construction of the mosque and offices, 6 kanals (3035 square meters) of land was purchased.
22 February 1954: An investigation commission set up to probe the causes of riots in Punjab started recording statements of representatives from Sadr Anjuman. The statements of Sheikh Bashir Ahmad and Malik Abdur Rehman Khadim were taken.
22 February 1955: The small campus of Jamia Ahmadiyya was shifted from Ahmad Nagar to Rabwah on this date.
22 February 1957: A speech was delivered by Hazrat Musleh-e-Maudra at the Beach Luxury Hotel in Karachi.
22 February 1957: The foundation stone of a mosque in Hamburg, Germany was laid.
22 February 1958: Yadgir, a city in India hosted a twoday all Karnataka Ahmadiyya Conference.
23 February 1919: Hazrat Musleh-e-Maudra delivered a speech in Bradlaugh Hall, Lahore about Islam and its teachings regarding other nations.
23 February 1922: Hazrat Musleh-e-Maudra toured Lahore which concluded on 2 March.
23 February 1928: Hazrat Shahzada Abdul Majeed Khanra passed away in Tehran, Iran. This companion of the Promised Messiahas was serving as a missionary in Iran and desired to be buried there.
23 February 1933: Hazrat Musleh-e-Maudra laid the foundation stone of a residence named ''an-Nusrat'' in Qadian. This house was a gift from Hazrat Amma Janra to her grandson Hazrat Hafiz Mirza Nasir Ahmadrh.
23 February 1935: Hazrat Master Hadayat-ullahra passed away. He was a companion of the Promised Messiahas.
23 February 1950: Hazrat Dr Abdullahra of Nairobi, Africa passed away. This companion of the Promised Messiahas was amongst the pioneering members of the Jamaat in Eastern Africa.
23 February 1953: A new wave of hatred and persecution against Jamaat members in Western Pakistan, especially in Punjab, spread and became extremely fierce throughout the days to come. The persecution ultimately brewed into severe riots against Jamaat-e-Ahmadiyya.
24 February 1917: Hazrat Mirza Nasir Ahmadrh Sahib completed his first reading of the Holy Quran. A small gathering was arranged by Hazrat Musleh-e-Maudra to mark the event.
24 February 1920: Hazrat Musleh-e-Maudra addressed the Jamaat members living in Lahore.
24 February 1934: Hazrat Musleh-e-Maudra started a tour of Lahore and Ferozpur that concluded on 1 March.
24 February 1939: Khuddam-ul-Ahmadiyya held meetings across Qadian.
24 February 1957: Hazrat Musleh-e-Maudra addressed the Ijtema of Majlis Khuddam-ul-Ahmadiyya Karachi. He also graciously inspected the office of Khuddam-ul-Ahmadiyya located on Martin Road, Karachi.
25 February 1917: Hazrat Maulvi Ali Ahmadra Haqqani passed away. This companion of the Promised Messiahas was a renowned poet.
25 February 1921: A Sikh religious leader from Kartarpur district Jalandhar visited Qadian and enjoyed the blessed audience of Hazrat Musleh-e-Maudra.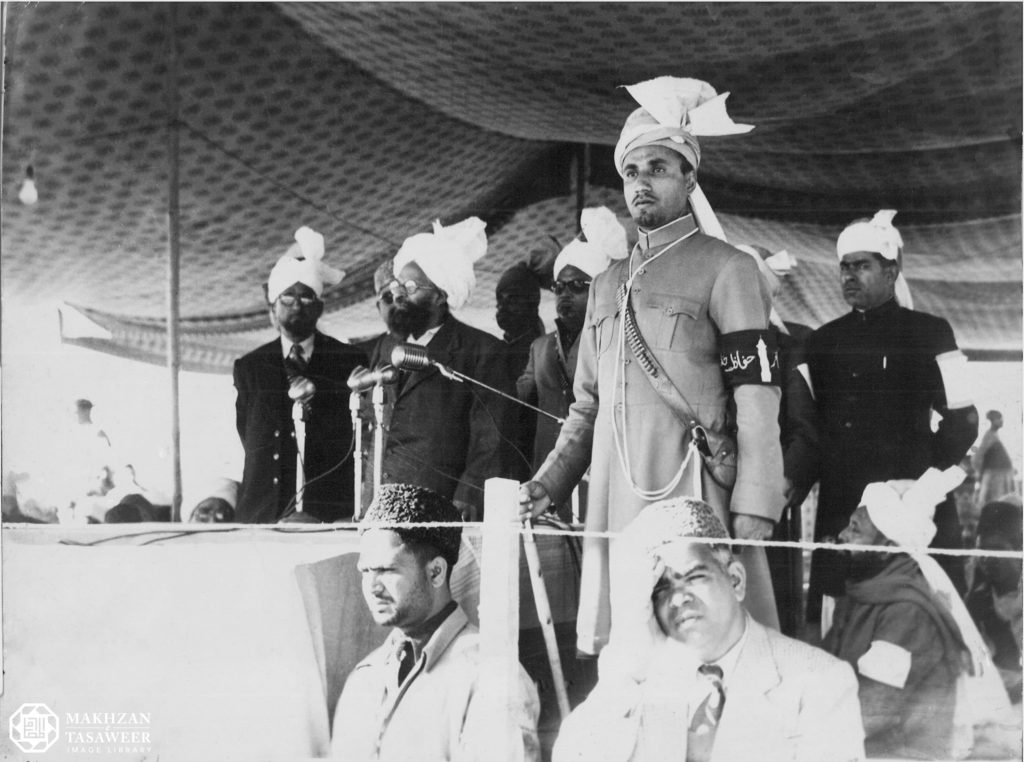 25 February 1927: A delegation representing the Jamaat met the Viceroy of India. During their meeting, Jamaat members stressed the need for separate voting electorates instead of the combined voting system, in the backdrop of Indian communal and religious divides.
25 February 1934: Upon the retirement of a Hindu Chief Justice of Lahore High Court, the appointment of an English judge as the new Chief Justice was opposed by the Jamaat. The Jamaat debated that by not electing a more capable candidate, who was a Muslim, the authorities were sowing the seeds of unrest amongst the Muslim population of that province.
25 February 1945: Hazrat Musleh-e-Maudra delivered a profound speech about the economic system presented by Islam. Huzoor'sra thorough and valuable research on the topic was presented at the Ahmadiyya Hostel in Lahore, under the presidency of the Advocate, Mr Ram Chand Machanda. Mr Ram Chand greatly applauded Huzoor'sra in-depth knowledge. This speech was later published in book form in August 1945.
25 February 1947: Hazrat Musleh-e-Maudra was foretold in a vision that lawlessness and disturbance would erupt in Punjab. The very next month, the world witnessed this truth. Owing to the information received from this vision, Huzoorra told Jamaat members to remain prepared for sacrifices in order to safeguard the Markaz in Qadian.
25 February 1952: Hazrat Musleh-e-Maudra set out for a tour of Sindh, Pakistan that would last a month. He appointed Maulana Jalal-ud-Din Shams as the Amir-e-Muqami.
25 February 1956: The Jamaat welcomed dignitaries who had travelled to visit Qadian. Amongst the guests were the Indian High Commissioner appointed in Karachi, the Indian High Commissioner appointed in Lahore and the Deputy Secretary of the Ministry of Foreign Affairs of India.
25 February 1957: Lt Col Montagu William Douglas passed away at the age of 93. He presided over the court hearing in a case against the Promised Messiahas; acquitting the Promised Messiahas and declaring the accusation made by Dr Clarke against the Promised Messiahas as fabricated.
25 February 1965: Rabwah hosted the 7th All Pakistan Basketball Tournament. Twenty-six teams took part and the tournament spanned over three days.
26 February 1914: Hazrat Sahibzada Mirza Bashiruddin Mahmud Ahmadra inaugurated the newly built mosque in Wazir Abad, near Gujranwala.
26 February 1919: Hazrat Musleh-e-Maudra delivered a lecture at the Islamiyyah College, Lahore organised by the Martin Historical Society. The lecture was in Urdu and entitled "The outset of dissention in Islam". The event enabled the audience with a chance to understand the accurate historical events of conflicts that arose after the Holy Prophetsa during, mainly, the khilafat of Hazrat Uthmanra.
26 February 1922: Hazrat Musleh-e-Maudra went to inspect a mosque of the Jamaat in Mughal Pura, Lahore.
26 February 1927: Hazrat Musleh-e-Maudra travelled towards Lahore in order to facilitate the Muslims of India regarding their political matters. Huzoorra remained in the city until 5 March.
26 February 1936: Hazrat Maulvi Sher Alira set out for England with an aim to translate the Holy Quran into English.
26 February 1946: A delegation comprising of five missionaries arrived in Free Town, Sierra Leone. The group was led by Maulana Nazir Ahmad Ali Sahib.
26 February 1954: Hazrat Khan Zulfiqar Ali Khan Goharra passed away. This companion of the Promised Messiahas performed Bai'at in 1900.
26 February 1954: Hazrat Musleh-e-Maudra went to Lahore where his stay remained until 1 March.
26 February 1955: The suffering of Hazrat Musleh-e-Maudra that had resulted from a knife attack, on this day, grew manifold and became critical after Maghrib prayer. The new complications in his health forced doctors to tell Huzoorra to seek further treatment in Europe that would be better and of higher standard.
26 February 1962: A new building of Nusrat Girls High School in Rabwah was inaugurated.
27 February 1914: Upon the advice of physicians, Hazrat Khalifatul Masih Ira moved to the house of Hazrat Nawab Muhammad Ali Khan which was named "Kothi Darus-Salam" and was in the suburbs of Qadian. It was thought that fresh air from the countryside would help in his recovery.
27 February 1922: The Prince of Wales visited India who also later became the King of England, Edward VIII. Hazrat Musleh-e-Maudra penned a book for him as a gift. Jamaat members donated one Ana per person to cover the cost of printing etc. On this date, a delegation from the Jamaat met the royal guest and presented him with this valuable gift. Hazrat Chaudhry Zafarulla Khanra beautifully translated the book into English.
27 February 1922: Hazrat Musleh-e-Maudra delivered a lecture about the second renaissance of Islam at a gathering organised by the Ahmadiyya Intercollegiate association.
27 February 1943: The respected wife of Maulana Muhammad Sharif Sahib, the Jamaat's missionary appointed in Palestine, passed away and was buried there. She is thought to be the first ever Ahmadi Muslim lady who passed away in foreign land. It is reported that Maulana Muhammad Sharif Sahib did not let this tragedy to hinder his duties.
27 February 1945: Hazrat Mian Roshan Dinra passed away. This companion of the Promised Messiahas performed Bai'at in 1902.
27 February 1946: Hazrat Musleh-e-Maudra instructed Jamaat members living in Bengal, Behar, UP and Bombay etc. to vote and support the candidates of the Muslim League during elections.
27 February 1949: Hazrat Musleh-e-Maudra travelled to the front lines of the war between Pakistan and India to raise the morale of the Furqan Force volunteers who were fighting to defend their country. A group of established journalists also accompanied Huzoorra.
27 February 1953: The Jamaat's Al Fazl newspaper that was being published from Lahore was banned by the government for a year. To fill the vacuum, Faruq was launched. On 4 March, its introductory paper was published but soon after it's printing ceased.
27 February 1954: Hazrat Chaudry Sir Zafarulla Khanra presided over and addressed the award ceremony of Talim-ul-Islam College, Rabwah, Pakistan.
27 February 1962: Hazrat Saith Abdullah Allah Din passed away in Sikandar Abad, India. This generous and loyal follower of the Promised Messiahas tried his utmost to spread the books and message of the Promised Messiahas as much as he could.