In this third year of Al Hakam, we will present a selection of incidents from the blessed life of the Promised Messiah, peace be upon him, this time, with some more details
25 September 1893: The Promised Messiahas replied to a letter of Hazrat Munshi Rustam Alira assuring him that his post was being delivered from Qadian without any delays, but perhaps some other factors were delaying their prompt delivery. Huzooras also updated him regarding the publishing of new books; two in Arabic and one in Urdu. This letter's envelope read: "Towards Montgomery at Sadar Kachehri; To my respected brother, Munshi Rustam Ali, Court Inspector Police." This was the post where Hazrat Munshi Sahibra was transferred after the immense prayers of his beloved master, the Promised Messiahas.
In those days, Montgomery District was an administrative district of the former Punjab Province of British India, in what is now Pakistan. Named after Sir Robert Montgomery, it laid in the tract between the Sutlej and the Ravi rivers. The administrative headquarters was the town of Montgomery, present-day Sahiwal. In 1978, the name of Montgomery District was changed to Sahiwal District.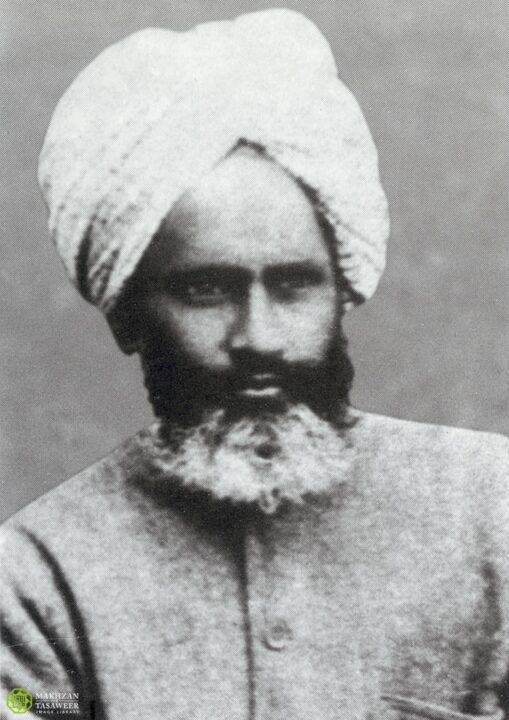 26 September 1887: The Promised Messiahas was concerned about the deteriorating and feeble health of his daughter, Ismat, who was not accepting some other intake options. On this date, he wrote a letter to one of his close friends, Hazrat Munshi Rustam Alira, who lived in a nearby city, asking him to send a packet of soft English biscuits, which was worth one rupee and two annas. In those days, Qadian was a small village and didn't have many basic food items, but Huzooras always went out of his way to cater for his guests and companions.
26 September 1887: The Promised Messiahas sent another letter to Hazrat Munshi Rustam Alira, reminding and updating him of multiple tasks, which Munshi Sahib was earlier assigned with. This letter also sheds light on another extreme reality the Promised Messiahas was facing in that time, as Huzooras shared with Munshi Sahibra that the new maid he had requested for his children must be extremely wise, pious and cautious because local Hindus and even some mischievous Muslim elements were planning to poison his son.
26 September 1887: The Promised Messiahas sent a short note to Hazrat Mian Abdullah Sanaurira that the deadline for the request he had made earlier was fast approaching and this loyal and reliable friend ought to be in the company of Hazrat Ahmadas in the coming few days. Huzooras directed him to reach Qadian, provided there was no inconvenience. Otherwise, Huzooras said, he should promptly inform him about his situation and decision.
26 September 1888: In a letter, the Promised Messiahas congratulated Hazrat Munshi Rustam Alira on his promotion to the post of court inspector in the police. Hazrat Ahmadas asked him about some announcements that were sent Huzooras, whose acknowledgement was still pending by Munshi Sahibra.
26 September 1894: The Promised Messiahas received a letter from Hazrat Munshi Rustam Alira, which expressed his perturbing state of mind regarding the outcome of Huzoor'sas prophecy about Abdullah Atham. On this date, Hazrat Ahmadas replied to his letter and informed him that his new book, addressing the issue in details, titled Anwar-ul-Islam, would be out from the press in the coming three to four days and it would suffice his uncertainty and would soothe his feelings hopefully. Huzooras also advised him to visit Qadian and to stay in his company for at least a week. While concluding his reply, the Promised Messiahas informed him about the exceeding number of guests in Qadian, which naturally delayed the correspondence operations.
26 September 1899: The Promised Messiahas sent a letter of confirmation to Hazrat Seith Haji Allah Rakha Abdur Rahmanra on this date that 100 rupees had been received. Hazrat Ahmadas shared that owing to the scarcity of rainfall, drought and famine seemed imminent. Huzooras also wrote that the expenditures of the Langar were increasing day by day; for example, every month, flour worth 200 rupees was being bought and Huzooras estimated that in the current month, it would exceed to 500 rupees. Huzooras added that the limited availability and soaring prices of dried firewood logs were also a cause of concern. Hazrat Ahmadas drew a painful scenario regarding the limited resources against the momentous projects to be achieved and concluded that sometimes, these frequent disturbances consume his precious time, so much so that sometimes, he cannot find enough time to pray for these matters. Huzooras stated he was planning to issue an announcement for his Jamaat members so that they could donate in the cause of Allah and wanted to mention the name of Seith Sahibra as an example.
27 September 1896: On this day, the Promised Messiahas wrote a letter to Hazrat Munshi Rustam Alira, saying he was rather unwell. He also said that a water-well was being constructed there for guests. Huzooras carried on that a well was most needed, but there were not enough funds. Huzooras had asked others for chanda, but it did not prove adequate to accomplish the task. In this backdrop, Huzooras asked Munshi Sahibra if he could send chanda in advance as it would be very helpful in completing the well. Hazrat Ahmadas penned the final line of this letter by saying that owing to excessive weakness, he could not write more.
28 September 1887: The Promised Messiahas received a bitter and furious reply from Maulvi Muhammad Hussain of Batala. On the same date, Huzooras dispatched yet another detailed reply to dispel his baseless misconceptions and pacify his seething condition as he had earlier remained a staunch proponent and advocate of Huzoor'sas selfless services for the cause of Islam and Muslims. Hazrat Ahmad'sas modesty and compassion for the masses can easily be seen in this letter. (Maktubat-e-Ahmad, Vol. 1, p. 307)
28 September 1891: The Promised Messiahas sent a letter to Hazrat Munshi Rustam Alira asking him to re-investigate, with more precise information, about the nikah of Mirza Ahmad Baig's daughter, as people in Qadian could not verify this news which was earlier shared by Munshi Sahibra. The Promised Messiahas also asked him to share what a Sultan Ahmad had said regarding a certain matter to Munshi Sahibra, who was most probably his eldest son, i.e. Hazrat Mirza Sultan Ahmad.
28 September 1902: The Promised Messiahas, whilst writing to Hazrat Haji Seith Allah Rakha Abdur Rahmanra, praised Allah as some signs of improvements in certain business matters of Seith Sahibra were conveyed through a letter. Hazrat Ahmadas assured him that he would constantly pray for him. Huzooras also wrote that some musk had been received too, which was sent by Seith Dal Ji. Hazrat Ahmadas commented on the qualities of musk and guided Seith Allah Rakha Sahibra to convey Huzoor'sas thanks to Seith Dal Ji, as Huzooras was told that he was out of Madras in those days and hence, Huzooras could not express his appreciation directly.
28 September 1905: The Promised Messiahas received two guests; one from Turkey while the other was Jewish. He was asked some questions in Arabic and he gave their answers in Arabic too. The Editor of Al Hakam, Hazrat Sheikh Yaqub Ali Irfanira produced this valued conversation in his newspaper in Urdu. During this detailed discussion, Hazrat Ahmadas removed many misunderstandings and guided them towards the right path.
29 September 1891: The Promised Messiahas reached Delhi and wrote a letter to Hazrat Munshi Rustam Alira on this date, that hopefully, for the next one month, his address would be in a two-story residence of Nawab Loharo, situated in Ballimaran Bazar. Huzooras instructed him to pay a visit there too. Huzooras repeatedly requested Munshi Sahibra to arrange for some suitable job for Sheikh Abdul Haq of Karachi, who was a devout follower of Huzooras.
30 September 1889: The Promised Messiahas debunked the false and vicious theory of Maulvi Imamuddin of Punjab, who affixed to his name the title of Fateh-e-Kitab-e-Mubeen (Explainer of the Open Book). Huzooras replied to his letter on this date. This man was a judge by profession and of the view that the Holy Quran was not complete until it was coupled with a copy of the Bible. Hazrat Ahmadas took notice of this ruinous and baleful idea and admonished this person in a most wise way. The editor of Al Hakam and compiler of Huzoor'sas letters recorded the text of the two replies sent to Maulvi Imamuddin.
30 September 1895: The Promised Messiahas undertook a journey towards Dera Baba Nanak. The sole purpose of this was to personally see the famous cloak of Hazrat Baba Nanakrh. It was a Monday and this 10-member entourage completed this approximately 50-mile journey via yakkas [horse-pulled carriages]. Hazrat Mir Muhammad Ismailra sat next to the Promised Messiahas on this journey.
1 October 1889: The Promised Messiahas reminded Hazrat Munshi Rustam Alira of a certain urgent and important task, while writing a letter to him. After expressing his perturbation owing to the delay in reply, Hazrat Ahmadas asked him to arrange for a chaste, young and suitable wife from the area where he was posted then, for Huzoor'sas personal servant, Peeran Dita, who happened to be a person with very limited resources to get married on his own. Such was the love and care of the Promised Messiahas for even workers in his house.