Mohammad Arsalan, Belgium Correspondent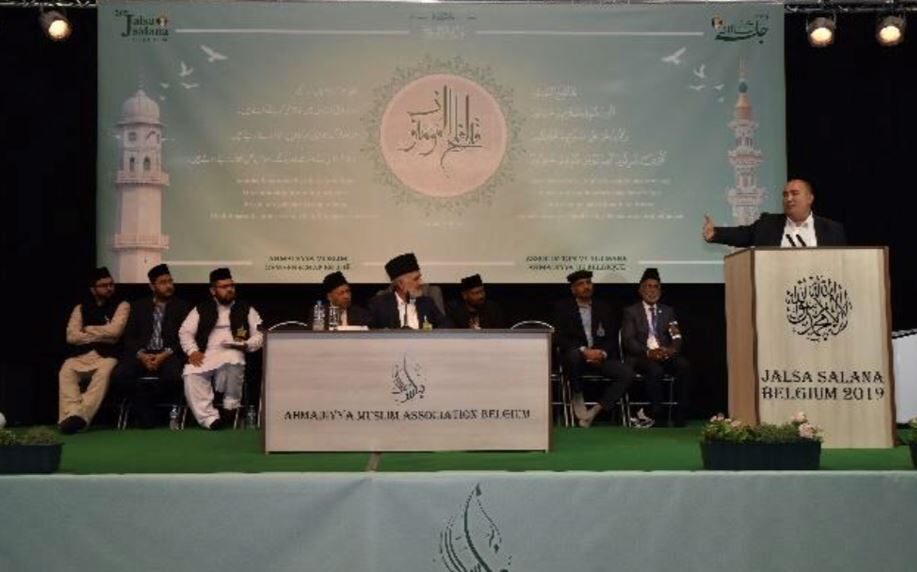 The Ahmadiyya Muslim Jamaat Belgium held its 26th Jalsa Salana from 13 to 15 September 2019 at Brabanthall in Leuven.
The Jalsa Salana started with the flag hoisting ceremony followed with an inspection by central representative, Abdul Majeeb Amir Sahib alongside Amir Sahib and Missionary in charge Jamaat-e-Ahmadiyya Belgium.
One of the highlights of our Jalsa was the exhibition that contained historical photography and unique information about Jamaat-e-Ahmadiyya Belgium. Interactive tablets were placed for the visitors to explore the archives of memorable pictures from the past. At the bookstall, a souvenir magazine of the last 25 years was available for the members of Jamaat-e-Ahmadiyya Belgium.
On the second day, a tabligh event took place for the Dutch, French and Arabic speaking guests.
On the third day, a Bangla tarbiyyat program was held for our Bangla speaking Ahmadi members. Respected Ferooz Alam Sahib was the Markazi guest for this program.
In the afternoon, Jalsa Salana attendees were blessed with the opportunity to watch two live adresses by Hazrat Khalifatul Masih Vaa which he delivered to the National Ijtemas of Lajna Imailah UK and Ansarullah UK.
With the collaboration of MTA International, MTA Studios Belgium was able to stream all three days of the Jalsa Salana proceedings live on YouTube. Alongside the Belgian MTA team, the translation department also provided facility of translation in four languages: Dutch, French, English and Bangla.
On the last day of Jalsa Salana Belgium, two distinguished guests addressed the Jalsa. The first was Mr Fouad Ahidar, former Vice President of the Brussels parliament and acting Chancellor of the Dutch Community Council. The second speaker was a priest of a local church. Both appreciated the efforts of the Jamaat toward establishing peace in society.
The total attendance of the Jalsa was 1489.