Naimatullah Basharat, Denmark Correspondent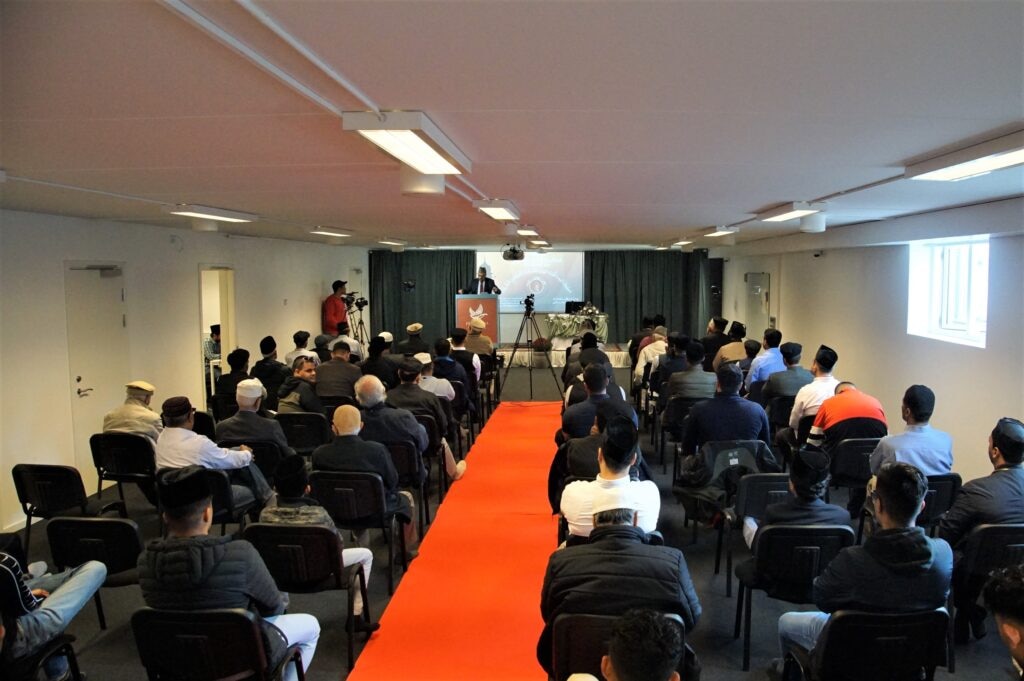 Jamaat-e-Ahmadiyya Denmark held its 28th Jalsa Salana on 18 and 19 September 2021, at the Nusrat Jehan Complex in Copenhagen. As per the instructions of Hazrat Amirul Momineenaa, children under the age of twelve were not allowed to attend this year's Jalsa.
The Jalsa Salana could not be held last year due to the Covid-19 restrictions.
The opening session of the Jalsa commenced with a recitation from the Holy Quran and its Danish translation. Amir and Missionary-in-charge Denmark, Muhammad Zakaria Khan Sahib then read out the special message of Hazrat Amirul Momineenaa for all attendees.
After Huzoor's message, a poem was presented, followed by the inaugural address by amir and missionary-in-charge Denmark.
After the Zuhr and Asr prayers, the second session of the Jalsa commenced at 3pm.
In this session, the Danish translation of Huzoor's special message for Jalsa Salana Denmark was read out by Naimatullah Basharat Sahib.
During this session, three speeches were delivered in Danish language, followed by another poem.
The proceedings of the second day of Jalsa Salana Denmark 2021 commenced at 11:30 am. In this session four speeches were delivered.
After the Zuhr and Asr prayers, the proceedings of the closing session of the Jalsa began.
After the tilawat and poem, amir and missionary-in-charge Denmark delivered the closing address.
The Jalsa was attended by members of the Jamaat from Denmark, Sweden, Germany and Canada as well. The Jalsa was also streamed live so that those members who could not attend, benefited from the blessings of the Jalsa.