Ataul Fatir Tahir and Tahmeed Ahmad, UK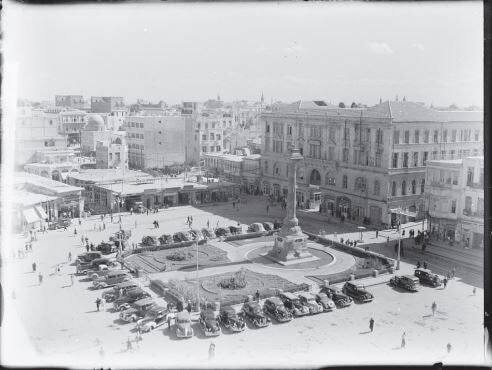 يدْعُونَ‭ ‬لَكَ‭ ‬اَبْدَالُ‭ ‬الشَّامِ‭ ‬وَعِبَادُ‭ ‬اللّٰهِ‭ ‬مِنَ‭ ‬العَرَبِ‭ ‬
"The abdal [devotees] of Syria and the servants of Allah from among the Arabs are supplicating on your behalf." – A revelation to the Promised Messiah and Imam Mahdi (Tadhkirah [English], p. 160)
In 1924, Hazrat Musleh-e-Maudra went on his famous journey to Europe and visited Arab countries along the way. Huzoorra visited Egypt, Palestine, and Syria (including modern-day Lebanon) and preached the message of Ahmadiyyat.
While in Damascus, Hazrat Musleh-e-Maudra and his entourage initially faced great opposition, and there were no Syrian Ahmadis at the time. A famous Muslim scholar, Sheikh Abdul Qadir al-Maghrabi, even challenged Hazrat Musleh-e-Maudra and said that he should not expect any Arab to accept Ahmadi beliefs as "we are of Arab lineage and Arabic is our mother tongue. And an Indian, no matter how great a scholar he may be, can never have the ability to understand the Quran and the Hadith more than us." In response, Hazrat Musleh-e-Maudra negated Sheikh Abdul Qadir's views and, while smiling, said:
"We are to send preachers to every corner of the earth; however, now after returning to India, my first task will be to send [Ahmadi Muslim] preachers to your country and then I will witness your courage in front of those who wave the Divine flag." (Tarikh-e-Ahmadiyyat, Vol. 4, pp. 443-444)
Though, eventually, Muslim Syrians flocked to visit Hazrat Musleh-e-Maudra in Damascus, even in 1924, upon returning from his trip, Hazrat Musleh-e-Maudra set up an Ahmadiyya mission in Damascus: Hazrat Syed Waliullah Shah Sahib and Maulana Jalaluddin Shams Sahib were sent as missionaries.
Hazrat Musleh-e-Maudra visited Damascus, Syria and Beirut, Lebanon, again in 1955, when he was en route to Europe, among other reasons, also to seek medical treatment following a vicious attack on him by an opponent.
His journey to Damascus after 31 years showcased the great acceptance of Islam Ahmadiyyat amongst the Syrians and showed their sincerity and belief in Khilafat-e-Ahmadiyya. Huzoor'sra visit proved Sheikh Qadir al-Maghrabi's words to be incorrect and decades later we now witness how Islam Ahmadiyyat has spread amongst Arabs all across the world.
The account of Hazrat Musleh-e-Maud'sra journey to Damascus and Beirut was covered by Al Fazl from March 1955 onwards. Jamaat members back in Pakistan and India were kept up to date on Huzoor'sra tour in this way and almost 70 years later, we are able to find detailed information on Huzoor'sra travel from these issues of Al Fazl. A compilation of these references can also be found in Tarikh-e-Ahmadiyyat, Silsila-e-Ahmadiyya and Masaleh al-'Arab, available on alislam.org, which have all been consulted for this article.
(We have previously published some details of Hazrat Musleh-e-Maud'sra 1924 visit of Damascus under "'This is the son of the Mahdi': When the Messiah's son arrived in Damascus near the white minaret" –The Editor)
Visiting Europe and Syria in 1955
The reason for Huzoor'sra visit to Damascus stemmed from his planned visit to Europe for medical reasons.
On 10 March 1954, immediately after leading the Asr prayer at the Mubarak Mosque, Rabwah, Hazrat Musleh-e-Maudra was stabbed in the neck by a person called Abdul Hameed – a non-Ahmadi youngster who travelled to Rabwah under the guise of converting to Ahmadiyyat.
The stab wound was more than two inches deep and three inches wide; it was an extremely narrow escape. (Silsila-e-Ahmadiyya, Vol. 2, p. 440) To seek better medical attention, the doctors in Pakistan strongly recommended Huzoorra travel to Europe for better medical care.
After praying and seeking further advice from members of the Jamaat, Hazrat Musleh-e-Maudra decided to follow the medical advice. On 23 March 1955, Huzoorra left Rabwah and began his journey, staying in Lahore before departing from Karachi towards Europe.
Hazrat Sir Chaudhary Zafrulla Khanra – who had finished his term as the First Foreign Minister of Pakistan in 1954 – joined this journey and suggested that Huzoorra travel to Europe via Arab countries; Hazrat Musleh-e-Maudra accepted the suggestion. (Silsila-e-Ahmadiyya, Vol. 2, p. 466) Sir Chaudhary Zafrulla Khanra flew from Europe to Pakistan to aid Huzoorra on the journey.
There was a large entourage with Hazrat Musleh-e-Maudra for his journey, which had been split into three groups. A group travelled from Pakistan directly to Europe, while Hazrat Musleh-e-Maud's group travelled to England via Arab countries. (Al Fazl, 16 April 1955, p. 1)
Hazrat Musleh-e-Maudra said that he was taking members of Tehrik-e-Jadid and the Sadr Anjuman because they were to stay in parts of Europe for further studies. Also with them were missionaries, along with their families, who were going to remain in various countries. On doctors' advice, Hazrat Musleh-e-Maudra took his wives and children with him so that he would not stress and worry about them while he undertook this long and arduous journey towards Europe for medical attention. (Tarikh-e-Ahmadiyyat, Vol. 16, p. 469)
Of course, with all Khulafa, a journey always involves meeting Ahmadis and Jamaat members. Even though Hazrat Musleh-e-Maudra was unwell, his decision to visit the Ahmadis in Damascus and Beirut in 1955 shows how the Khulafa worry and care for Jamaat members; they are anguished to meet them and attend to their personal, spiritual and educational needs.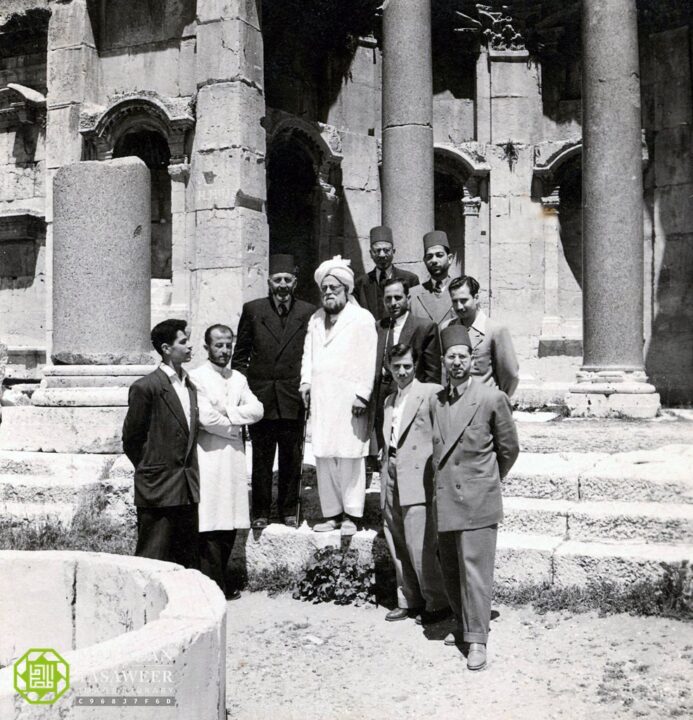 An arduous flight ending in joy
On the night between 29 and 30 April 1955, Hazrat Musleh Maudra and his entourage departed for Damascus from Karachi via a KLM flight. Huzoorra was accompanied by his two wives, Maryam Siddiqa Sahiba (Umm-e Mateen), Syeda Bushra Begum (Mehr Apa), his son Sahibzada Dr Mirza Munawar Ahmad Sahib, his two daughters, Amatul Jameel Sahiba, and Amatul Mateen Sahiba. Also accompanying Huzoorra was Hazrat Sir Chaudhary Zafrulla Khanra. (Tarikh-e-Ahmadiyyat, Vol. 16, pp. 502-503)
During this sojourn, Hazrat Musleh-e-Maud's first stop was Damascus, where he stayed for a whole week. The weather was bitterly cold on his journey to Damascus, which added to Huzoor'sra ailment. In an attempt to keep Huzoorra comfortable, Hazrat Sir Zafrulla Khanra and Sahibzada Mirza Munawar Ahmad Sahib tended to Huzoorra all night in the plane. In a letter to Hazrat Mirza Bashir Ahmadra MA, Hazrat Musleh-e-Maudra mentioned how Sir Zafrulla Khan Sahib would try to cover him at night with a blanket to protect him from the cold and how Sir Zafrulla Khan Sahib's own face seemed like he was ill himself. (Al Fazl, 10 May 1955, p. 1)
At the airport, scores of Arab members of the Damascus Jamaat and representatives from Pakistan's embassy to Syria came to welcome Hazrat Musleh-e-Maudra. Those present included the sadr of Syria Jamaat, Munir al-Husni Sahib. Munir al-Husni Sahib's wider family, who were successful Ahmadi Syrian businessmen, personally hosted Huzoorra with great love, sincerity and sacrifice. Badruddin al-Husani Sahib, the younger brother of Munir al-Husani Sahib, gave his large family home to Hazrat Musleh-e-Maudra and his family to stay in. The al-Husni family received special prayers and praise from Huzoorra which we will refer to further in the article.
Mushtaq Ahmad Bajwa Sahib, a missionary, set out and reached Damascus on 28 April, to assist in Huzoor'sra visit, and was also present to welcome Huzoorra at the airport.
After arrival at the airport, Badruddin al-Husani Sahib's female family members welcomed Huzoor'sra wives and female members of the family and took them to their home shortly after arriving.
On 6 May 1955 Hazrat Musleh-e-Maudra met with some Syrian and Palestinian Ahmadis and discussed the issue of Palestine while speaking in Arabic. During the meeting, Huzoorra also discussed plans for the progress of the Jamaat in the Middle East and took counsel from Jamaat members. Due to his God-given planning qualities, Hazrat Musleh-e-Maudra established the Jamaat as an extremely well-organised body. In Damascus, he even planned for an Ahmadi school to be built there. (Silsila-e-Ahmadiyya, Vol. 2, p. 467)
During his stay, Hazrat Musleh-e-Maudra visited various areas of Damascus. The reports tell us that he went to a place called Damar and sat at a café that was on the banks of a river. (Ibid.) He also went to a garden called Al-Munishia with his family, where they sat on the banks of the river. (Masalih al-'Arab, Vol. 2, p. 3)
Hazrat Musleh-e-Maudra sent a letter to Hazrat Mirza Bashir Ahmadra MA, who was amir muqami in Rabwah on 3 May 1955, in which he spoke about his journey. In the letter, Hazrat Musleh-e-Maudra praised the family of Munir al-Husni Sahib for their sincerity. Huzoorra also expressed how Chaudhary Zafrulla Khan Sahib had helped him in the plane to Damascus and that he was a source of ease for Huzoor: "Chaudhary Zafrulla Khan Sahib spent the whole night covering me with blankets, but this was beyond his control. At last, when I was completely worn out, I looked in the direction of Chaudhary Sahib, who was seated beside me and saw that his face was also worn out. I got uneasy and thought Chaudhary Sahib too might have gotten ill."
Regarding the Husani family, Hazrat Musleh-e-Maudra wrote in the letter:
"At the airport, members of the Jamaat in Damascus had come, they all met with complete sincerity and brother Munir al-Husni also came with the members. […] For the women, the wife of Sayyid Badrudin al-Husni Sahib – the younger brother of Munir al-Husni – was available. She took the women home and we eventually followed them. Out of his love and sincerity, Badruddin al-Husni Sahib has vacated the entire house for us, and we are in it now. The love with which this whole family is serving us is difficult to find in Pakistan. Brother Syed Badruddin al-Husni is a great businessman in Syria, but he is so intense in his service, that due to his sincerity, he is seen more as a servant and less as a noble. Because it is very cold here and there is no heating system like in Europe, I have suffered more from the cold. […] Now the programme is that, God willing, we will go to Beirut on the 7th and leave for Italy on the 8th. Chaudhary Sahib, God willing, will be with me, his company has been a source of comfort and ease. May Allah reward them well.
"Creating such love in hearts is only the work of Allah the Almighty. Man has no power, so we are thankful to Allah the Almighty that He has created for us something that other human beings are not capable of having, even though they are thousands of times more powerful than us. […]
"Peace be upon all the friends of the Ahmadiyya Jamaat, dear ones and relatives.
"Mirza Mahmood Ahmed" (Al Fazl, 10 May 1955, pp. 1-2)
The first Syrian Ahmadi marriage announced by Hazrat Musleh-e-Maudra
During this visit, it was the first time Huzoorra led the nikah of a Syrian Ahmadi couple. The nikah was between Sayyida Najmia (daughter of deceased al-Hasan al-Jabi) with Sayyid Saeed al-Qabani Sahib. (Al-Fazl, 15 May 1955, p. 3)
Reports show Huzoorra would have light-hearted discussions with the Syrian Ahmadis and also speak about the religious situation of Damascus, for example, he enquired about the Bahá'í movement from Sayed Rushdi al-Bisti Sahib. During these sittings, Syrian Ahmadis would also recite portions of the Holy Quran in beautiful voices. On one occasion, Syed Nuruddin al-Husni did a melodious recitation of Surah ad-Duha. (Al Fazl, 15 May 1955, p. 3)
The Friday sermon and the last meeting in Damascus
6 May 1955 was a Friday and since Huzoorra was leaving for Beirut on Saturday, members started visiting Huzoor'sra accommodation in the morning. The community arranged for a photographer to preserve the memory of this historic occasion.
Eventually, it was time for the Friday prayers. Badrudin al-Husni Sahib was also blessed that Hazrat Musleh-e-Maudra led the Friday sermon at his house. Huzoorra recited a short sermon in eloquent and articulate Arabic language, the meaning of which was that Allah Almighty inspired the following to the Promised Messiahas almost half a century before, when those present were not even born:
يدْعُونَ‭ ‬لَكَ‭ ‬اَبْدَالُ‭ ‬الشَّامِ‭ ‬وَعِبَادُ‭ ‬اللّٰهِ‭ ‬مِنَ‭ ‬العَرَبِ‭ ‬
("The abdal [devotees] of Syria and the servants of Allah from among the Arabs are supplicating on your behalf." (Tadhkirah [English], p. 160)
Hazrat Musleh-e-Maudra said the existence of the Syrian Ahmadis present on that day was a sign of how this prophecy was fulfilled.
After the Friday prayer, Huzoorra remained among the Jamaat members for some more time. During this occasion, Syed Muhammad Zaki Sahib recited the Holy Quran, Syed Muhammad al-Rabbani Sahib recited an Arabic qasida of the Promised Messiahas, and then Syed Ibrahim al-Jaban Sahib recited a wonderful Arabic poem in the glory of Hazrat Musleh-e-Maudra, which was a mirror of his heartfelt feelings and a sign of his sincerity. Many photos were taken of this memorable event and the event ended with prayer.
When Huzoorra visited Damascus, 31 years ago, in 1924, there were no Arab Ahmadis present and the locals showed opposition. However, with Allah's grace and Hazrat Musleh-e-Maud's great determination and planning, there was now a whole Jamaat of Syrian Ahmadis who were eager to quench their spiritual thirst by meeting Hazrat Musleh-e-Maudra. They were anxious to catch a glimpse of him, to kiss his hand, to hear his words, and to pray behind him. They used to yearn to introduce themselves to him with pride and get his prayers.
During his stay there, these new Ahmadi Arabs were proud and honoured for even guarding the door of this Promised Khalifa of God. (Al Fazl, 15 May 1955, p. 3)
Hazrat Musleh-e-Maud'sra prayer for Jamaat-e-Ahmadiyya Damascus
Hazrat Khalifatul Masih IIra left Damascus for Beirut on 7 May 1955. Before leaving, Huzoorra wrote the following words in the visitors' book of Jamaat-e-Ahmadiyya Syria with his blessed hand:
يَرْحَمُكُمُ‭ ‬اللّٰهُ‭ ‬وَيُبَارِكُ‭ ‬فِيكُمْ‭ ‬وَفِي‭ ‬كُلِّ‭ ‬أَعْمَالِكُمْ‭ ‬وَأَشْغَالِكُمْ
"May Allah have mercy on you and bless you in all your deeds and occupations."