Rabea Chaudhry, Humanity First Reporting Team
Covid-19 has exposed the inadequacy and inefficiency of the healthcare system with the lack of safety equipment available. Healthcare workers across the nation have been forced to reuse their masks multiple days in a row. Grocery store employees, who are at high risk of contracting the virus, have had limited access to masks. This shortage has compelled cities to ask for donations of this life-saving gear from local citizens, many cities across South Florida among them.
"It was while I was driving when I noticed a flyer outside Memorial Hospital West asking for donations of fabric masks," said Ismat Raja Sahiba, an avid Humanity First volunteer.
Since then, Humanity First Miami Chapter has been well engaged in helping the community with making and donating not only face masks, but also hair caps. However, the project – that has so far amounted to the donation of over 400 masks and more than 200 surgical hats to local hospitals, clinics, homeless shelters, grocery stores, and fire stations – faced challenges in the beginning.
Upon her decision to help in any way she could, Ismat Raja Sahiba went to fabric stores to see if she could find the appropriate material for homemade masks. No supplies were available, so she had to get creative. In my interview with her on how she went about making homemade equipment, she told me:
"I gathered any materials that could be useful from my home. I cut my cotton scarves into several different pieces to make masks of various sizes. I did not have elastic so some Lajna members volunteered and donated any supplies they had in their homes to me. My husband also helped with the cutting and ironing of the fabric."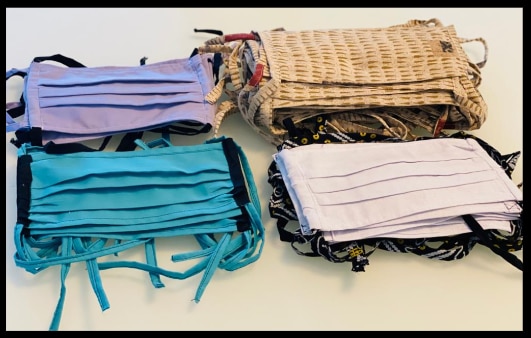 The reason why homemade masks are especially beneficial is that many people, those on the frontlines of this pandemic included, are allergic to the material of certain face masks. Ismat Raja Sahiba used semi-permeable, non-woven fabric that is both breathable and adjustable. The use of melt blown cloth (pure cotton) assures that all of the masks have a filter, no perfumes and are washable.
The response from the beneficiaries was tremendous. The director of nursing from Memorial Hospital West was one of many who sent their appreciation to Humanity First and Ismat Raja Sahiba:
"Our nurses absolutely loved the masks and are wearing them proudly. As a matter of fact, they are all gone and more nurses and physicians are coming to ask for more."
Employees at Publix, a local grocery store, were especially grateful for the donations of the cotton masks as many of them were suffering from allergic reactions to the other types of masks. Because of the evident need for donations like these, Humanity First has now called for a national collaboration with Lajna Imaillah USA to launch the "Make-A-Mask" Campaign.
To learn more about these projects and how you can become part of it or contribute in humanitarian work, visit us at http://usa.humanityfirst.org.