Samad Ahmad Ghori, Albania Correspondent
On 23 April 2020, from the grant of Humanity First Germany, we have organised a food and hygienic product distribution among 100 needy families of Shkodra, one of the main cities of North Albania. In Albania, the lockdown continues.
By the grace of Allah the Almighty, we were given permission from the Police to travel from Tirana to Shkodra for this humanitarian project. The project was done with the collaboration of the Municipality of Shkodra. In Albania, the lockdown has been very strong since March 2020 and daily workers have been badly hit economically due to it. Many families are still in desperate need of food to survive.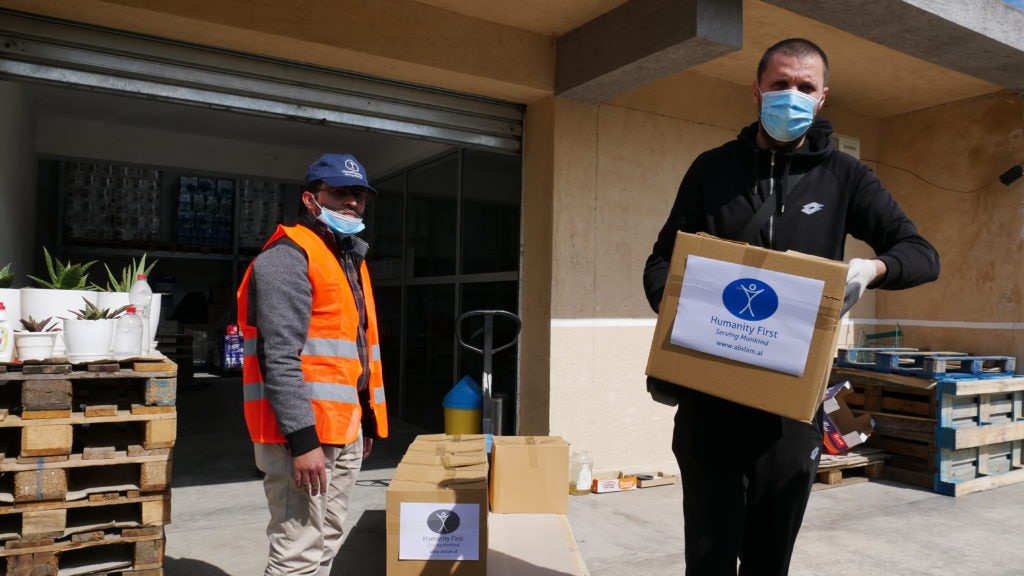 Hence, the municipality asked Humanity First to donate food packets. Along with food packets, we also donated hygiene essentials like liquid anti-bacteria soap etc. Humanity First's ten-point educational brochures, teaching how to maintain hygiene during coronavirus, were also distributed in order to educate people and help them stay safe.
The mayor, Mrs Voltana Ademi greeted us in her office. She wholeheartedly thanked Humanity First Germany and Jamaat-e-Ahmadiyya Albania for the great help during this critical situation.
She also assured that this help will go to the most vulnerable families of their municipality. After meeting with the mayor, we went to some families to distribute the boxes. Some families were crying out of gratitude for the help as none of their family members are earning. The mayor gave also thanked the Jamaat in a video message and posted the activity on the official page of the municipality with the title "A good friend in difficult days".