Noor ul Ain, Frankfurt, Germany
All over the world, millions of families find themselves under complete or partial lockdown. This abrupt departure from their daily routines has left many parents and adults feeling stuck. I am also one of them.
So what is next? What needs to change first? Our mindset. The situation is out of our control. The only thing we are in control of is our reactions. So in these challenging times, let us adjust our sails.
As one of America's most quoted writer of maxims, William Arthur Ward says, "The pessimist complains about the wind; the optimist expects it to change; the realist adjusts the sails." Accept the situation and adapt, trying to make the most of it. The way I am coping and spending my time during the lockdown is as follows:
Routines are your best friends
Children are bored and restless if they do not have a daily routine. Adults benefit greatly from setting up their routines as well. So, making a daily plan with the input of my children and spouse proved very helpful.
Home schooling
Study time is not only homework anymore. It is giving lessons in a classroom-like atmosphere, with short intervals. It provides a semblance of normalcy for the children in their otherwise rapidly changing life.
Learning Urdu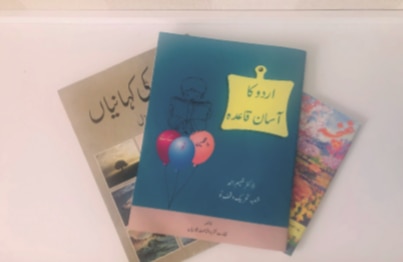 Although I was teaching my children Urdu before, the lockdown provided me with a lot of free time to speed up the process. Since it is the primary language used by the Promised Messiahas in his books, I feel it is important that my children develop a love for the language.
However, if you know another language, try and use this time to impart it to your children or those in your household.
Physical activity
A walk in the woods, riding bicycles (if allowed) or some type of fun physical activity at home is imperative. It helps the children unwind and boosts immunity. Children love it when parents join in. We play musical chairs, hide and seek and if you are wondering, we do not have a garden. We live in a two-bedroom apartment. But remember, where there is a will, there is a way.
Reenacting ijlasat
Since the lockdown started, in accordance with the new law, all Jamaat programmes and ijlasat (meetings) have been called off. To make up for this, I reenact ijlasat at home with my two daughters. I am very grateful to the auxiliary organisations Nasirat-ul-Ahmadiyya and Lajna Imaillah for providing us with a lot of information and new ideas. Imparting religious knowledge through flashcards, quizzes and games makes learning interesting and easier for children.
Screen time
Many parents are facing the challenge of restricting screen time for children these days as there is not much else to do. But letting your screens do the babysitting for you can eventually lead to chaos. It makes the children lose sleep and agitates them. So, why not make screen time an occasional event? There is a range of amazing content on MTA for both children and adults. I am personally a huge fan of Dr Bablu (Bachon ki Dunya). Watching MTA documentaries with the whole family is a great experience as well.
Be kind
Crisis brings out the good in many people and also the worst in many. Social media is full of videos of people fighting over the last roll of toilet paper, or being xenophobic, or spewing out negativity for no reason at all. We, as Ahmadi Muslims, are so fortunate that in these challenging times, we have a spiritual leader, guiding us at every step of the way. Practicing social distancing, good hygiene and following the instructions of authorities is absolutely necessary. But what does not help at all is forwarding WhatsApp messages about the coronavirus irresponsibly, complaining, hoarding, creating panic and adding to the anxiety of people around you. Try to be a part of the solution, not the problem. Be kind and be responsible.