Adila Yacoob, Medical Student, Trinidad & Tobago
During the month of Ramadan, a viral video was sent out drawing attention to an urgent refugee appeal. This video indicated that a number of families in the South region called Icacos were requesting basic necessities such as food items and school supplies.
Lajna Imaillah Freeport already made a collection in our monthly meeting one month prior to carry out a target of food hampers to assist families, but when a Lajna member came across the viral video, we went through the proper channel of office bearers to seek approval and guidance to assist these refugees.
On 20 April 2021, Lajna Imaillah Freeport, under the banner of Humanity First, set out to purchase items for the food hampers. Essential non-perishable items purchased were: rice, flour, cooking oil, can foods, pasta, more than 10 cases of drinking water and much more. All food hampers were organised by the local Sadr Lajna Imaillah, alongside three Lajna members and a few Khuddam assisting us in safety with regards to buying and packaging the goods.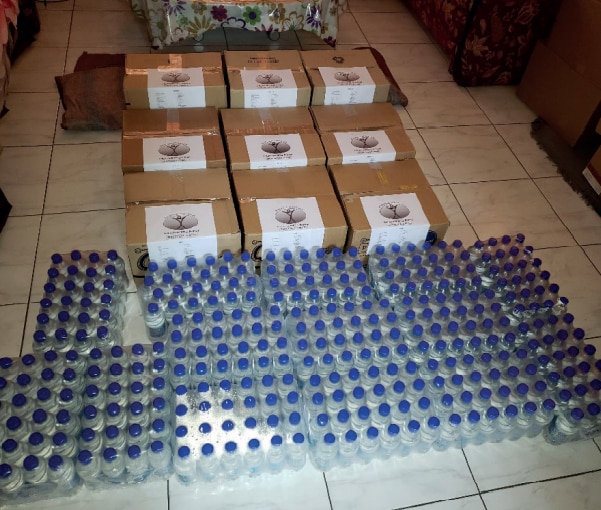 Due to the strict advice from the government concerning Covid-19, it was decided that our contributions would be delivered to the non-profit organization. Hence on 30 April, the Muallim of Jamaat-e-Ahmadiyya Freeport and our local Quaid Majlis Khuddam-ul-Ahmadiyya assisted Lajna members in delivering these food hampers.
Alhamdulillah, on 7 May 2021, the hampers were distributed on-site and our love, grief and support was shared among the refugees. More than 30 refugees and several families benefitted from this act of charity.
We continue to pray that may Allah the Almighty alleviate their pain and protect them and may Allah the Almighty accept these services of Lajna Imaillah Freeport, Trinidad. Amin