Kashif Virk, Missionary, Sweden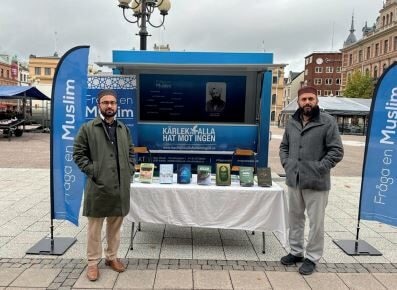 Jamaat-e-Ahmadiyya Sweden has initiated a campaign titled #FrågaEnMuslim (#AskAMuslim) to counter anti-Islam sentiments among the general public in Sweden and to create dialogue and understanding.
The fourth tour under this campaign was held in September and October 2022. Public events were arranged in seven cities, including Sundsvall, Östersund, Örnsköldsvik, Umeå, Skellefteå, Piteå, and Luleå. The journey covered a distance of over 3600 kilometres. All these cities are located in the northern parts of Sweden.
A caravan with the picture of the Promised Messiahas alongside the motto "Love for all, Hatred for none" and #AskAMuslim and #MessiahHasCome written on it was brought along. The caravan served as a discussion booth wherever it was positioned and attracted a lot of attention.
Questions that were frequently asked were about Islam's view on freedom of speech, women's rights and homosexuality. Many people appreciated the initiative.
The tour was given a lot of attention in the media. A total of six local newspapers gave coverage to our stalls. The message was conveyed through two local radio stations and one national radio station. The journey was also widely circulated on different social media platforms.
The local Ahmadis residing in different cities assisted with the stalls and hospitality.