Dr Tariq Shamim Khwaja, National Sadr South Korea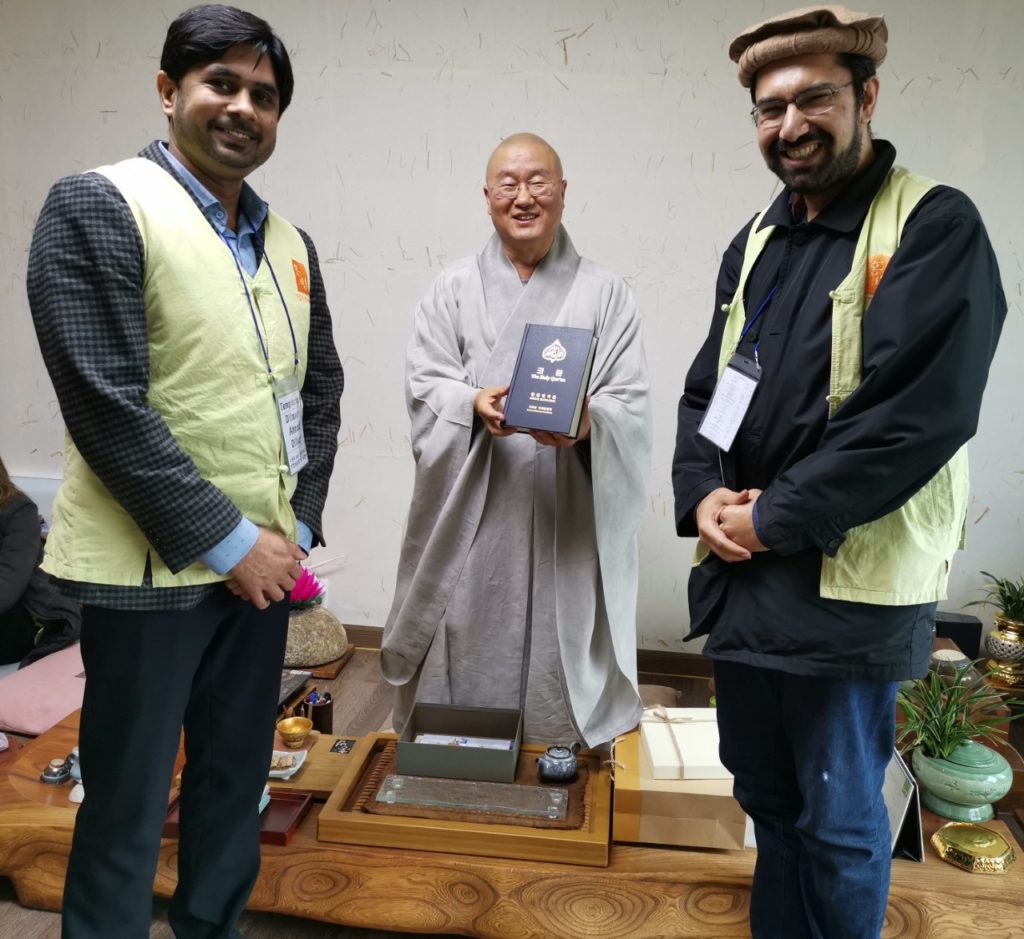 A 5-member delegation of the Ahmadiyya Muslim Association South Korea took part in a Buddhist Temple Stay at the Hongbeopsa Temple, Busan, South Korea on 27 and 28 April 2019. Professor Noriko Sato, a very good friend of the community in South Korea had arranged for this opportunity to promote the peaceful message of Islam to the Buddhist community.
A request for prayers was specifically sent to Hazrat Amirul Momineenaa for our successful participation. The Temple Stay lasted 20 hours and included non-Ahmadi participants from the USA, UK, South Africa, China, and Fiji. Activities included meditation, monastic meal tradition, walking meditation, threading and dharma talk.
At the end of the programme, the hosts kindly granted an opportunity to the National President of the Ahmadiyya Muslim Association South Korea to present a copy of the Holy Quran to the respected Head Monk, Ven Shimsan of the Jogye Order. He was overwhelmed to receive a copy and the gesture was such a pleasant surprise to all participants that the Ahmadi delegation became a highlight of the session. Subsequently participants also requested copies of the Holy Quran with translation in their native languages. With the special blessings of Allah, the Ahmadi delegation became the highlight of the programme.
The primary host of the Temple Stay said, "Thank you so much for your coming to the temple. It was a really great chance to meet your association. Your respectful attitude and kindness is really impressive to us. Also, it was an honour to have you."
A Chinese Student in Korea, aft er receiving the Holy Quran with Chinese translation, said, "Thank you so much. It is really elegant. The book that I brought from China is about to be finished. Now I have this one."
Prof Noriko Sato said, "I have just received a call from [the organiser]. They are pleased with your visit. The head monk appreciates your present, Quran. [The organiser] welcomes you to the coming events."
May Allah enable the community to further its outreach efforts as per Huzoor'saa desires. Amin.