Last Updated on 11th June 2021
Ataul Mujeeb Rashed, Missionary-in-Charge UK
27 May 1908 heralded the start of the "Second Manifestation" of God's blessings as the institution of Khilafat was re-established in Islam. As a continuous reminder of this sheer blessing of Allah the Almighty, Khilafat Day jalsas are held up and down the country and indeed globally too.
The pandemic has encouraged people to become more creative in using technology to reach out to others.
Shahzeb Athar Sahib, a missionary, reports that Jamaat-e-Ahmadiyya UK commemorated Khilafat Day throughout the country via YouTube and video conferencing software to reach out to the members of the Jamaat.
Over 25,000 people attended Jalsa Khilafat Day Jalsa organised virtually throughout the UK.
The National Khilafat Day Jalsa was held on 27 May 2021 live on YouTube, which has, thus far (2 June), been viewed by 15,963 people. The Jalsa was chaired by Amir Jamaat-e-Ahmadiyya UK, Rafiq Ahmad Hayat Sahib.
The event began with a recitation from the Holy Quran, followed by an Urdu poem. The first speech was delivered by Dr Chaudry Ijaz ur Rehman Sahib, Sadr Majlis Ansarullah UK, on "The blessings of Khilafat", followed by a speech delivered by Raja Burhan Ahmad Taaley Sahib, a missionary and lecturer at Jamia Ahmadiyya UK, on "The mantle of Khilafat".
A speech was then delivered by a young waqif-e-nau on "How Khilafat guides me". The Jalsa concluded with an Urdu poem, followed by the closing remarks and silent prayer led by Amir Sahib.
Across the 14 regions in the UK, in the month of May 2021, UK missionaries have been organising Jalsa Yaum-e-Khilafat.
Missionary-in-Charge UK, Ataul Mujeeb Rashed Sahib delivered speeches addressing the jamaats of Huddersfield North and South and Worcester Park on "Personal accounts and memories with Khulafa-e-Ahmadiyyat".
Naseem Ahmad Bajwa Sahib, the missionary of the Baitul Futuh mosque, delivered speeches addressing Merton Park and Baitul Futuh jamaats.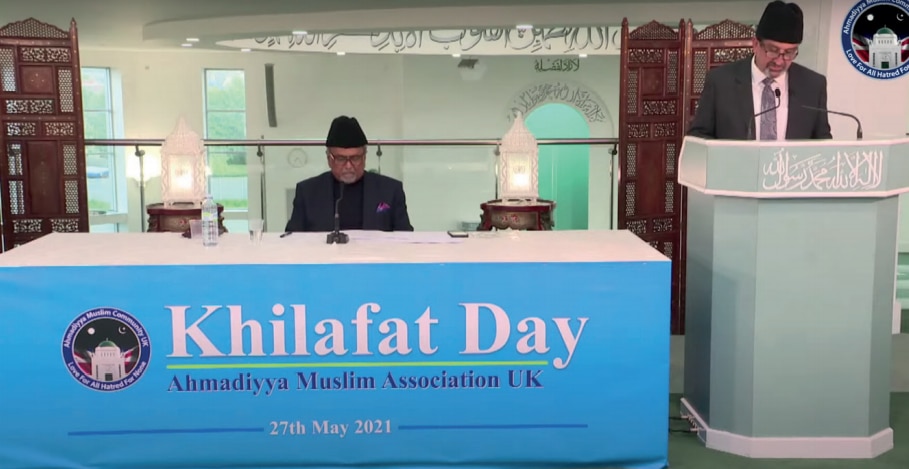 Mubarak Ahmed Basra Sahib addressed the jamaats of Bradford North, Bradford South, Keighley and Leeds.
Mansur Ahmed Sahib addressed the jamaats of Hayes and Greenford.
Sabahat Karim Sahib addressed the jalsas of Huddersfield South and Huddersfield North jamaats.
Qureshi Daud Ahmad Sahib addressed the Glasgow Jamaat and Ansarullah Glasgow.
Mujeeb Ahmed Mirza Sahib addressed the Southall Jamaat and spoke on "Obedience to Khilafat".
Ammar Ahmad Sahib addressed the Cardiff Jamaat and spoke on the "Significance of Khilafat".
Humayon Jahangeer Khan Sahib addressed the Birmingham West Jamaat and spoke on "Why we celebrate Khilafat Day'.
Sheikh Sharjeel Ahmad Sahib addressed Clapham, Battersea, Burntwood and Tooting Broadway jamaats.
Imran Ahmad Khalid Sahib addressed MKA Masroor region.
Zartasht Latif Sahib addressed the Leicester and Coventry jamaats.
Hassan Selby Sahib addressed Scunthorpe Jamaat.
Tahir Khalid Sahib addressed the Morden Park, Baitul Ehsan and Morden South jamaats.
Rawah-ud-din Arif Khan Sahib addressed the Glasgow Jamaat.
Tahir Selby Sahib addressed the Newcastle Jamaat and gave a PowerPoint presentation on the "Blessings of Khilafat". He also addressed the Midlands regional tabligh class, Hartlepool tablighclass and Hartlepool Atfal class.
The Ahmadiyya Muslim Jamaat commemorates the blessings of Khilafat on this day by offering prayers and recalling the blessings of Allah the Almighty on the Jamaat through this blessed institution.
Aamir Shahzad Sahib, President Huddersfield South, reports that Jamaat-e-Ahmadiyya Huddersfield South and North organised an online Khilafat Day Jalsa on 28 May 2021.
The event started with a recitation from the Holy Quran followed by an Urdu poem.
Ataul Mujeeb Rashed Sahib, Missionary-in-Charge UK was invited in this jalsa to share his personal accounts and faith-inspiring memories with Khulafa-e-Ahmadiyyat. He started his address by advising all the participants that earlier, Hazrat Khalifatul Masih V, may Allah be his Helper, had delivered a beautiful and heart-touching Friday Sermon, which highlighted the importance of Khilafat and everyone ought to listen to that sermon.
He also shared his personal eyewitness incidents and explained how Allah the Almighty showed his love and help to Khilafat-e-Ahmadiyya. He advised everyone to be obedient to Khilafat and to regularly listen to the Friday Sermon of Huzooraa, as this was a powerful source of making a connection with Khilafat.
Finally, before dua, he reminded everyone to remember Hazrat Khalifatul Masih Vaa in their prayers. The event concluded with silent prayer.