Sarfraz Ahmad, Majlis Atfal-ul-Ahmadiyya UK, Isha'at team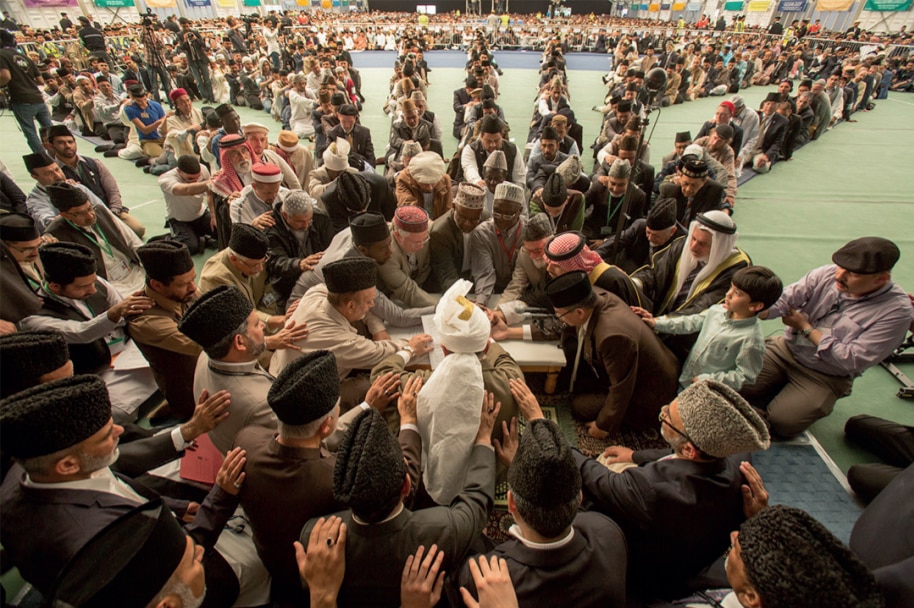 A popular hashtag in recent days, which has attracted the attention of Ahmadi Muslims across social media, has been #MyKhilafatStory.
Scores of Ahmadi Muslims across the world have been narrating how they personally witnessed the blessings of Khilafat in their lives.
The Holy Quran states in Surah Maryam: "Those who believe and do good deeds – the Gracious [God] will create love in their [hearts]." (Surah Maryam, Ch.19: V.97)
From the #MyKhilafatStory hashtag, it is clear that the love and affection the Khalifa of the time has for all, irrespective of who they are and where they live, is no doubt divinely endowed.
No other leader, whether worldly or religious, shows such love and attention to his followers in our day and age. What is even more remarkable is that this level of interest and detail in the day-to-day lives of Ahmadi Muslims and constant prayer exist in the routine and heart of the Khalifa with a relentless workload and tiresome schedule side by side!
In our age, the unconditional and pure love of the Khalifa is paramount to a successful life. Our Khalifa is the shield that saves us from the difficulties of life, the light that guides us in darkness and the source of our happiness. He is incomparable to the people and leaders of this world. His words are the ointment for our sufferings, his actions are our guide and his smile is wherein our comfort resides!
Below are just a few examples from the online hashtag.
Iffat Mirza noted how Huzooraa cares about every individual in an audience. She stated:
"#MyKhilafatStory As students we had a meeting with beloved Huzoor, after his speech he asked us if any of us have any doubts about faith and commented 'if you do, contact me' Beautiful how he cares about each individual!"
Another Lajna member tweeted about how Huzooraa always shows a keen interest in what fields of education Ahmadi Muslim youth should pursue. She said:
"#MyKhilafatStory is the one family mulaqaat with our parents, which turned out to be a 1:1 conversation between Huzoor and I about my degree choice and how interesting he found it – he advised me on the kind of fields I could work in. It's a mulaqaat I will cherish forever."
This story given by the Belize Jamaat Twitter account shows how Huzooraa not only understands us but puts us at comfort in his company:
"Our Missionary Ata'ul Haq Gabb (who converted to Islam Ahmadiyyat and then devoted his life to become missionary) writes, "The first time I met our Beloved Huzoor was at Jalsa Salana 2015. Everyone in our delegation except our president had never met Huzoor before. So we didn't know what to expect when meeting him. I thought maybe he would be a no nonsense leader because as I said I really knew very little of Huzoor at the time. When we entered I could sense the nervous energy in the room. Huzoor went down the line greeting everyone and when he got to me he spoke Urdu and shook my hand. Our Sadar sahib smiled and said 'he doesn't speak Urdu'. Huzoor warmly smiled and said 'Acha … but you look very much like us.' Everyone in the room chuckled and smiled. The nervous energy immediately left the room. Since that day I knew that our Huzoor is the kindest man on earth. #Mykhilafatstory"
One very moving comment was by an Ahmadi Muslim dentist living in Bengaluru who said that his story with Khilafat was that he had never met Huzooraa in real life but even the thought of doing so filled him with passion and emotions.
There are so many more stories and accounts Ahmadis have narrated and readers of Al Hakam can read them by following the #MyKhilafatStory hashtag.