Islamabad, Tilford, 2 July 2021: In the Friday Sermon today, Hazrat Amirul Momineenaa announced the launch of a new website search engine created by the Ahmadiyya Archive & Research Centre (ARC): Ahmadipedia.org.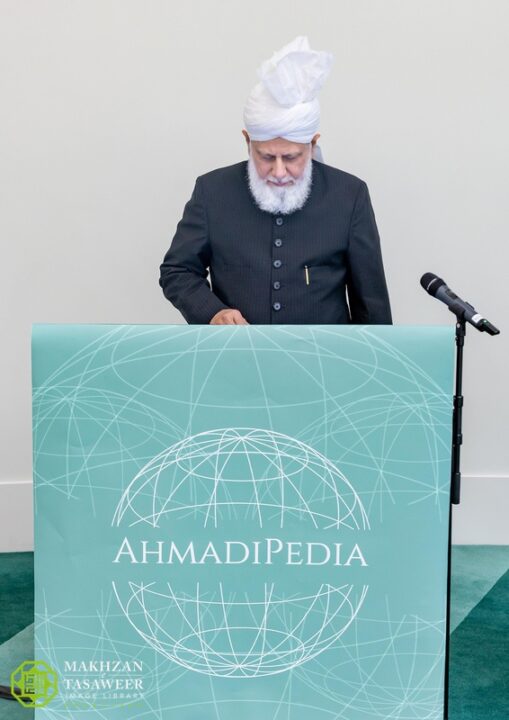 Hazrat Khalifatul Masih Vaa said:
"An Ahmadiyya encyclopaedia has been created that will be launched today. The central Ahmadiyya Archive & Research Centre has made this.
"Some time ago, they started this project and now by the grace of Allah the Almighty this website is being made available for members of the Jamaat. This can be reached at www.Ahmadipedia.org. […] It has been made in a very simple and easy to use manner.
Huzooraa said information about fundamental Jamaat books, personalities, events, beliefs etc. will be made available for everyone to read and search on this website. Related links, websites and videos will be available for each search. The search engine will also be a means of connecting to other Jamaat websites.
Huzooraa said that many Jamaat members, across the world, have lots of beneficial records and information of the Jamaat's history that has not been recorded yet. On the Ahmadipedia.org website, a contribute option will be available where Jamaat members can contact the AhmadiPedia department and provide this information to them. After looking into the information and verifying it, the AhmadiPedia department can upload the information.
Huzooraa said the department urged all Jamaat members to share any historical records they had that contradicts current historical records.
Many missionaries and volunteers from the ARC department have worked very hard for this project along with the hard work of the IT department. Huzooraa said, "May Allah the Almighty bless them too for this", Huzooraa prayed.
Hazrat Khalifatul Masih Vaa launched the website after Friday prayers.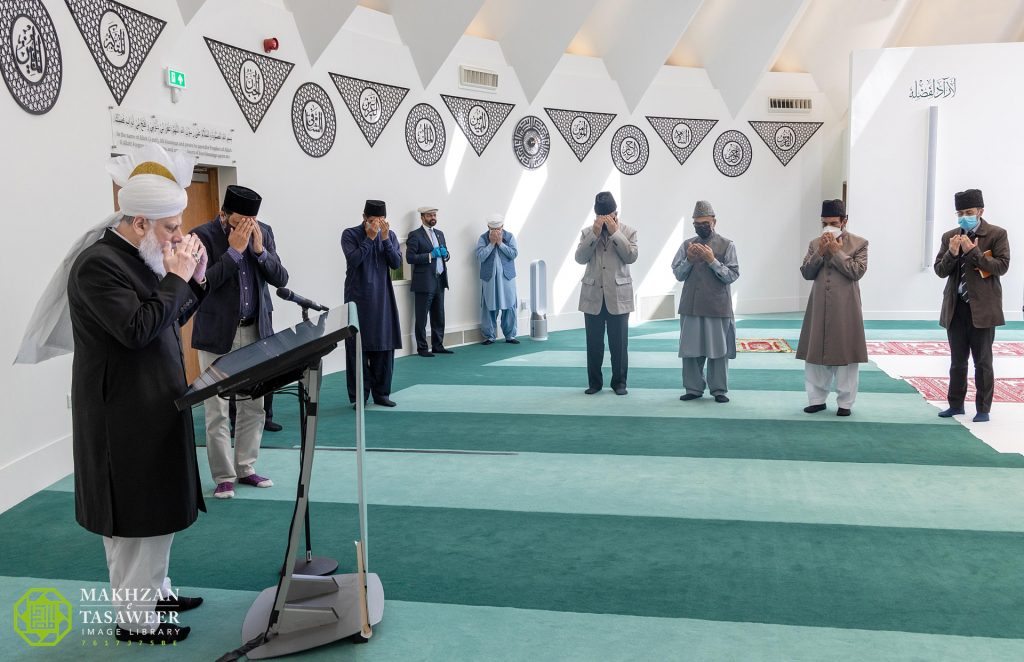 Background to the AhmadiPedia project
We spoke to Asif M Basit Sahib, Curator at the Ahmadiyya Archive & Research Centre, and asked him about the background and reason for this project. He told us:
"With an extremely rich history spanning over 132 years, a need was felt that a resource be created where Ahmadis and even non-Ahmadis could search for information about the Ahmadiyya Muslim Jamaat.
"With Huzoor's approval, the Ahmadiyya Archive & Research Centre embarked upon this task; as we had suspected, it turned out to be a never-ending one. There is just so much that has happened and so eventful has every passing day of the Jamaat been that containing its history up is undoubtedly an impossible task.
"However, we started off under Huzoor's instructions and have been able to put together a search engine where users can search for terms and read about them.
"We have tried to keep it very simple and user friendly so that the focus remains on the content which is the pivot of the whole project anyway.
"We have invited users and would encourage them to contribute towards any entry where they feel they can add something to.
"This would make AhmadiPedia an interactive resource where information is acquired, shared and imparted by the readers.
"Entries work to only provide a brief introduction to the subject in question but other links, in the form of videos, books, articles and webpages have been attached for readers to acquire a detailed understanding. This aspect will help redirect our readers to other resources of the Jamaat like alislam.org , MTA International, Al Fazl, Al Hakam and The Review of Religions etc.
"The project is in no way complete and invites you to let us know what more information can be added. Our teams will be working day and night to keep updating the site to add more and more information.
"We are extremely thankful to Hazrat Khalifatul Masih Vaa to have accepted our request to launch the AhmadiPedia website. We take this launch as a foundation stone laying by Huzooraa where all Ahmadis will be able to play their role in building and expanding it."