Atta Ul Naseer, Missionary, Greece
Since June 2020, Jamaat-e-Ahmadiyya Greece has been collaborating with Humanity First Germany in the Warm Meal Project. Thousands of refugees became homeless due to the eviction of accepted refugees from government accommodation facilities and camps.
Many of these refugees started arriving and sleeping in a well-known place in Athens called Victoria Square. These refugees included newborn infants, pregnant women, children, elderly and men who did not have any food or drinking water.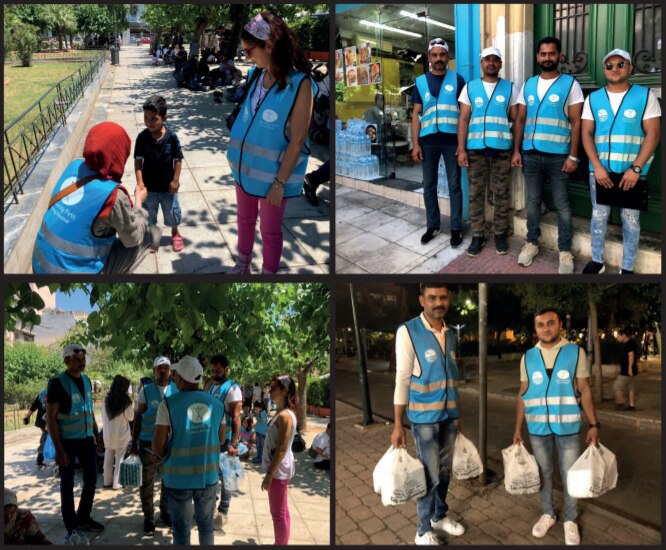 Humanity First Germany was sent a proposal, which was approved. In the beginning, we started buying some Souvlakis (Chicken Rolls) and bottles of water on a daily basis, but the number of people became so high that we could not continue with these. We tried cooking food at home, but after a few days we realised that this would require a lot of time and manpower, which was difficult for our small jamaat in Greece. It would also create legal issues as we did not have a licensed kitchen or staff.
So, we started asking nearby restaurants for a good deal for meals. Soon we found a restaurant that would give us one meal for €1.
We started purchasing the meals from them, bottles of water from Lidl and bottles of milk from another market. Atfal, Khuddam, Ansar and Lajna all started volunteering in different shifts. Some Greek friends, friends from the Ivorian Community and some Afghan refugees who were sleeping there also came forward to offer their help and volunteer in this task.
After a month or so, the number of meals per day reached between 300 to 600 and it became difficult for this small restaurant to continue supporting this project. Then, with the help of Allah the Almighty, we found another restaurant located at the Victoria Square called Afghan Watan Restaurant. They offered the same meals at €1.13. Previously, we had to visit Lidl nearly every day to purchase water for the day but now we could buy cold water from the restaurant at the same price.
Now the food and water were being served twice a day. The volunteers were sacrificing many hours during the day to cover both shifts. After some time, due to some budget difficulties, we had to limit the meals to 300 per day then 110 and now we are serving 70 meals daily.
By the grace of Allah, through this project, Humanity First Germany was able to serve over 33,000 meals and over 10,000 liters of drinking water until February 2021 and the project continues to support refugees. According to careful estimates, over 10,000 refugees and homeless/vulnerable Greek people have benefited from this project. Over 2,500 man-hours have been volunteered by over 30 volunteers so far which has saved € 9750, keeping the minimum hourly wage of Greece in mind.
Although the mainstream media of Greece was not interested in covering this story of service by Muslims of Greece, one journalist showed courage to mention this in her report for insidestory.gr who wrote:
"An Imam in the heart of Victoria
"Imam Atta Ul Naseer has been in Greece since 2013. After completing his studies in London, the caliph of the Ahmadiyya Community appointed him to Athens.
"The presence of the young imam is easily felt in Victoria Square, as refugees living there flock to ask for his help. Through the Ahmadiyya community charity [Humanity First Germany], 300 meals are distributed daily in Victoria Square to people who have no money to buy food.
"Many of the volunteers who help are the refugees themselves, waiting for their asylum application to be judged. 'It's beautiful,' notes the imam, 'because the refugees themselves reciprocate the help to the community that received them.'
"By the end of July, according to the inside story, he met at least 10 pregnant women who lived in the square because they had no roof. It is 'a humanitarian crisis that no one is dealing with,' he tells us.
"'Every day more refugees come, 10-15 people, most from Moria and Karatepe of Lesvos,' said the imam, adding: 'The majority of people are recognised refugees, but there are others waiting for the decision of whether they are entitled to asylum, while there is a percentage that concerns people whose application has been rejected and are waiting to file an appeal.' Most are from Afghanistan, but there are also people from Somalia, Pakistan and Iran.
"What the imam told us was confirmed in the inside story by the UNHCR, while ringing the bell for the future." (https://insidestory.gr/article/koimoyntai-plateia-viktorias?token=9Q2ZRY9YU2)
I am very grateful to all the volunteers and donors of Humanity First Germany for their time and donations which helped to assist thousands of vulnerable people in Greece. Above all, I am extremely grateful to Allah the Almighty for enabling all of us to serve mankind as it is a fundamental teaching of Islam. May Allah enable us to fulfill our obligations to Him and His creation. Amin