Atif Ahmed Zahid, Missionary, Australia
Jamaat-e-Ahmadiyya's mission is to spread the true and peaceful teachings of Islam to the entire world.
In this regard, Jamaat-e-Ahmadiyya Adelaide South had a chance to hold a Quran exhibition and bookstall in the regional town of Snowtown in South Australia.
This was the first time that any Muslim community visited this town and also the first bookstall and Quran exhibition held in any regional town since the start of the Covid-19 pandemic. Snowtown is a remote town and situated about 200 kilometres north of Adelaide. The total population of the town is 400.
On 20 June 2021, six members of Jamaat-e-Ahmadiyya Australia gathered at Masjid Noor at 5:30am. Atif Ahmad Zahid, a missionary, gave some advice on various matters related to tabligh. He then led this group in silent prayer before departing for this two-and-a-half-hour long journey.
The exhibition and bookstall was set up in the main market area of the town centre. At 9:30am the market was opened for the public. The exhibition attracted a lot of interest from the public.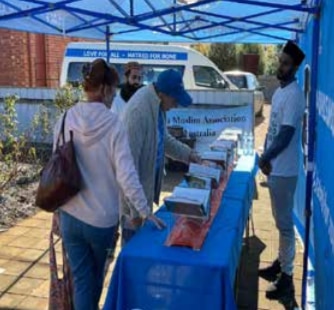 In the exhibition, translations of the Holy Quran in ten different languages were displayed along with a variety of literature such as Life of Muhammad, The Philosophy of the Teachings of Islam, World Crisis and the Pathway to Peace and Islam's Response to Contemporary Issues. In leaflets, Muslim for peace, Muslim for loyalty, Muhammadsa in Bible and Messiah has come were displayed.
More than 230 people from different parts of the town looked at the books and Quran exhibition. A marquee with the Jamaat logo was also a source of attraction for many people. Detail discussions were held with nearly 60 people who visited the bookstall.
The most common topics of discussions were:
• What are the teachings of Islam?
• Status of women in Islam
• Similarities between Islam and other religions
• How can Islam uphold justice in society?
• What is the purpose of life?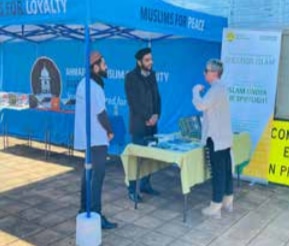 A teacher from a Catholic school visited the bookstall and was very impressed with the efforts of Jamaat-e-Ahmadiyya. He said:
"I knew I have to visit this bookstall and I will get something from there." He was then given the book, The Philosophy of the Teachings of Islam to read along with some other literature.
At 2pm, the Quran exhibition and bookstall ended and members of the Jamaat offered Zuhr and Asr prayers in a park of the town.