Mujeeb Ahmad Mirza
Secretary Majlis-e-Sehat UK
Majlis-e-Sehat UK was established by Hazrat Mirza Tahir Ahmad, Khalifatul Masih IVrh in 2001. One of the main responsibilities of the organisation is to engage the members of the Ahmadiyya Muslim Jamaat in sports by organising events and activities aimed at improving the physical well-being of members of the community.
By the Grace of Allah, Majlis-e-Sehat UK regularly organises football, basketball, cricket, badminton and volleyball tournaments.
We are honoured to have organised many national level tournaments, as well as on a European and International level. Some of these events have been graced with the blessed presence of Hazrat Mirza Masroor Ahmad, Khalifatul Masih Vaa.
After the success of last year's European Football Tournament, this year again, Majlis-e-Sehat UK was given the opportunity to host the Ahmadiyya European Football Tournament.
The Tournament started on Friday, 19 April with the opening session taking place in Baitul Futuh Mosque in London.
This year, the following teams participated in this tournament (all teams were divided into 3 groups):
Group A: UK A, Germany A, Germany B, Bulgaria
Group B: UK B, PAAMA, Fazle-Umar, Denmark, Sweden
Group C: Jamia UK, Ireland, Belgium, Holland, Jamia Germany
Over the weekend, all of the group stage matches and quarter finals were played at Surrey Sports Park, each game lasting 40 minutes. In total, 30 Matches were played.
On Monday, 22 April, the semi-finals and final took place at Carshalton FC Stadium.
Semi-final 1: Germany A vs UK B – Score was 3-0
Semi-final 2: UK A vs PAAMA – score was 4-0
The final was played between Germany A and UK A, with Germany A winning 1-0.
The concluding session took place thereafter and prizes were given to the following:
Player of the Tournament: Omar Nija (Germany A)
Golden Boot: Ahmad Butt (Holland)
Golden Glove: Rameez Ahmed (Germany A)
Fair Play Award: Denmark
Runners-up: UK A
Winners of the Ahmadiyya European Football Tournament 2019: Germany A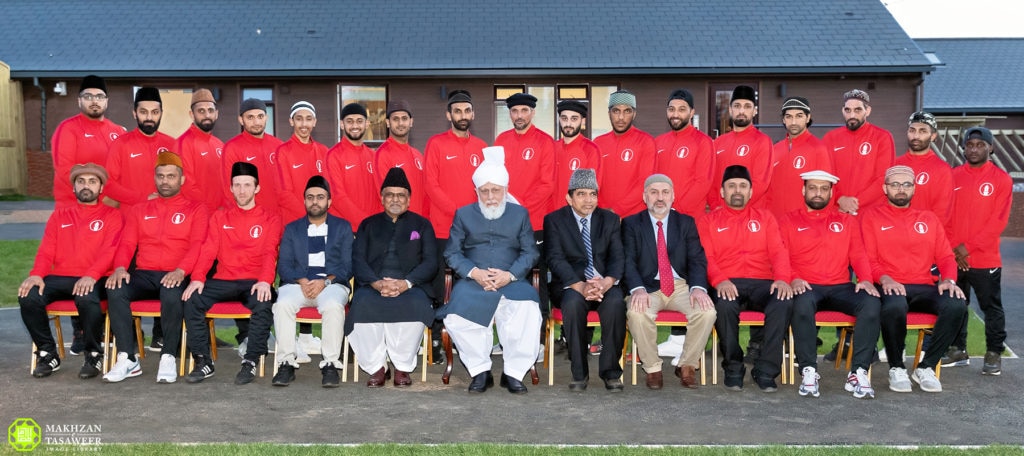 The highlight of the tournament was the photo session with Hazrat Amirul Momineen, Khalifatul Masih Vaa. Each team had the honour to have pictures taken with their beloved Imam.
By the grace of Allah the Almighty, all arrangements and matches went smoothly and the guests of the Promised Messiahas returned to their homes safe and happy.
We look forward to welcoming more teams next year and aim to make the tournament better and bigger – InshaAllah.