Maham Warraich, Belize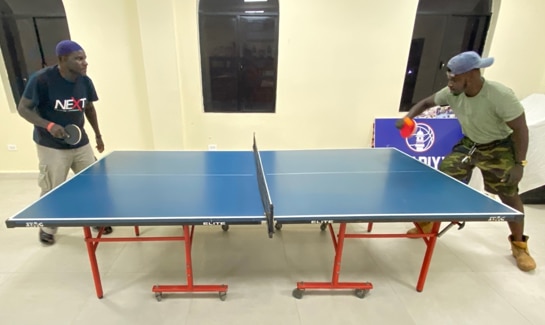 Jamaat-e-Ahmadiyya Belize was fortunate to form ties with the National Belize Table Tennis Association. Tux Vasques, the president and chairman of the committee visited the Noor Mosque and presented a gift of an indoor table tennis table to the Jamaat. Jamaat-e-Ahmadiyya Belize was very grateful for this cordial gesture as it initiates positive ties with organisations that are already established in Belize.
Due to the increase in numbers of Covid-19 cases and subsequent restrictions in the area, it has become increasingly difficult to conduct contact sports in person. Table tennis is a sport that allows citizens of Belize to engage in healthy competitive games without posing a risk to their own health and the health of others. It is also a means of engaging in healthy physical activity on a regular basis. Furthermore, the consistency of physical activity has aided those struggling with mental health concerns and has proven to be a delightful new avenue for relief and happiness. Jamaat-e-Ahmadiyya Belize now invites citizens to come to the Noor Mosque and have friendly matches with others. This draws the community to feel welcome at the mosque and offers an opportunity to socialise with both Jamaat members and other citizens in a harmonious environment.
It is with the sheer grace of Allah that the Jamaat has been blessed with yet another means of engaging with the people of Belize and conducting active tabligh through sport.