Daniyal Ahmad, Missionary, UK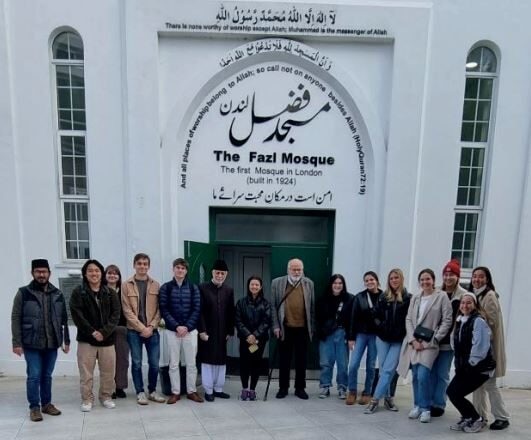 On 27 March 2023, a group of 13 American students along with Professor Mike Fosdal visited the Fazl Mosque in London. The purpose of their visit was to understand more about Islam in Britain.
After their arrival, Ataul Mujeeb Rashed Sahib received them and took them inside the mosque. Then he gave them a brief introduction about Islam and its teachings, mosques, offering prayers, qibla and how the Ahmadi women donated their ornaments for the building of this very Fazl Mosque.
It was followed by a question-and-answer session. Questions regarding polygamy, the Islamic belief regarding Jihad, and various other topics were asked. The background of the Ahmadiyya Muslim Community was also explained. This part of the session was about 30 minutes long.
After this, refreshments were presented. Ataul Mujeeb Rashed Sahib was once again questioned on different aspects of Islam. In total, the group spent about 2 hours.
One of the students said:
"We gained better insight into the beliefs of Islam and its core values. We became more familiar with a community different from our own, which was beneficial."