Wakalat Tamil-o-Tanfidh, for India, Nepal and Bhutan
On Sunday, 11 April 2021, the national amila of Majlis Ansarullah India had the good fortune of meeting Hazrat Amirul Momineenaa and seeking guidance from him as regards their responsibilities.
Ata-ul-Mujeeb Lone Sahib, Sadr Majlis Ansarullah India, said:
"Alhamdulillah, thumma alhamdulillah. It was a historic occasion for us and for Majlis Ansarullah India. We cannot thank Allah the Almighty enough.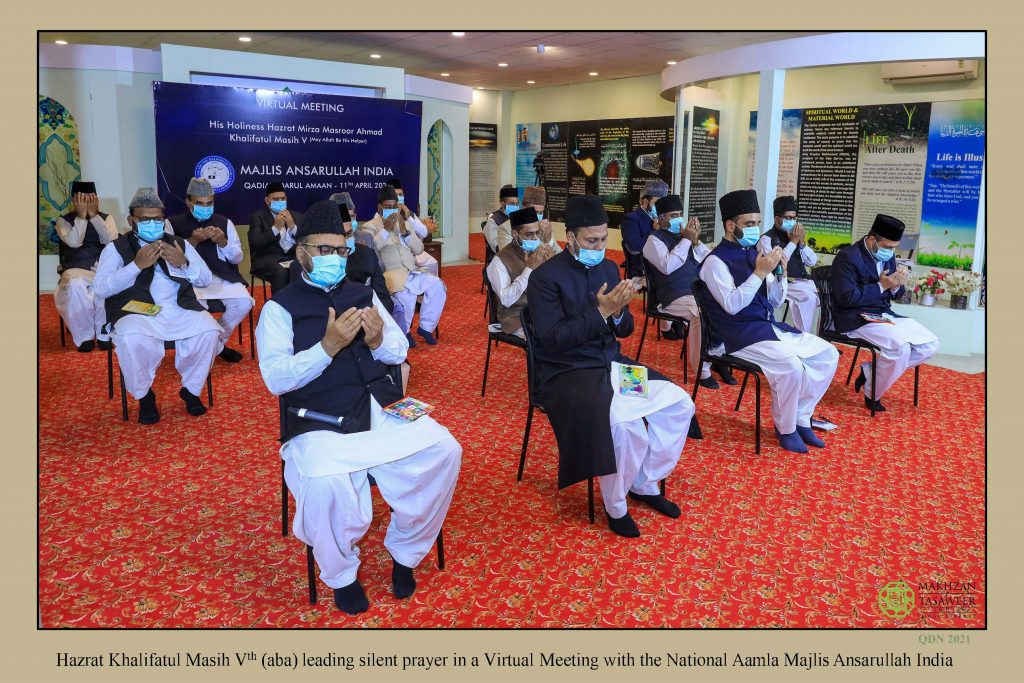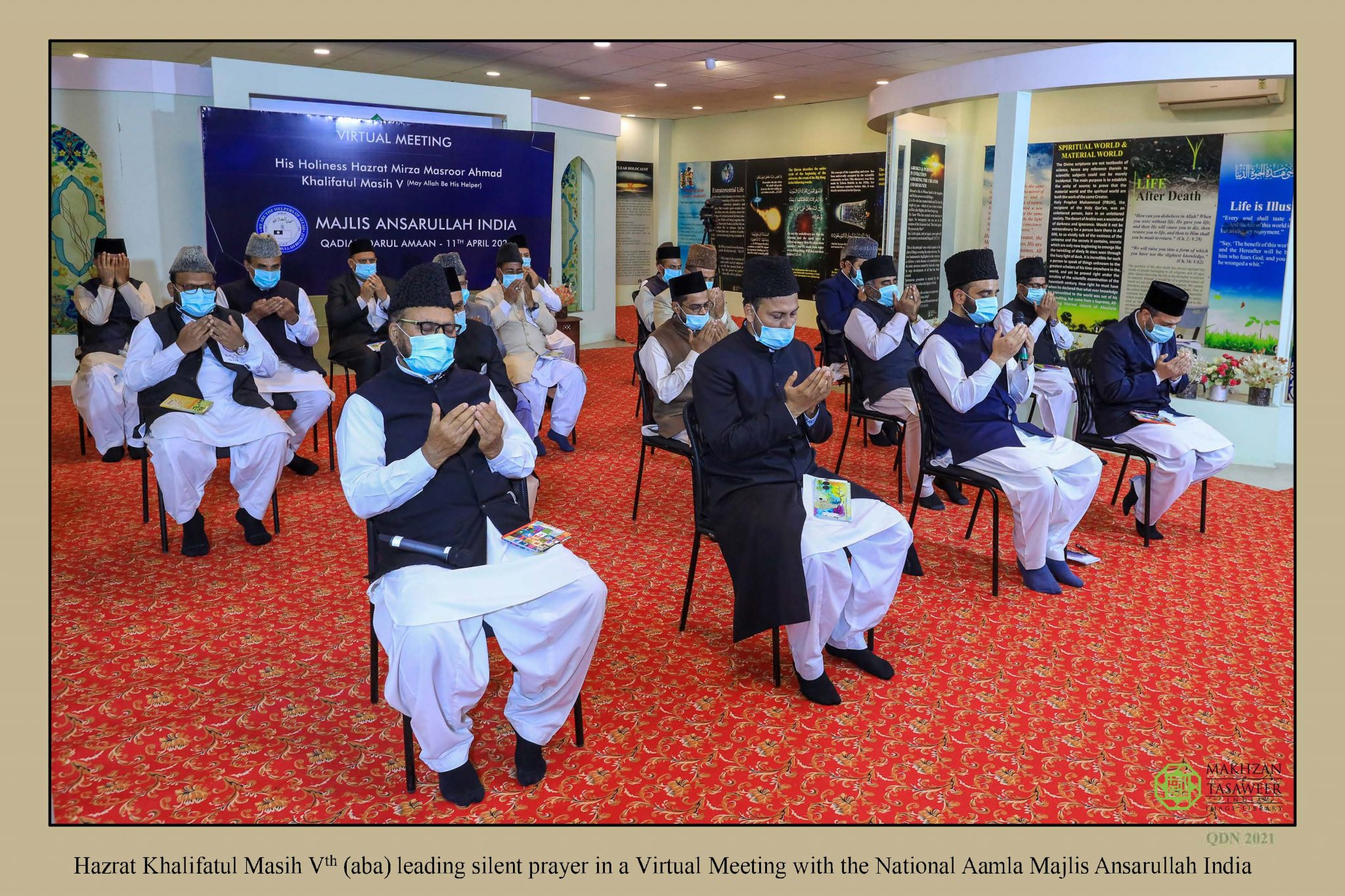 "For about an hour, we had the opportunity to sit with Huzooraa during this meeting. As soon as Huzooraa said, 'Assalamu alaikum wa rahmatullah', there was a wave of happiness in all of us. I have seen the virtual mulaqats of amilas, auxiliary bodies and waqifeen-e-nau of other countries, and I had an idea of how much love and compassion Huzooraa bestowed, but today, we all experienced this for ourselves. Like a compassionate and spiritual father, Huzooraa pointed out our shortcomings and gave us golden instructions.
"For all the members of the amila of Majlis Ansarullah India, these moments spent in the company of the Khalifa of the time, are no less than an asset. A strange serenity and happiness we were having in the company of the Khalifa of the time. I can say with certainty that this is such a joy and bliss as cannot be attained even by sitting for hours in the company of the greatest leaders in the world.
"At the very beginning, Huzooraa said that we should have shown some aerial views of Qadian. This shows how much Huzooraa loves Qadian. Although every Ahmadi loves Qadian, being the abode and birthplace of the Promised Messiahas, but when Huzooraa himself asked and then when a few scenes were shown at the end, it became clear how much he loves Qadian and how he longs to visit Qadian, Dar-ul-Masih and Bahishti Maqbarah.
"May Allah the Almighty improve the situation so that Huzooraa may visit Qadian again. May Qadian and the Ahmadis of India have the privilege of meeting him and may He grant us the ability to be the recipients of Huzoor'saa love and compassion. May Allah the Almighty enable us to act upon the guidance and instructions of Huzooraa and to fulfil our responsibilities according to his expectations. Amin."
Syed Kaleem-ud-Din Ahmad Sahib, Qaid Talim-ul-Quran and Waqf-e-Arzi, said:
"Our meeting with Hazrat Amirul Momineen, Khalifatul Masih Vaa has been very successful. I am thankful to MTA and their team as with their efforts, we were able to meet our beloved master and this meeting ended successfully."
SM Bashiruddin Sahib, Naib Sadr Majlis Ansarullah for Financial Affairs, said:
"Today, for the first time, by the grace of God Almighty, Majlis Ansarullah India had the opportunity to meet our beloved Imamaa directly. For this, we offer our prostrations and thanks to God Almighty. We are grateful to Hazrat Amirul Momineen, Khalifatul Masih Vaa from the depths of our hearts. We pray to Allah the Almighty to enable us to follow the golden advice that our master has given us."
Syed Tufail Ahmad Shahbaz Sahib, Qaid Ishaat, said:
"Meeting Huzooraa through a virtual meeting has been one of the most beautiful moments of my life. The beautiful face of Huzooraa infused our souls with a new zeal. Drawing our attention to our weaknesses and to call for their correction is something we will remember."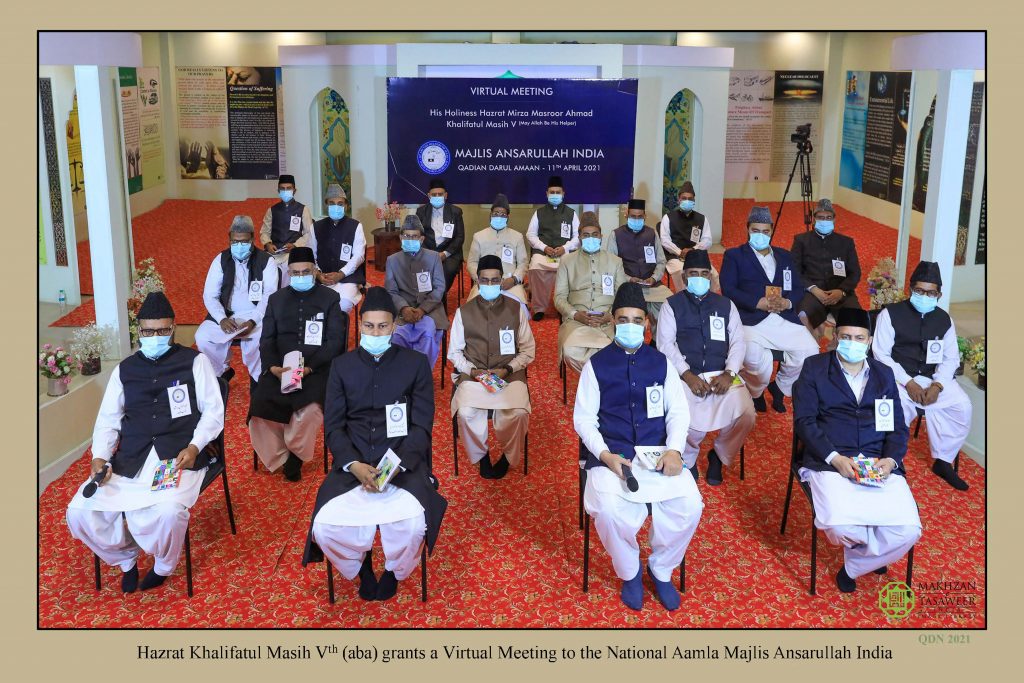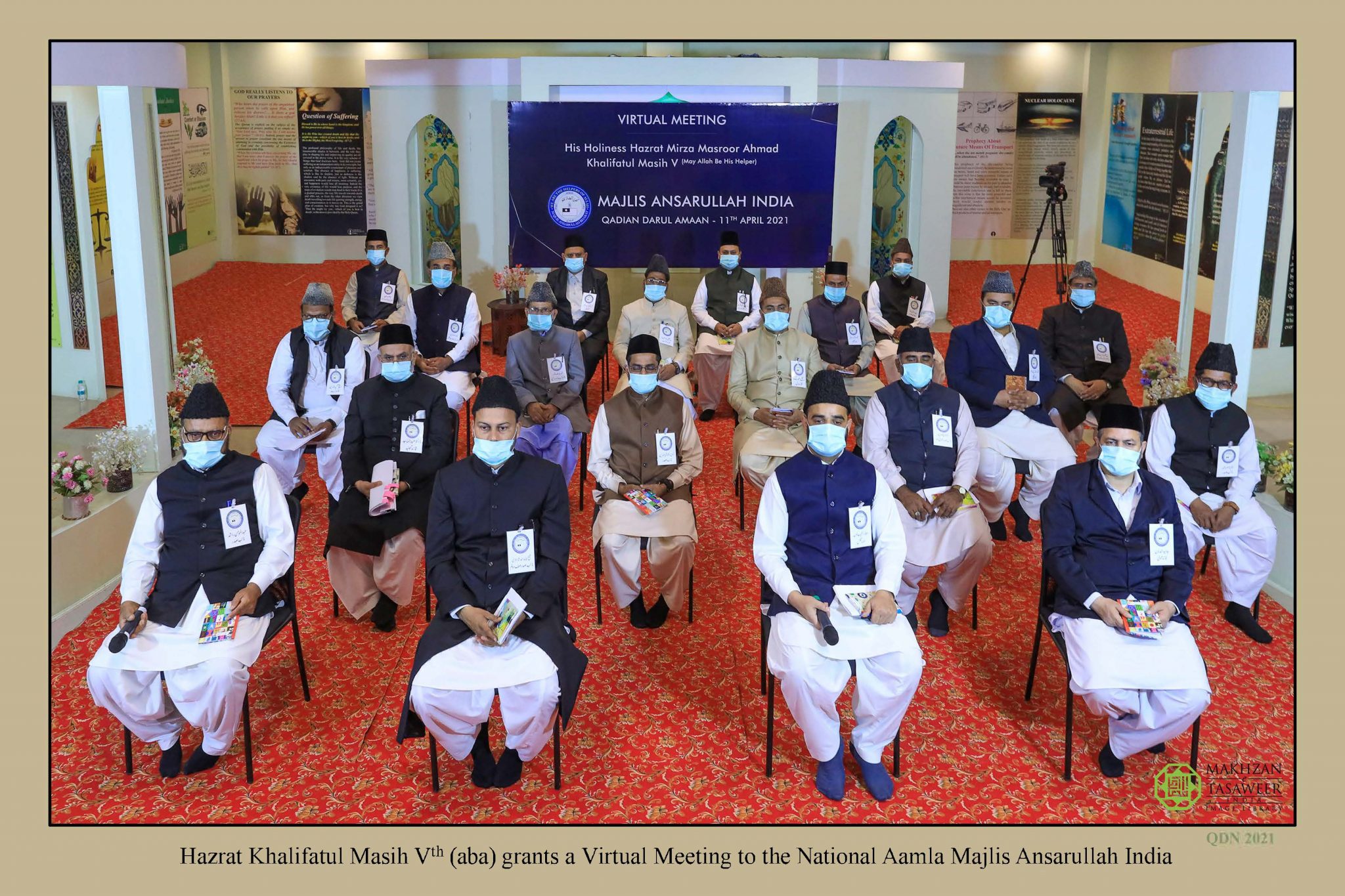 Javed Ahmad Lone Sahib, Qaid Umumi, said:
"Huzooraa drew our attention in a very compassionate manner to many issues of different departments, which needed guidance. Huzooraa especially provided direction in setting targets, transformations and establishing new majalis. We now have our goals set for us."
Mamunur Rasheed Tabrez Sahib, Zaeem Majlis Ansarullah Qadian, said:
"Alhamdulillah, Huzooraa guided us with great love and compassion. We pray to Allah the Almighty that He may grant him a healthy and active life. Amin."
M Nasir Ahmad Sahib, Naib Sadr for Tarbiyat Affairs, said:
"I was able to attend the virtual meeting with Huzooraa today. Before the meeting had started, I was reciting istighfar and durood. I felt elated as soon as the bright face of the Khalifa shone on the screen."
Hafiz Syed Rasool Niaz Sahib, Naib Sadr for Shura, Ijtemas and Tarbiyati Camps, said:
"I had the opportunity to speak directly with Hazrat Amirul Momineen for the first time ever. It was a unique experience for me and it was one of the most memorable moments of my life. My heart felt a new zeal and passion after meeting Huzooraa. Insha-Allah, I will work according to the instructions of Huzooraa."
Qureshi Farid Ahmad Sahib, Auditor Majlis Ansarullah India, said:
"Alhamdulillah, I consider myself lucky on this occasion that I had a live interaction with my beloved master and was among those who received the guidance of Huzooraa. I thank Allah the Almighty that we got this opportunity."
Abdul Momin Rashid Sahib, Naib Sadr I, Majlis Ansarullah India, said:
"This meeting with Huzooraa is indescribable in terms of love, affection and closeness. I had the opportunity to listen directly to the faith-inspiring instructions and guidance. May Allah the Almighty bless us with such meetings with Huzooraa again and again, and help us to follow the guidance of Huzooraa. Amin."
H Shamsuddin Sahib, Qaid Tarbiyat, said:
"I had the opportunity to attend a virtual meeting with my beloved master, alhamdulillah. It was a unique experience to receive direct guidance from Huzooraa. He especially instructed me to get personal feedback from Ansar members about events and to try and maintain a pleasant atmosphere and end marital quarrels."
Muhammad Yusuf Anwar Sahib, Qaid Tarbiyat for New Converts, said:
"I was very happy to speak with my beloved master in a virtual meeting and there was no end to the joy. The compassion of Huzooraa is unparalleled. We pray to Allah the Almighty that He may grant a long life of health and safety to our dear Imam and keep the blessed shadow of Huzooraa on us till our last breath. Amin."
Nasir Waheed Sahib, Qaid Zahanat and Sehat-e-Jismani, said:
"After seeing the face of the beloved masteraa, all fears and fatigue went away. The MTA team doubled the joy of Huzooraa by showing him glimpses of Qadian. May Allah reward the MTA team."
Rafiq Ahmad Baig Sahib, Qaid Mal, said:
"I cannot express my feelings in words. However, I would like to say that this was an important moment of my life and an event that will be remembered for a lifetime […] Huzooraa spoke to me; its sweetness will stay with me forever. May Allah the Almighty help me to follow the instructions given by Huzooraa. Amin."
Sheikh Mujahid Ahmad Shastri Sahib, Naib Sadr Saf-e-Daum, Majlis Ansarullah India, said:
"This meeting of Majlis Ansarullah India is a historic occasion. I am lucky to have attended it. Before the meeting, there was a state of fear, but this condition changed as soon as we saw Huzooraa. May this meeting with Huzooraa be a source of increasing knowledge and enlightenment in our lives, and may we fulfil the expectations which Huzooraa has of us. May Allah the Almighty enable us to do so."
Muhammad Arif Rabbani Sahib, Qaid Talim, said:
"For the first time, we had a direct meeting with Hazrat Khalifatul Masihaa. It is a joyous occasion for me that cannot be described in words. Before the meeting, there was a lot of fear about how to talk to Huzooraa, but his kind words dispelled all fears."
Muhammad Nooruddin Sahib, Qaid Tabligh, said:
"I consider myself very lucky to have been a part of this meeting. Our beloved master gave us golden advice with compassion. May Allah enable us to follow all the advice of Huzooraa."
Khalid Ahmad Allah Din Sahib, Qaid Isaar Khidmat-e-Khalq, said:
"Alhamdulillah, by the grace of Allah the Almighty, we all had the privilege of meeting Huzooraa. It was a very blessed gathering. Huzooraa very lovingly concealed our shortcomings and gave us instructions to improve our work. May Allah the Almighty enable us all to serve according to the expectations of Huzooraa. Amin"
Dr Abdul Majid Sahib Saharanpuri, Qaid Tajnid, said:
"Alhamdulillah, this was my first virtual meeting after taking the oath of allegiance. I was very concerned about the sanctity of Khilafat, but as always, we experienced Huzoor's fatherly affection. A loving atmosphere prevailed. I am glad my first meeting was very positive. I pray that Allah the Almighty may grant Huzooraa an active life of health and safety and in his Khilafat, may the Jamaat continue to grow day and night. May the flag of the Holy Prophetsa soar above all flags of the world. Amin."
M Thajudeen Sahib, Naib Sadr Majlis Ansarullah South India, said:
"Alhamdulillah, this virtual meeting was a memorable moment for me; I will never forget it. I noted down the instructions from Huzooraa and will, insha-Allah, try my level best to carry out these instructions in letter and spirit. May Allah the Almighty shower His blessings upon our beloved Huzooraa."