Misbah Anmol Tariq, Jamaica Correspondent
Jamaat-e-Ahmadiyya Jamaica organised a "Back to School Giveaway" event in Jamaica. It was aimed at helping those deserving students who, despite their desire to study, lack the resources.
On 21 August 2021, this event was held for the first time. The programme was designed to cater for 35 students from three primary schools; however, due to overwhelming response and requests we were able to cater for 65 students.
The event was in collaboration with school administrations, as the regional missionary, Ahmad Forson Sahib approached three different schools to coordinate this event successfully. The selected schools included Falmouth All Age Primary School, Hague Primary and Infant School and Clark's Town Primary School.
A special request was made by one of the principals of the schools to include six students leaving primary school for high school. Also, apart from the three selected schools, more than 25 parents called in to register their children for this event.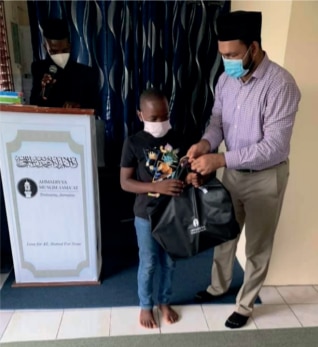 Each student received a package of educational materials based on their age and grade. The packages included four textbooks, 12 notebooks, 12 pencils and erasers, a dictionary and a maths geometry set.
After weeks of planning, the event was held successfully on 21August, alhamdulillah. Over 50 students along with their parents were hosted at our Trelawny Namaz Centre.
Ahmad Forson Sahib introduced Jamaat-e-Ahmadiyya to the guests and President and Missionary-in-Charge, Tariq Azeem Sahib distributed the packages.
The parents, the majority of whom were hearing about Jamaat-e-Ahmadiyya for the first time through the event, were overwhelmingly grateful for the initiative, particularly due to the constraints put on them during the pandemic. Though the programme has already concluded, many parents are still contacting to be considered for the next event.