Muhammad Jamal, Niger Correspondent
In the prevailing circumstances, amid Covid-19, along with health emergency, people's financial situation is very critical. People are in dire need of assistance to cope with normal life and battle this calamity.
Physically disabled people are already facing burdensome challenges in normal routine and this devastating time makes them more prone to effects caused by this coronavirus outbreak.
Humanity First Niger, along with Jamaat-e-Ahmadiyya Niger, supported by Humanity First Norway, is engaged in activities to provide relief to disabled and deserving people.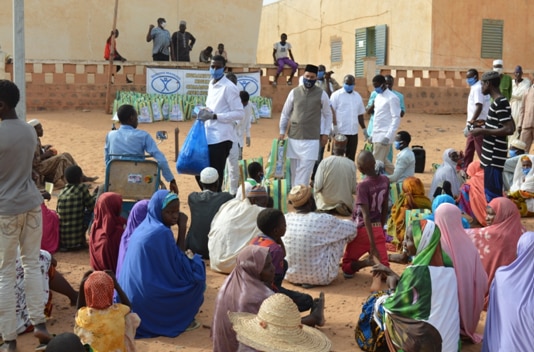 The event took place in Dogon Doutchi, a small town of Niger, about 300 kilometres east of the capital Niamey and 40 kilometres from the Nigerian border. In total, 70 food hampers were distributed. The items included face masks, rice, soap, tea, cooking oil and sugar.
Along with Amir Jamaat-e-Ahmadiyya Niger, Asad Majeeb Sahib, the prefect of Doutchi, mayor of Doutchi and Missionary of Doutchi Muhammad Jamal Sahib also attended the event and distributed the kits.
Appreciation was beaming on the faces of people, which cannot be described in words.
May Allah reward those who contributed in this noble cause. Amin