Last Updated on 6th April 2023
Ata-ul-Haye Nasir, Al Hakam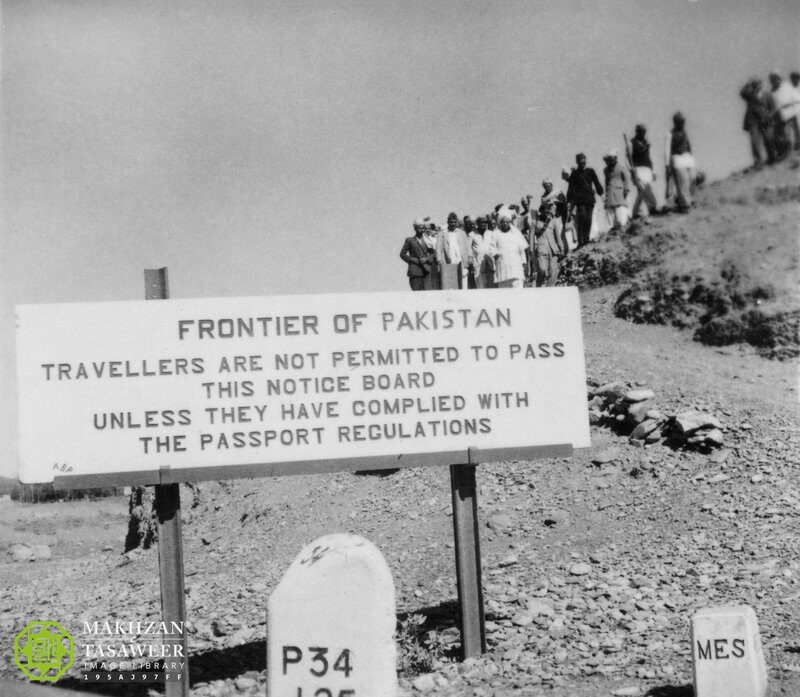 In 1948, Hazrat Mirza Bashiruddin Mahmud Ahmad, Khalifatul Masih IIra delivered a series of lectures in major cities of West Pakistan, on "Istihkam-e-Pakistan" (The Consolidation of Pakistan), which covered insightful topics for the successful future of Pakistan, including national interests and guidance for the countrymen and government. The details of these lectures are presented below:
Sialkot
The first lecture of this series was delivered at the Moti Mahal Cinema in Sialkot. This is situated near Saraye Maharaja Jammu and Kashmir where the Promised Messiah'sas Lecture Sialkot was read out in a gathering held on 2 November 1904.
The session was presided over by Khan Bahadur Khawaja Barkat Ali, Retired Postmaster General, Sialkot. Before the lecture, the locals were informed of the event in a public announcement.
During the lecture, Huzoorra gave valuable guidance regarding Pakistan's defence and progress. Khan Bahadur Chaudhry Qasim Ali Zaildar highly commended this lecture and stated that Huzoorra had a vast knowledge of religion, politics and geography as well. (Tarikh-e-Ahmadiyyat, Vol. 11, p. 451)
This lecture was attended by various dignitaries, including officers of the Pakistani army. (Al Fazl, 17 February 2012, p. 12)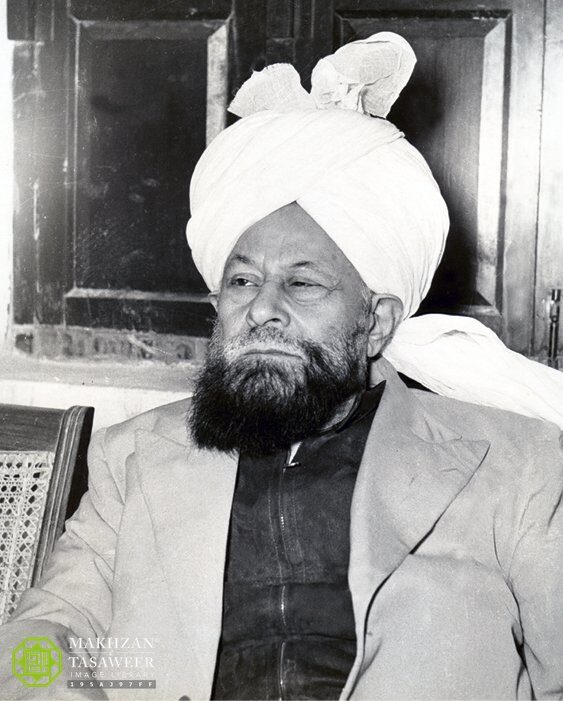 Jhelum
The second lecture was held in Jhelum. In regard to this speech, during his Friday Sermon on 19 March 1948, Huzoorra stated:
"Recently, I delivered a speech in Jhelum, advising Muslims that they had demanded Pakistan to establish Islamic culture and a way of life with full freedom. Now that Pakistan has been established, Muslims should at least offer their five daily prayers in mosques. If they do not offer the five daily prayers, then what have they achieved by demanding Pakistan?" (Al Fazl, 14 April 1948, p. 6)
During the lecture, while Huzoorra was speaking about the congregational prayers, a person handed over a piece of paper to the session's president, in which he wrote that he wanted to speak about some volunteers. Thus, he was given the opportunity after Huzoor's lecture. In his speech, the person said that Hazrat Mirza Sahibra had spoken about a very good subject but if he was so keen to offer congregational prayers, then they were going to offer their prayer in a short while and wanted to see if Mirza Sahib would offer the prayer behind them.
After his speech, the president stood up and said that the speaker had requested to speak about some volunteers, but the speech was on a totally different topic.
He further said that the Imam of Jamaat-e-Ahmadiyya had just stated that the Muslims should offer prayers, as it was a commandment of Prophet Muhammadsa. He had just called their attention towards obeying the command of the Messengersa of Allah and offering prayers in mosques, but the speaker went on to urge Mirza Sahib to offer the prayer behind them.
The president added that the speaker could have objected if Mirza Sahib had said to offer prayers behind him or that Muslims should offer prayers behind Ahmadis. But, in fact, Mirza Sahib had just reminded the audience about the command of their Mastersa. (Ibid)
Karachi
A lecture was delivered on 14 March 1948, at the Khalikdina Hall, situated on Bandar Road (now MA Jinnah Road) in Karachi, titled "Pakistanion se chand saaf saaf baatein". The session was presided over by Hatim Badruddin Tyabji, then Chief Justice Sindh High Court. The hall was packed to the brim and some had to stand outside during the lecture. The lecture was attended by college students, lawyers, professors and doctors. Moreover, several dignitaries were also present, including the deputy secretary of the Government of Pakistan, advisor to the Sindh Government and officials from the central and provincial governments.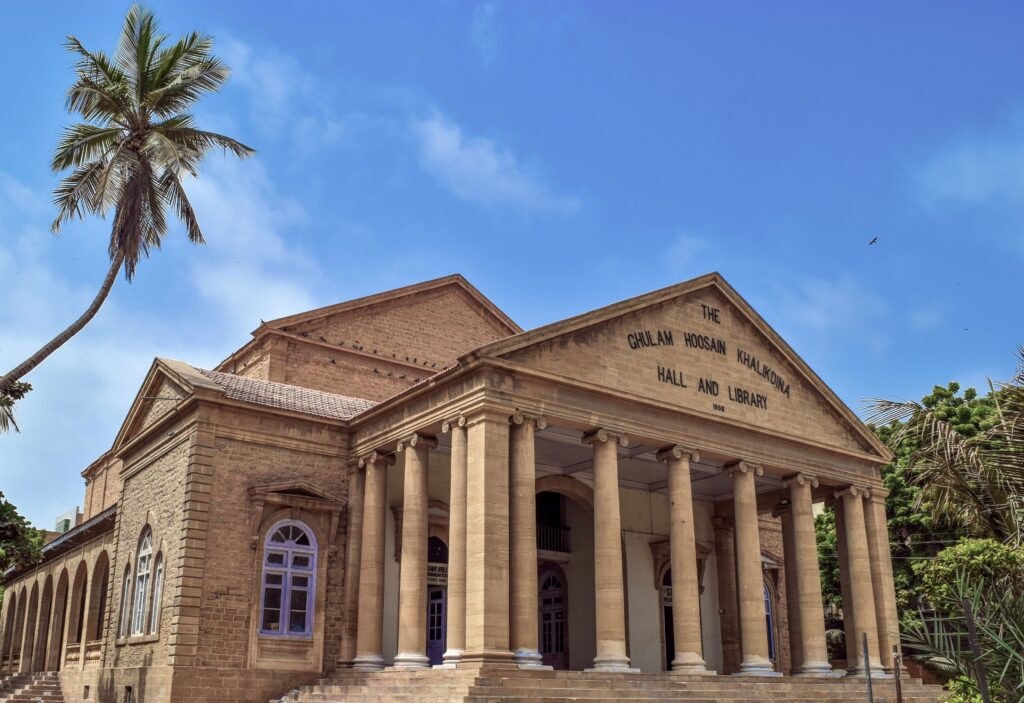 Huzoorra stated:
"Pakistan is not only a new government but also a new country. Thus, the people of Pakistan need to instil such emotions of national pride which they had not before. Such sentiments of national pride help to unite, uplift and urge a nation to make every possible sacrifice for the country's defence. If, God forbid, we fail to inculcate this in our people, the slightest of disputes will destroy our unity." (Al Fazl, 19 March 1948, p. 3)
Huzoorra further stated:
"First of all, we need to ponder over why we demanded for Pakistan? […] The Muslims wanted to be given the opportunity to establish an independent government in the areas where they had a majority, where they could prosper by the Islamic teaching and culture, and support other Muslim countries with freedom. […]
"When a person says that an Islamic government should be established, in other words, they say that 'I wish to make my actions Islamic.' […] Now, if we ponder over Islam, we know that according to Islam, a person's actions have three parts; firstly [in obedience to] those commandments which are related to themselves; secondly, which are related to their neighbours and friends, and thirdly, which are related to the representatives of a government. […]
"Now, the proof of the seriousness of a Muslim's demand for an Islamic government can be that they should at least act upon all those commandments which are completely in their personal control. If one does not do so, then it means that they are not serious about demanding an Islamic government; instead, they are doing so merely under the influence of political objectives to dethrone or defame someone. […]
"If people demand an Islamic government verbally, and practically do not feel any harm in violating the Islamic commandments, then as a palace built of raw bricks cannot be called a strong one, similarly, a multitude of people committing un-Islamic acts cannot be termed as an Islamic government." (Ibid, p. 4)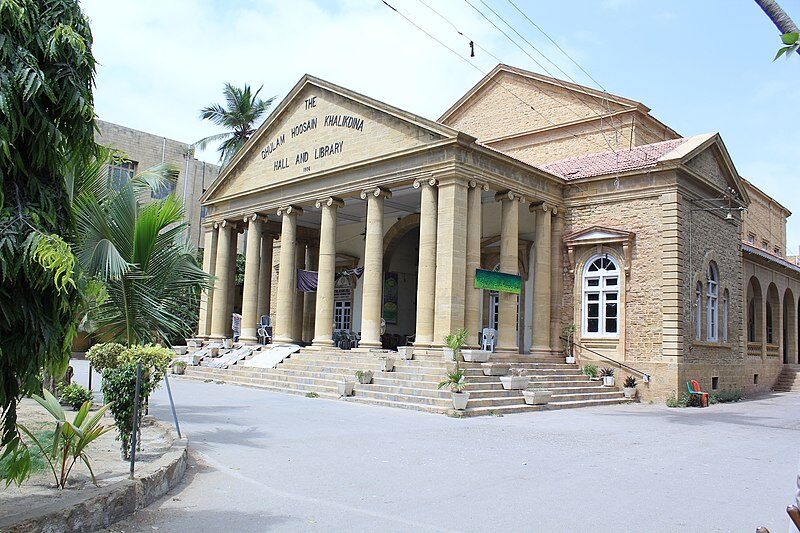 In regard to the lingual disputes, Huzoorra said:
"When all the provinces of Pakistan have decided willingly to join together and work collectively, then it is obvious that in such a situation, no language of any single province can serve [as a common language]. To work together, it is necessary to have a language which is familiar to the people of all provinces. During the British rule, English served as the common language. Now, the question is; which language should succeed English? Obviously, in comparison to English, Urdu has more ability to help understand the Holy Quran and make unity with the Islamic countries. Thus, we need to utilise this language to work together." (Ibid)
After this, Huzoorra granted valuable guidance with respect to the country's defence and suggested establishing a new railway line from Rawalpindi to Karachi, which would help connect Punjab and Sindh during times of danger.
Then, while addressing the youth of the country, Huzoorra encouraged them to travel by sea (as this was the main form of intercontinental travel at the time) and visit foreign countries.
Huzoorra continued by saying:
"Agriculture is being considered as Pakistan's biggest resource, but we should not neglect a huge danger, which is that the experts estimate that the agricultural areas of Pakistan will become completely barren in 50 years, and its signs are already manifesting. The reason behind this is that harmful salts are found there abundantly. Due to the canals, the water level is increasing and consequently, salt levels are also rising and the land is getting water-logged and salinity is developing." (Ibid)
Towards the end, Huzoorra gave guidance regarding the inhabiting of migrants.
After the lecture, a person from the audience requested Huzoorra to deliver such insightful lectures in the future as well. Huzoorra replied that he was scheduled to leave Karachi very soon, but would try to deliver a lecture in the near future.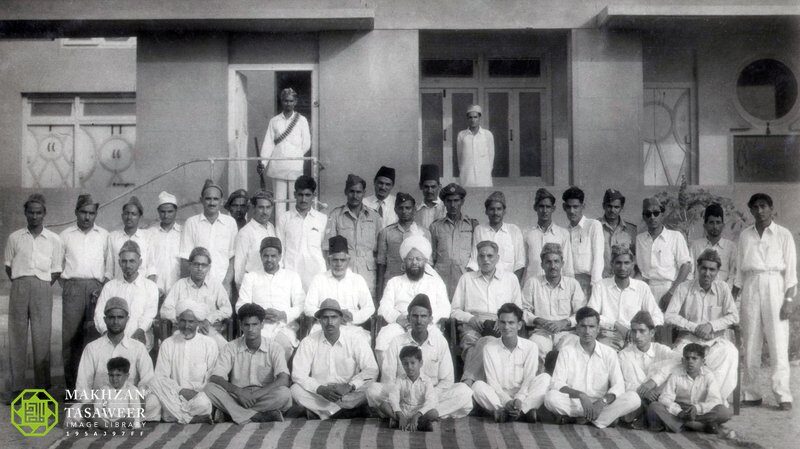 Another lecture was delivered on 18 March 1948 at the Theosophical Hall, Karachi, at the request of the local Lajna Imaillah. The lecture was attended by around 600 Ahmadi and non-Ahmadi women, including Lady Abdullah Haroon (former president of All India Women Muslim League & Vice-President of All Pakistan Women's Association), Begum Shaban (a prominent leader of the Pakistan Movement), Begum Afridi, etc. (Al Fazl, 1 April 1948, p. 4)
Huzoorra said:
"When I moved from Qadian to Lahore, some distinguished persons came to meet me and said that Lahore was also in danger, so what should they do? I responded that not only Lahore, but the whole of Pakistan was in danger. 'When you had demanded Pakistan, you also knew that you would only get a specific area, not more than that; you would have a very small amount of money and resources and would have to strive hard for your protection.' […] It was obvious that Pakistan would face dangers [after its independence]. […]
"Thus, every Muslim man and woman of Pakistan needs to understand that they have to either live a dignified and victorious life or face a dignified and proud death. This is the only way which every decent person should follow: either be victorious over the enemy or die a dignified death. […]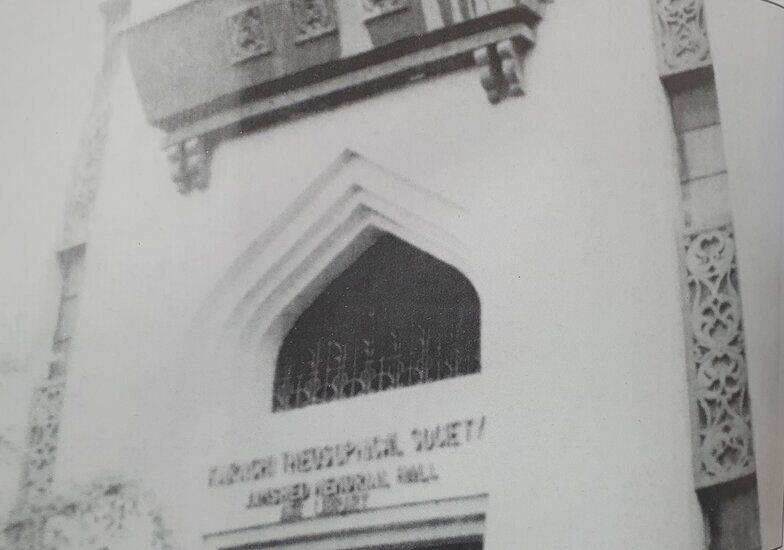 "Bravery and courage are such traits which establish a person's name in history with great honour. Have you ever read the stories of cowards in history? […] History remembers only those who offer sacrifices for their nation, and never care about their lives and wealth. Such people include men, women and children as well. […]
"Allah the Almighty has granted you an independent government, in which you have the opportunity to act upon the Islamic teachings. Now, it is a duty of the Muslims […] to pray to Allah, offer supplications, and mould their lives [according to the] Islamic [teachings]. In addition, they need to be ready to offer any sacrifice for protecting the honour of their country, nation and religion." (Qiyam-e-Pakistan Aur Hamari Zimmedarian, Anwar-ul-Ulum, Vol. 19, pp. 463-466)
During his stay in Karachi, Huzoorra also addressed a press conference, in which he spoke about issues related to the national interests of Pakistan. (Tarikh-e-Ahmadiyyat, Vol. 11, pp. 301-302)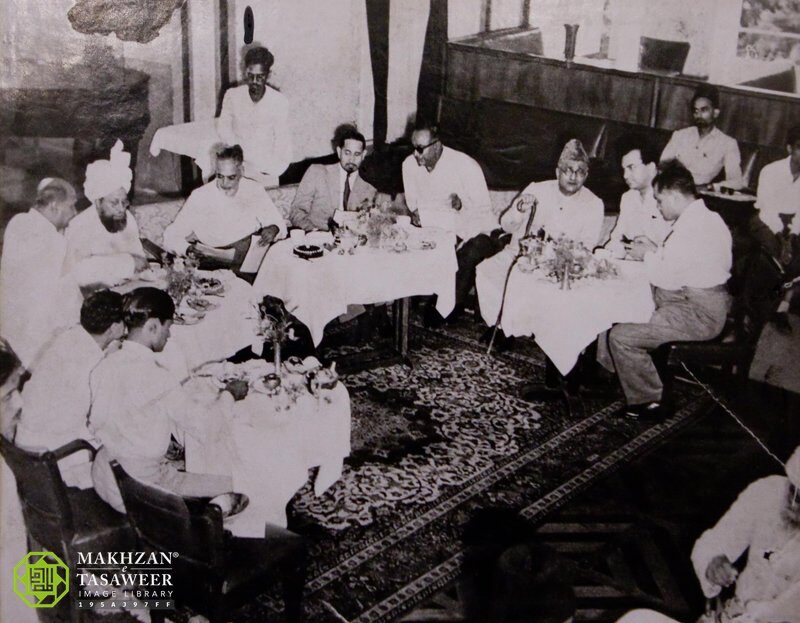 Peshawar
On his way to Peshawar for delivering lectures, when Hazrat Musleh-e-Maudra reached Nowshera Railway Station, around 40 Ahmadis and 30 non-Ahmadis had the opportunity to meet him. The non-Ahmadis requested Huzoorra to say a few words.
Upon this, Huzoorra got off the train and delivered a short talk, in which he said that Allah the Almighty never allowed the humiliation of those who had true love for Islam. If people developed the love of God Almighty and offered their prayers in the true spirit, then God would purify their souls as well. (Tarikh-e-Ahmadiyyat, Vol. 11, pp. 310-311)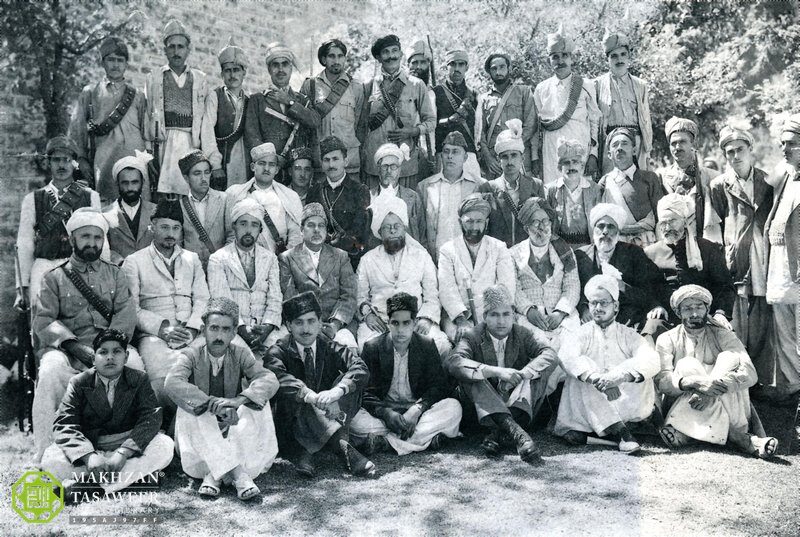 A lecture was delivered on 5 April 1948, at the Special Government Hall, Beroun Kachehri Darwaza in Peshawar, titled "Pakistanion se khuli khuli baatein". The audience was so impressed by the lecture that many of them remarked to each other that the person who was labelled a disbeliever had narrated to them the sayings of the Holy Prophet Muhammadsa. (Ibid, p. 312)
A Pakistani news agency published a detailed report about Huzoor's lecture and stated:
"In regard to the demand for an Islamic constitution in Pakistan, he told the audience that before demanding Shariah law, one needed to live according to the Islamic Shariah. He said that people were not following the Islamic Shariah themselves, but emphasised the implementation of the Shariah law. Such people were deceiving the world." (Al Fazl, 7 April 1948, p. 8)
The Civil and Military Gazette reported: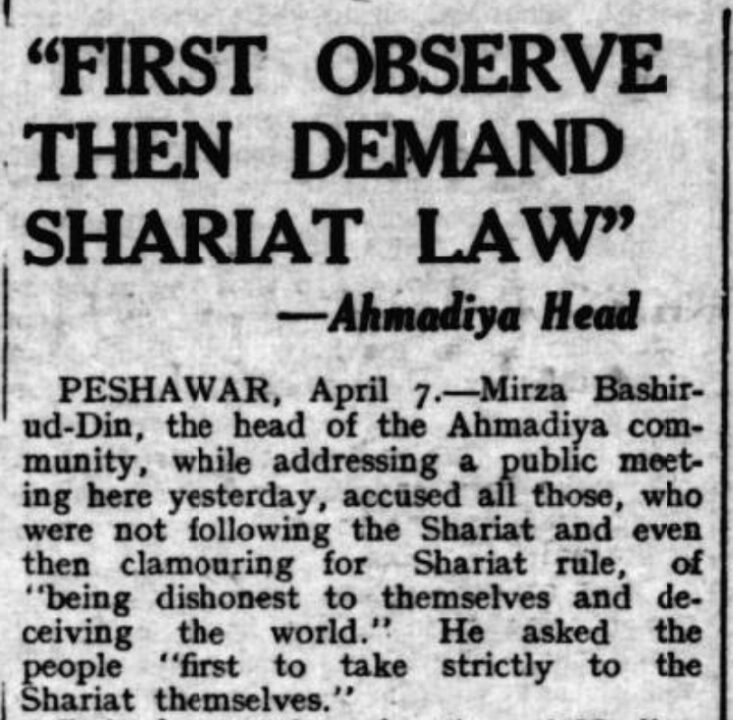 "FIRST OBSERVE THEN DEMAND SHARIAT LAW – Ahmadiya Head
"PESHAWAR, April 7. – Mirza Bashir-ud-Din, the head of the Ahmadiya community, while addressing a public meeting here yesterday, accused all those, who were not following the Shariat and even then clamouring for Shariat rule, of 'being dishonest to themselves and deceiving the world.' He asked the people 'first to take strictly to the Shariat themselves.'" (The Civil and Military Gazette, 9 April 1948, p. 7)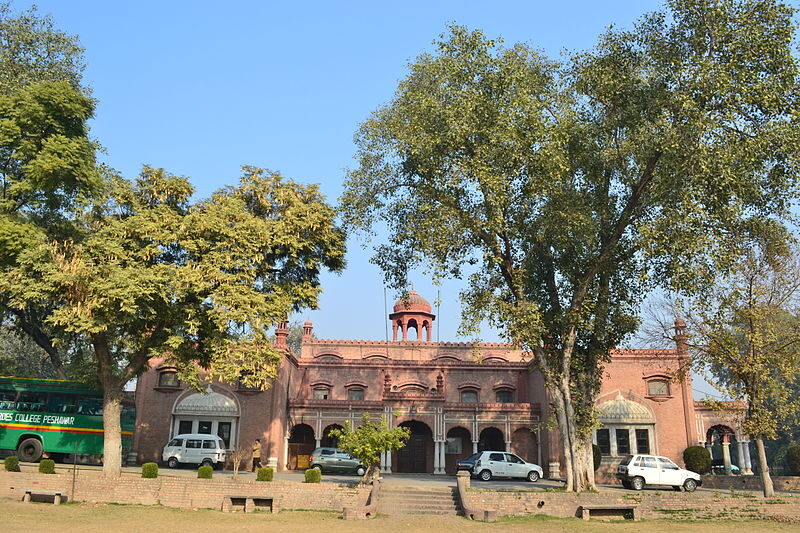 Another lecture was delivered on 8 April 1948 at the Mission College (Edwardes College) in Peshawar. The session was presided over by Ghulam Samdani and the audience included the Deputy Commissioner, members of the assembly and other governmental officials. (Tarikh-e-Ahmadiyyat, Vol. 11, p. 316)
During this tour, Huzoorra visited several other places of NWFP (now Khyber Pakhtunkhwa), such as Landi Kotal, Torkham, Charsadda, Utmanzai, Risalpur and Mardan. During these visits, he met with prominent leaders, including Khan Abdul Ghaffar Khan and Syed Muhammad Hassan Gillani (editor Al-Jami'ah of Peshawar), and emphasised the need to save Pakistan from any kind of internal conflict.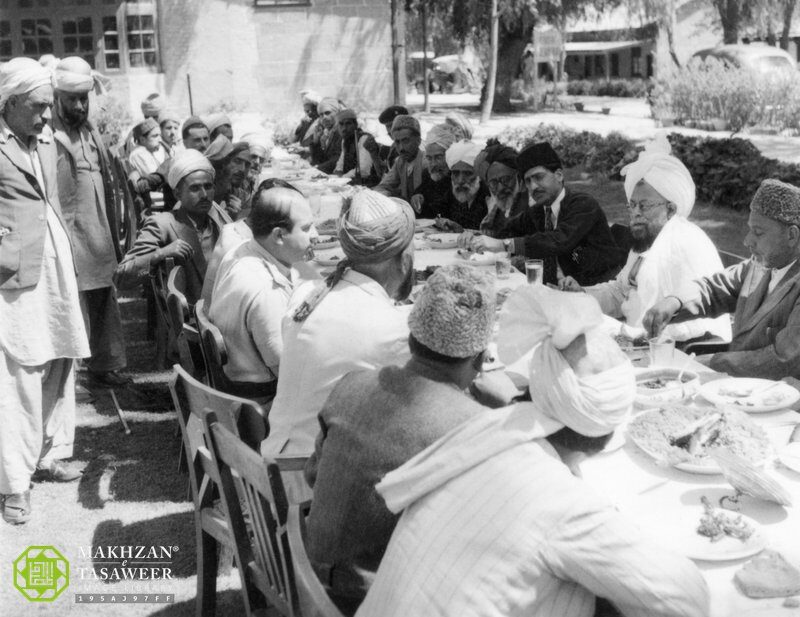 Mardan
A lecture was delivered in Mardan, titled "Pakistan and its Defence". The session was presided over by Nasrullah Jan, Barrister-at-Law and was attended by around 300 to 400 people, including prominent lawyers of Mardan.
During the lecture, Huzoorra granted valuable guidance regarding Pakistan's defence.
Adam Khan Sahib, Amir Jamaat-e-Ahmadiyya Mardan narrated that the session's president, in his speech, said that he had thought that Mirza Sahibra was just a man of religion, but after the lecture, he came to know that he was a general as well. (Tarikh-e-Ahmadiyyat, Vol. 11, pp. 452-453)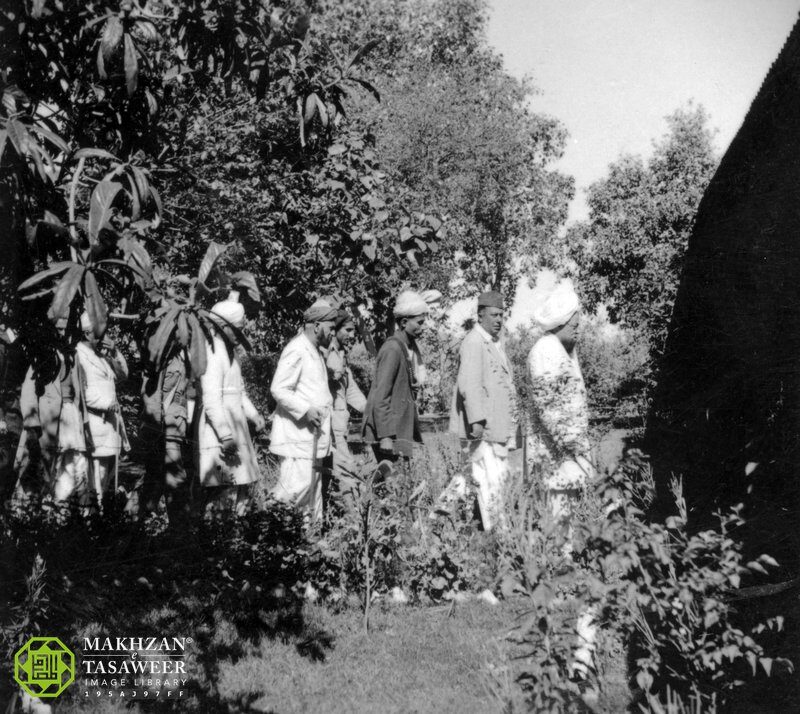 Rawalpindi
Another lecture was delivered on 12 April 1948, at the Nishat Cinema Hall, Rawalpindi. The session was presided over by Dr Taseer.
A newspaper Inqilab of Lahore stated:
"The topic of his speech was 'The duty of Muslims amid the prevailing delicate situation'. While shedding light on the current situation in detail, he told the Muslims that they were in a war-like situation. […] He also advised the government's responsible members to mend their ways along with the changing circumstances and show such conduct that could be an example for the public and from this, the public should start thinking […] they are not their officers, but well-wishers and brothers […]
"Mirza Bashiruddin Sahib – coming back to his subject – said, 'Whatever the conditions are, Pakistan's Muslims must face all kinds of situations with bravery, just like the people of living nations do. We should neither be unattentive due to being overjoyed on ordinary or extraordinary successes, nor should we be disheartened over ordinary or extraordinary failures.'" (Inqilab, 17 April 1948, p. 6)
During the lecture, some opponents raised slogans against the Jamaat and tried to create disorder and the police had to disperse the mob.
The Civil and Military Gazette reported: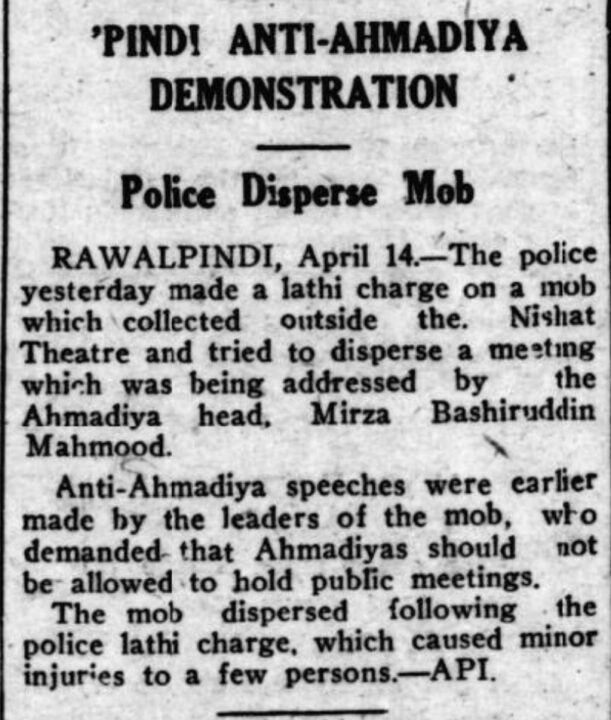 "PINDI ANTI-AHMADIYA DEMONSTRATION
"Police Disperse Mob
"[…] The police yesterday made a lathi charge on a mob which collected outside the Nishat Theatre and tried to disperse a meeting which was being addressed by the Ahmadiya head, Mirza Bashiruddin Mahmood.
"Anti-Ahmadiya speeches were earlier made by the leaders of the mob, who demanded that Ahmadiyas should not be allowed to hold public meetings.
"The mob dispersed following the police lathi charge, which caused minor injuries to a few persons." (The Civil and Military Gazette, 15 April 1948, p. 1)
Quetta
A lecture was delivered on 14 June 1948, at the York House in Quetta. The session was attended by the Iranian Consul, minister of the state of Qalat, tribal leaders, civil and military officials, office-bearers of the Muslim League, dignitaries, doctors and press representatives.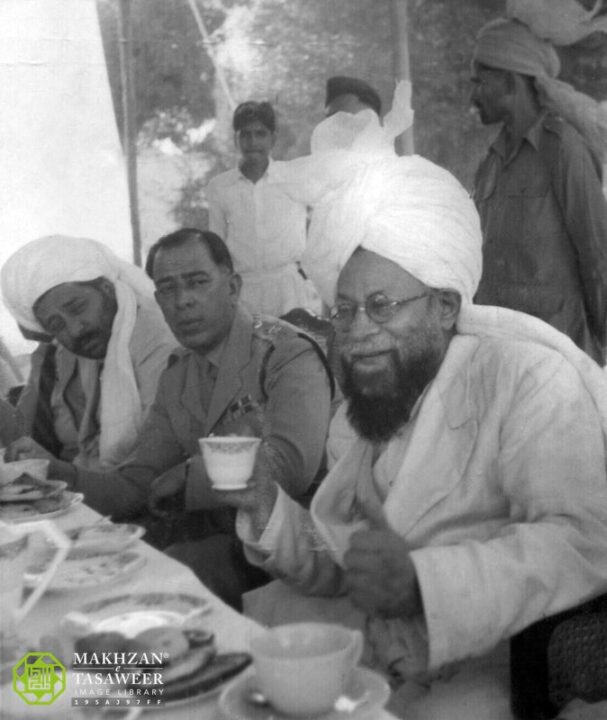 Huzoorra stated:
"The first and foremost thing which is very important for the Muslims here, in all corners of the world, and every country – without which all of our efforts, claims and objectives prove to be false – is that our religion presents a reality that it is a living religion which will last till the Day of Judgement. […] As followers of a living religion, we should also have a [spiritual] life among ourselves […]
"If we are true Muslims, then we should glance back 1,300 years ago. If we try to follow the footsteps of other worldly nations and ponder over their way of progress, and neglect the commandments of Allah the Almighty or guidance granted by the Holy Prophetsa, then certainly we can never be successful in our objective; because God Almighty has made such promises with the Muslims which have not been made to the other nations. […]
"We must create such an environment that distinguishes us from the other nations, and the only way to achieve this is to act upon the teaching which was brought by our master and leader, Muhammad Rasulullahsa. We should follow the path which he wanted us to follow, and avoid those matters which are against [the teaching of] Islam. If we do not [follow Islam] and try to become good followers of the West by only relying on worldly measures […] then we must remember that Allah the Almighty has not promised that He will help the good followers of the West; instead, the Holy Quran states:
‭ ‬قُلْ‭ ‬اِنۡ‭ ‬كُنۡتُمۡ‭ ‬تُحِبُّوۡنَ‭ ‬اللّٰهَ‭ ‬فَاتَّبِعُوۡنِیْ ‬يُحۡبِبۡكُمُ‭ ‬اللّٰهُ
["Say, 'If you love Allah, follow me: [then] will Allah love you.'" (Surah Aal-e-Imran, Ch.3: V.32)]
"Meaning that if you want God to love you, then you should follow the footsteps of Muhammad Rasulullahsa. Divine support and help can only come when the Muslims try to follow the footsteps of Muhammad Rasulullahsa." (Musalmanan-e-Balochistan se aik Eham Khitaab, Anwar-ul-Ulum, Vol. 19, pp. 579-581)
With regard to the demand for an Islamic constitution in Pakistan, Huzoorra said:
"Nowadays, there is a huge discussion among the masses that an Islamic constitution should be implemented in Pakistan. […] If we are true Muslims then why don't we, at an individual level, act upon the laws made by Muhammad Rasulullahsa, and why do we wait for [the government of] Pakistan to implement a law on these matters. Can the law of Pakistan be more impactful or important than the laws set by Muhammad Rasulullahsa? […]
"Thus, it is our primary duty to try to inculcate [the teachings of] Islam in ourselves. If we do not, then it is futile to merely demand an Islamic constitution. […] Every Muslim should endeavour to become a true Muslim and act on every commandment of the Holy Quran." (Ibid, pp. 584-594)
Towards the end, Huzoorra said:
"During the fragile situation which Muslims are facing today, it is their foremost duty to unite by disregarding their internal disputes […] If millions of people of a nation become ready to sacrifice their lives, then no one can kill [defeat] them. If the Muslims collectively decide that they will die [for the nation], then, certainly, no one has the power to kill them." (Al Fazl, 26 June 1948, p. 4)
This lecture was widely published in the press and very much appreciated.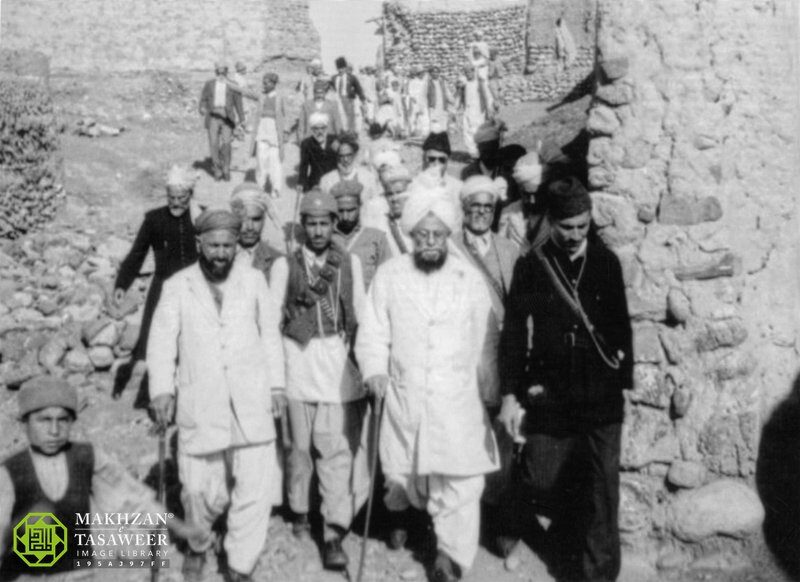 The Meezan of Quetta reported on 14 June 1948:
"Mirza Bashiruddin Mahmud Ahmad Sahib – Imam of the Ahmadiyya Jamaat – while speaking at a reception held by the local president of Jamaat-e-Ahmadiyya Quetta, narrated three important points. He said that one should hold fast to Islam in their heart, become a Muslim from their heart, and follow [the teachings of] Muhammad Rasulullahsa. He presented the verse:
قُلْ اِنۡ كُنۡتُمۡ تُحِبُّوۡنَ اللّٰهَ فَاتَّبِعُوۡنِیْ
["Say, 'If you love Allah, follow me.'" (Surah Aal-e-Imran, Ch.3: V.32)]
"He said that those who are demanding an Islamic constitution from the government of Pakistan, in reality, wish to change the ministry. […]
"[He said that] today, every Pakistani Muslim needs to be determined to live a life of dignity and freedom. He advised us to shun internal disagreements at all stages."
The Inqilab of Lahore published an article, titled "Nifaz-e-Shariat par zor na do, achay Musalman bano; Mirza Mahmud ki taqreer" [Do not emphasise the implementation of the Shariah; become a good Muslim yourself – Mirza Mahmud's Speech], and stated that the lecture was attended by the Iranian Consul M Kazmi, member of the Pakistan Legislative Assembly Nawab Muhammad Ali Khan Jogezai and Revenue Commissioner of Balochistan A R Khan.
"Mirza Bashiruddin said that 'it will be better if people try to become good Muslims, which will fulfil the objective of our religion.'" (Inqilab, 19 June 1948, p. 4)
Another lecture was delivered on 4 July 1948, at the Town Hall of Quetta, titled 'Pakistan ka Mustaqbil'(Pakistan's Future). The session was presided over by Khan Bahadur Sheikh Muhammad Niaz, Superintending Engineer.
Huzoorra stated that the Muslims needed to make Islam the code of conduct in their individual and national lives.
He further stated that to achieve something and then retain it were two different matters. One could not be applauded if they kept a building in the same condition as they got it; they could only be applauded if they left it in a better condition.
Huzoorra added that Pakistan's bright future was only possible when its citizens adopted the teachings of Islam in their practical lives.
He further said:
"Our first and foremost duty is to inculcate [the teachings of] Islam in our individual and national lives. […] Moreover, we should never neglect the fact that we need to establish Islam all around the world and raise the flag of Muhammad Rasulullahsa. […] And it is our duty to always remember this great objective, and never hesitate to offer any sacrifice required for its fulfilment." (Al Fazl, 23 March 1956, pp. 5-6)
Had the government and the people of Pakistan acted on Hazrat Musleh-e-Maud'sra valuable and timely guidance – which was hugely praised at the time – the country would have progressed immensely, and it could have avoided many setbacks, which were faced in the following years and in present-day Pakistan.
اِک ‬وقت‭ ‬آئے‭ ‬گا‭ ‬كہ‭ ‬كہيں‭ ‬گے‭ ‬تمام‭ ‬لوگ
ملّت‭ ‬كے‭ ‬اس‭ ‬فدائى‭ ‬پہ‭ ‬رحمت‭ ‬خدا‭ ‬كرے
"A time will come when all shall proclaim, 'May God have mercy on this devotee of the nation.'"
---