Abdul Hadi Qurashi, Sierra Leone Correspondent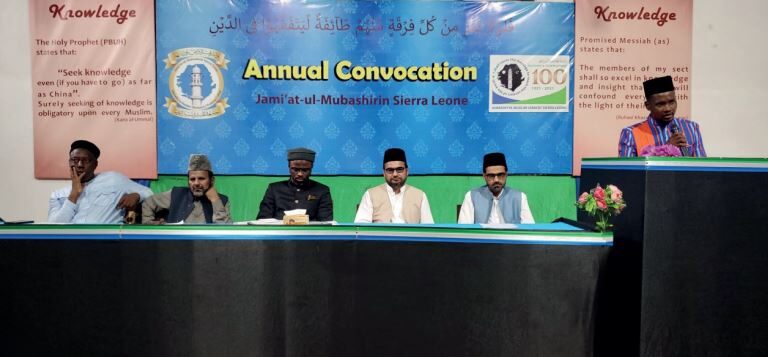 Jamiatul Mubashireen Sierra Leone held its annual convocation on 31 July 2022. Amir Jamaat-e-Ahmadiyya Sierra Leone, Musa Mewa Sahib and his entourage arrived at the Jamia compound and were welcomed by the principal of Jamiatul Mubashireen, lecturers and the Jamia students. At the principal's office, Amir Sahib joined a meeting with the Jamia staff and discussed the progress of the students.
After the meeting, the convocation programme was presided over by amir sahib Jamaat Sierra Leone. The principal of Jamia, Mubarak Ahmad Ghumman Sahib then welcomed the guests which was followed by the annual report by Sulaiman H Kamara Sahib.
After the detailed annual report, a prize distribution ceremony was held in which students who got positions in various competitions over the year, were awarded prizes.
This year, Muhammad Yero Kamara Sahib has been declared the best student in academic competitions and Noor group was the best group in Majlis-e-Ilmi for the year 2021-22 whereas, Ibrahim S Koroma Sahib was the best athlete in Jamia and Basalat group won the best group prize for sports.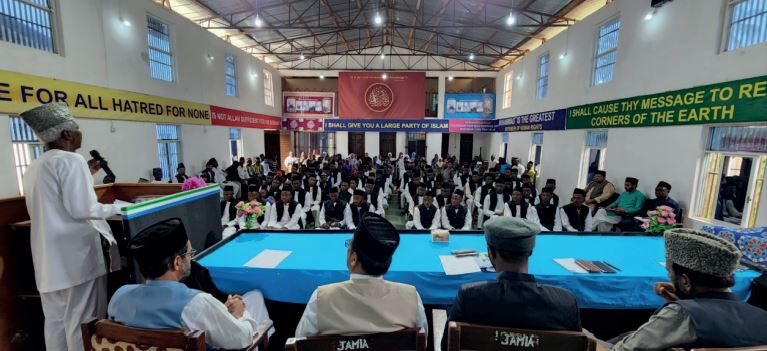 After this, prizes were given to the students who took the top three positions in their classes, and the final year students were given certificates as well. This year a total of 19 students graduated from Jamiatul Mubashireen Sierra Leone.
After the prize distribution, a group of Jamia students presented an Arabic Qaseeda in chorus.
In his address, missionary-in-charge, Saeedur Rahman Sahib advised the students that Jamia is the beginning for the students to acquire religious knowledge and after completing Jamia they should not consider themselves scholars and stop acquiring knowledge.
In his address, Amir Sahib Jamaat Sierra Leone told the Jamia students and the graduating missionaries that they were the representatives of Khilafat-e-Ahmadiyya and they should recognise their status and should establish its dignity and fulfil their pledge of devotion in the best possible manner.
After the programme, the guests were served lunch, which was followed by Zuhr and Asr prayers.