Arshad Mehmood Khan, Scotland
Located in the north of the UK, Scotland is rich in natural beauty and resources, where millions of tourists from all over the world come every year in search of its beauty, mountain walks and magnificent lakes.
Unfortunately, the valleys and its cities are very quiet, nowadays, due to the coronavirus and lockdown.
The Jamaat-e-Ahmadiyya Scotland has worked hard to help the local Scottish people in this diffi cult time.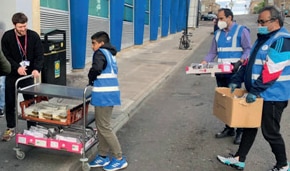 In April and May 2020, Glasgow, Edinburgh and Dundee Jamaats have made Covid-19 pandemic and Scotland's humanitarian services tireless efforts to serve the people in their respective cities. More than 700 food packets and water were distributed to charities set up for the homeless. Food and medicine were supplied to more than 50 Scottish households. More than 1500 of food, fruit and water items were deposited in various food banks across the region.
Volunteers visited local hospitals in Edinburgh, Dundee and Fife and donated fruit and other supplies to medical staff serving coronavirus patients during this difficult time.
A weekly campaign on social media called "Pray for Heroes" was launched and a great tribute was paid to the NHS staff which was greatly appreciated by the local community, print media and the Scottish government to the ongoing services of Jamaat-e-Ahmadiyya for humanity.
Lajna Imaillah Glasgow made 2,000 masks in their homes for charities.
It should be noted that in all these charitable works, the Ansar, Khuddam and Lajna auxiliaries of the Scottish region, as well as individual Ahmadi families are joining the campaign with cash and other donated items.