Muhammad Jamal, Niger Correspondent
Jamaat-e-Ahmadiyya Niger has had considerable success in spreading the message of the Promised Messiahas to the corners of the Earth in the recent past.
Jamaat Niger has established a healthy relationship with the minister of communications of Niger and he is proving to be a great helping hand and associate to the Jamaat in establishing contacts with other important higher authorities.
In this regard, he arranged a meeting between Jamaat-e-Ahmadiyya's delegation and the interior minister.
On 8 September 2020, the delegation of Jamaat-e-Ahmadiyya met with the Interior Minister of Niger, Mr Alkache Alhada, in his office. The delegation included Amir Jamaat Niger, Asad Majeeb Sahib and a missionary, Adeel Ahmed Sahib.
During the meeting, the interior minister was briefed on the detailed introduction of the Promised Messiah, on whom be peace, and Hazrat Khalifatul Masih V, may Allah be his Helper.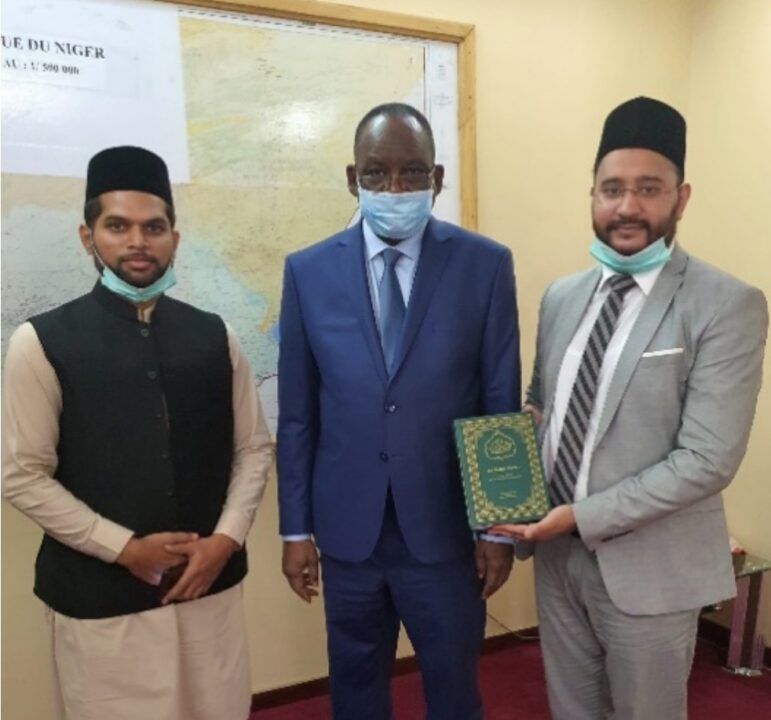 Moreover, Jamaat-e-Ahmadiyya Niger's efforts for the establishment of peace were also highlighted.
Amir Jamaat Niger presented him the Holy Quran with French translation, The Philosophy of the Teachings of Islam and World Crisis and the Pathway to Peace for better comprehension of Jamaat-e-Ahmadiyya and its teachings.
"I am very happy to hear that an Islamic community speaks of 'Love for all, hatred for none', otherwise the children of my family always ask me this question, 'Why, in Islam, is there only talk of war and hatred?' So, your message full of love and peace is very welcome and I am happy that Jamaat-e-Ahmadiyya is not only bearing the slogan, but practically working on it also", said Niger's interior minister.
Recently, some terrorists in Niger attacked and killed French tourists, due to which instability towards foreigners erupted in the country, so the current security situation of the country and security measures during the travel of the Jamaat's delegation were also discussed.
This meeting proved to be very fruitful. Alhamdolillah