Laiq Ahmed Atif, President Jamaat-e-Ahmadiyya Malta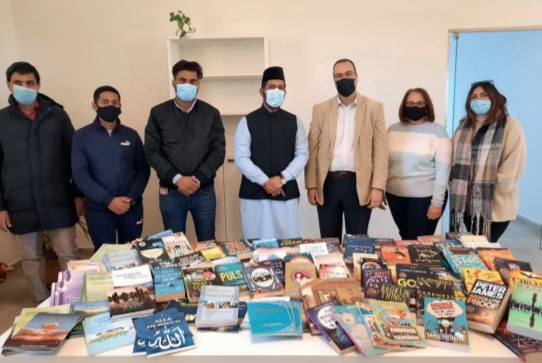 Jamaat-e-Ahmadiyya Malta has set up a portable library at a women's rehabilitation centre at the San Blas – Caritas Malta.
During our visit to the San Blas therapeutic centre in 2020, while talking to women who are going through the rehabilitation programme, Jamaat-e-Ahmadiyya felt the need to set up a library to promote book reading and that women can spend their time in a more constructive manner and remain focused to the rehab process.
The Malta Jamaat bought the necessary shelving, a table and books, including books about Islam Ahmadiyyat, and then visited the San Blas and together with the Director of Caritas, Mr Anthony Gatt, opened the library for the residents.
A donation sticker containing the Jamaat's name, logo and website, was also added on all the books which will be a means of the Jamaat's introduction and tabligh for so many years to come, insha-Allah.
Moreover, Jamaat-e-Ahmadiyya Malta also donated around 100 children's books to Gzira Primary School. The books were presented to the Head of school, Ms Astrid Tonna, who thanked the Jamaat and said:
"This is a wonderful surprise to all of us. Thank you for your donation of books to the school. The students and staff will surely benefit from these resources. In our school, we very much promote reading, and this collection of books will be a good addition to our library."