Amen Aqeel Haider, Mexico Correspondent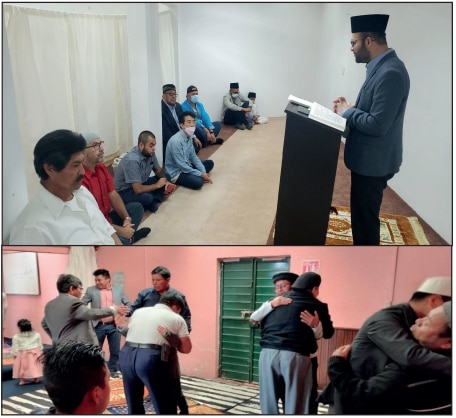 Jamaat-e-Ahmadiyya Mexico celebrated Eid-ul-Fitr on 2 May 2022. The day started with listening to the Eid sermon on MTA International delivered by Hazrat Khalifatul Masih Vaa from the Mubarak Mosque in Islamabad, UK.
As Huzooraa highlighted how Eid should be celebrated and what Ahmadi Muslims should focus on during Eid, this message was echoed in sermons held in every local Jamaat in Mexico. The summary of the Eid Sermon delivered by Huzooraa was translated into Spanish and sent to members of the Mexico Jamaat.
As always, Ahmadis and friends of the Jamaat were invited to celebrate Eid together. In Mexico City, which is the capital of the country, Eid-ul-Fitr celebrations were organised at the Baitul Afiyat Mosque, which also serves as the headquarters of Jamaat-e-Ahmadiyya Mexico.
The local jamaat of San Cristóbal de las Casas, which is located in the state of Chiapas, also held Eid-ul-Fitr celebrations. This jamaat is mainly comprised of indigenous Mexican people who speak Spanish and Tsotsil, therefore, a translation of the sermon was also given in the local language. Eid-ul-Fitr gatherings also took place in the mission centres of Queretaro and Merida jamaats.