Last Updated on 18th June 2021
Talha Saifi, Mohtamim Ishaat, MKA USA
Rahman Nasir Sahib, Mohtamim Sehat-e-Jismani, Majlis Khuddam-ul-Ahmadiyya, USA reports that on 16 May 2021, MKA USA hosted their "Faith and Basketball" event.
The event was moderated by Secretary Umur-e-Kharija (Public Affairs) USA, Amjad Mahmood Khan Sahib, and Southeast Regional Qaid, Abdul Hai Thomas Sahib.
The panel included Abdul Shakur Ahmad Sahib. He played basketball at Wright State University in Dayton and converted to Islam Ahmadiyyat in 1979. Additionally, Usman Jamil Sahib, who served as Mohtamim Sehat-e-Jismani MKA USA from 2013-2017, was included in the panel.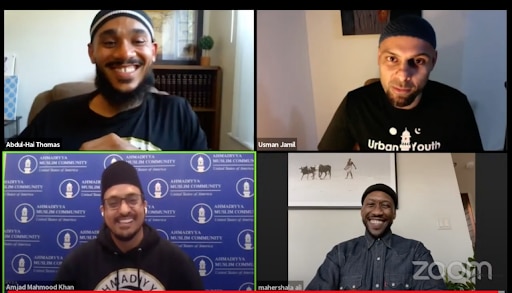 Usman Sahib's experiences include playing college basketball, being a high school head coach, and organising many basketball camps on both a Jamaat and non-Jamaat level. He plays a role in the highly successful Ahmadiyya Basketball Camps that take place around the world.
The final member of the panel was Mahershala Ali Sahib, who played division 1 college basketball and is a member of the Los Angeles Jamaat.
The programme was live-streamed on YouTube and over 100 viewers tuned in.
Following the programme, clips from the session earned tens of thousands of views. The full programme can still be watched online via the MuslimYouthUSA YouTube Channel.
The event commenced with a recitation of the Holy Quran. Abdul Shakur Sahib reflected on how the discipline and work ethic he learned from playing basketball translated to him fulfilling his responsibilities of being an Ahmadi Muslim.
Usman Jamil Sahib highlighted the importance of sacrifice and its relevance in basketball and faith. He drew a parallel between the physical sacrifices God imposes on us by giving the example of Ramadan, and how those sacrifices lead to spiritual progress, and the "mamba mentality" introduced by the late Kobe Bryant, who sacrificed so much physically by putting in hours of practise in order to become one of the greatest basketball players.
Mahershala Ali Sahib shared a personal story on the same subject, where he was offered two scholarships from two different universities. One university expected him to be part of a system with fewer shots and more passing, while the other wanted him to take the lead and take more shots. In his youthful innocence, he chose the school that offered him more shots, while the other school he denied gave that same scholarship to a "soccer player" from Canada.
Mahershala Sahib shared how he would chase after this kid off pick and rolls for the next four years. That kid was Steve Nash, who went on to win two Most Valuable Player awards in the NBA, and Mahershala Ali Sahib highlighted how Steve Nash chose a sacrifice upfront which led him to that success.
Many other topics were covered with both panellists and moderators. The discussion concluded with all the panellists sharing their current top players and all-time favorites. Before the discussion ended, Usman Jamil Sahib said:
"My GOAT [greatest of all time] when we talk about basketball and faith is Maulana Azhar Haneef Sahib. He was as skilled as they get, and for him to walk away from that and dedicate his life [to his faith] and to grow spiritually, come on now!"
Before concluding, Amjad Mahmood Khan Sahib shared that there were live viewers from Canada, London, and Fazl-e-Umar Basketball club in Rabwah, Pakistan.