Syed Shamshad Nasir, Missionary, USA
Unfortunately, a sad incident took place on the night of 8 October 2021, around 9:30 pm, when an individual walked up to the main entrance of the Mahmood Mosque in Rochester Hills, Michigan USA and vandalised the front door.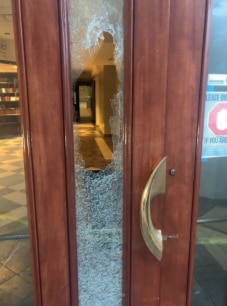 The main door of the mosque was smashed that left the front door with broken glass splattered across a wide area in and outside the mosque. Members of the Jamaat learned about the incident the next morning at Fajr prayers.
After the initial review and assessment, the incident was reported to the local police. Video footage along with pictures were shared with the police department where the incident has been under investigation by the Rochester Hills police department.
A team was formed under the local president, Maqbool Tahir Sahib. The team worked hard over several days to not only review the security cameras video footage but also engage the local law enforcement, interfaith leaders, media and neighbours.
The details of the incident were also shared with the interfaith communities and public leaders for observing precaution and vigilance at their places of worship. A letter was sent on behalf of Jamaat-e-Ahmadiyya to leaders of various religious groups across Michigan.
The Jamaat said they would forgive the vandal for his actions and reached out to him to learn about the Jamaat and remove any misconceptions.
The news generated overwhelming support from the community and interfaith leaders. Some of the comments about the incident are given below.
Lynne Muth, Chair, Faith in Justice, St John's Episcopal, Royal Oak, said:
"I read with sadness over the vandalism at your mosque. I remember the graciousness of your community in DRIVE and Coffee, Cake with a Muslim. You and your leadership and members work hard to build bridges in Southeast Michigan. At this time, I want to share my sadness and prayers of hope that love and goodness will conquer hate. May you feel the love and hope from others at this time."
A neighbour and friend of the Jamaat, Brenda Balas, said:
"How beautiful that even at this time, when something hateful happens that impacts your faith community, you think of the safety of others and reach out. Thank you for sharing this information with us. We, the interfaith community, are linked together by our love of diversity and inclusion, peace and justice. We are all impacted by this ugly act. We stand with you. We condemn these acts. We will be vigilant. We reaffirm our commitment to taking action to bring understanding, respect, and peace. We are praying for the members of your faith community and for peace in our community and world."
Bob Cornwall, Troy Interfaith, commented:
"Thank you for sharing this unfortunate incident. It is sad that houses of worship are attacked in this way. Let me know how I can be of assistance."
Patty Rehfus, Board President Congregation Shir Tikvah, commented:
"This is very sad news indeed. I am grateful that no one was injured. Please know that you are in my prayers and that we stand in solidarity with you. Thank you for sharing the information as well."
Rabbi Alicia Harris said:
"I wanted to send my prayers and echo those who have written already. Congregation Shir Tikvah and the whole Jewish community stands with you. We vehemently condemn this act of hate, and send you love and peace. Please know we are holding you in our hearts. I look forward to meeting you someday soon. We are in solidarity."
Fred, a community teacher said:
"Salam, I was so very sad to hear about the vandalism incident at your masjid Friday evening. To me, the Ahmadiyya are the most gentle sect in all of Islam – most nonviolent in both word and deed – as well as one of the most persecuted. May Allah bless you all […]. Hope you are doing well".
John E McCauslin from Central Woodward Christian Church commented:
"You are beloved. Please accept our sincerest wishes that this incident is soon behind us. When some of God's faithful are attacked all of us are under attack. Kindness is the way forward."
Rev Weatherly Burkhead Verhelst, First United Methodist Church of Troy, said:
"We will hold your congregation in our prayers tomorrow morning. My heart hurts that your mosque has been threatened this way. Thank you for letting the larger group know of this concern. Peace to you."
Phillip Kwik, Assistant Director, Troy Public Library, said:
"I am sorry this shameful act happened. I hope you are able to find those who perpetuate such hate."
Rial and Margery Hamann said:
"You and your faith community are in our prayers. We do not understand the minds of people who do such horrible things. Their acts are against the beliefs of every religion I have studied. Please know that we stand with you. Peace."
The Islamic Association of Greater Detroit (IAGD) commented:
"Salaam […] I am very sorry to hear what happened to the Ahmadiyya mosque. You are our neighbour to the West from IAGD, and I am appalled by this incident. Nobody and no community should have to go through this kind of vandalism and threat, particularly when it is a place of worship attended by women and kids. I hope and pray that the perpetrators will be brought to justice and all the faith communities will come together to support your community."
Nishat Haq from the Islamic Association of Greater Detroit (IAGD) said:
"Assalaamu-alaikum. We at IAGD are sorry to hear about the incident that took place last week. We hope and pray that this will not happen again, and our communities remain safe by the grace of Almighty. Please let us know if we can help in any way."
Dr Anil Kumar, a local Indian-origin politician who has run in the past Federal and State elections, said:
"I heard about the attack on the Ahmadiyya Muslim Community's Mosque. It's very despicable and our Indian Hindu Community and Christian community is really very supportive of the Ahmadiyya Muslim Community. Please give us a call if you need any help."
Ravi Yalmanchi reached out via a phone call and then sent a follow-up text message showing support and help. Ravi has been part of the city council of the city of Rochester Hills and has been a friend of the Jamaat for many years.
Nasy Sankagiri, Chair of Outreach, Bharatiya Temple, said:
"It is with deep feelings of sadness and empathy that I write to you, to show solidarity of your Hindu brothers and sisters from the Bharatiya Temple, in the aftermath of this hateful incident. In recent times, there have been hate-filled verbal attacks by vested interests against the Hindu community in the Troy area and on social media. We must be ever vigilant to protect our physical spaces of worship as well as our social spaces. Once again, we stand with you. Please feel free to call on me for any humble help I can render."
The message regarding the peaceful teachings of Islam Ahmadiyyat was amplified by wide coverage through the media, both print and electronic.
Some of the news stories can be viewed on the following links:
www.youtube.com/watch?v=-VOiVqC-gto
www.clickondetroit.com/news/local/2021/10/10/he-just-didnt-care-vandals-target-mosque-in-oakland-county/
www.wxyz.com/news/muslim-leaders-say-they-are-rattled-after-someone-try-to-break-into-rochester-mosque
https://news.yahoo.com/mosque-vandalized-rochester-hills-035035077.html
www.fox2detroit.com/news/mosque-vandalized-in-rochester-hills
www.fox2detroit.com/video/988244
www.fox2detroit.com/video/988276
www.fox2detroit.com/video/988183
www.fox2detroit.com/news/vandalized-mosque-imam-invites-suspect-to-talk-to-them
www.freep.com/story/news/local/michigan/oakland/2021/10/09/rochester-hills-mosque-vandalized-friday-night/6075226001/
www.theoaklandpress.com/2021/10/12/interfaith-community-leaders-reach-out-to-mosque-after-vandalism/
www.theoaklandpress.com/2021/10/10/vandalism-reported-at-rochester-hills-mosque/