Muhammad Jamal, Niger Correspondent
Jamaat-e-Ahmadiyya Niger had the opportunityto build a mosque in Sabon Machi, a city in the region of Maradi, Niger. The city of Sabon Machi is located 40km from Maradi city, the second-largest city of Niger and 700km from the capital, Niamey. It lies on the Dakoro-maradi route. The city has about 33 Ahmadi Jamaats nearby and serves as the centre for them.
A beautiful Ahmadiyya mission house already exists here, and at the moment a Muallim, Abdul Rehman Sahib, graduate of Jamia Ahmadiyya Burkina Faso, is also serving here, thus making this city an automatic natural choice for a mosque construction site.
The construction of this mosque started in March 2021. Regional Missionary, Abdullah Saqib Sahib oversaw the construction of the mosque.
The construction of this beautiful mosque was completed inthe shortest possible time and the inauguration took place on 16 May 2021.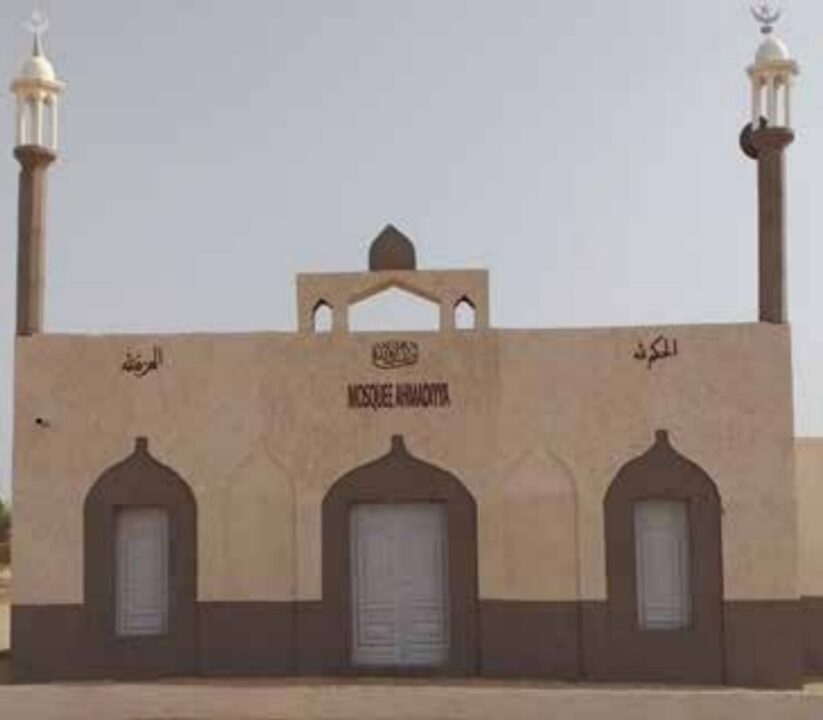 Asad Majeeb Sahib, Amir and Missionary-in-charge Niger, commenced the formal reception and inaugurated the mosque by removing the curtains and leading the silent prayer.
A large number of Ahmadis and non-Ahmadis participated in this blessed programme. The attendees included nearby village chiefs, the mayor of Sabon Machi and some members of his cabinet.
The inauguration ceremony was presided over by Amir Sahib. After the silent prayer, people entered the mosque and Amir Sahib Niger delivered the speech.
In his speech, he welcomed the guests and introduced Jamaat-e-Ahmadiyya. He reassured the local populace that this new Ahmadiyya mosque would be an ideal place to convey the message of the true Islam, Islam Ahmadiyya, free from all kinds of divisions.
Keeping the presence of non-Ahmadi guests in mind, he told the audience about the purpose of the advent of the Messiah and Mahdi and mentioned his true status as stated by Allah the Almighty and Holy Prophetsa.He told the audience that Jamaat-e-Ahmadiyya, under the auspicious guidance of Hazrat Khalifatul Masih Vaa, calls people to the true teachings of Islam and works to promote peace and harmony in the society.
After that, various authorities including the mayor of Sabon Machi appreciated the efforts of the Jamaat, thanked the Ahmadiyya Jamaat and gave goodwill messages. Amir Sahib's speech was followed by silent prayer.
Later, the guests were served refreshment and the children were entertained with sweets.
The mosque is 65 square meters and is located on a major road. This road leads to nearby Ahmadi Jamaats. The mosque can accommodate approximately 100 worshippers.
MTA system is already installed in the mission house adjacent to the mosque so that Jamaat members may listen to Huzoor's Friday Sermons and other programmes on MTA.
May Allah the Almighty reward everyone involved in the construction of this mosque and make this mosque a means of conveying the message of Ahmadiyyat and always keep this mosque inhabited with true worshipers. Amin