Atta-ur-Rahman Khalid, Missionary, Dublin, Ireland
Majlis Khuddam-ul-Ahmadiyya Ireland have been organising annual charity walks for a number of years to support local Irish charities.
This year's Charity Walk took place on 19 September 2021, at the busiest and most scenic area of Galway city, Salthill Promenade. This year, for the first time in the history of Jamaat-e-Ahmadiyya Ireland, a 200km charity cycle from Dublin to Galway took place alongside the 5 km walk.
The preparations for the event started about one and half months before. It was advertised in local newspapers and on social media. Three different radio channels not only made announcements about the charity walk, but also interviewed Ahmadi missionaries who had an opportunity to explain the humanitarian works of Jamaat-e-Ahmadiyya.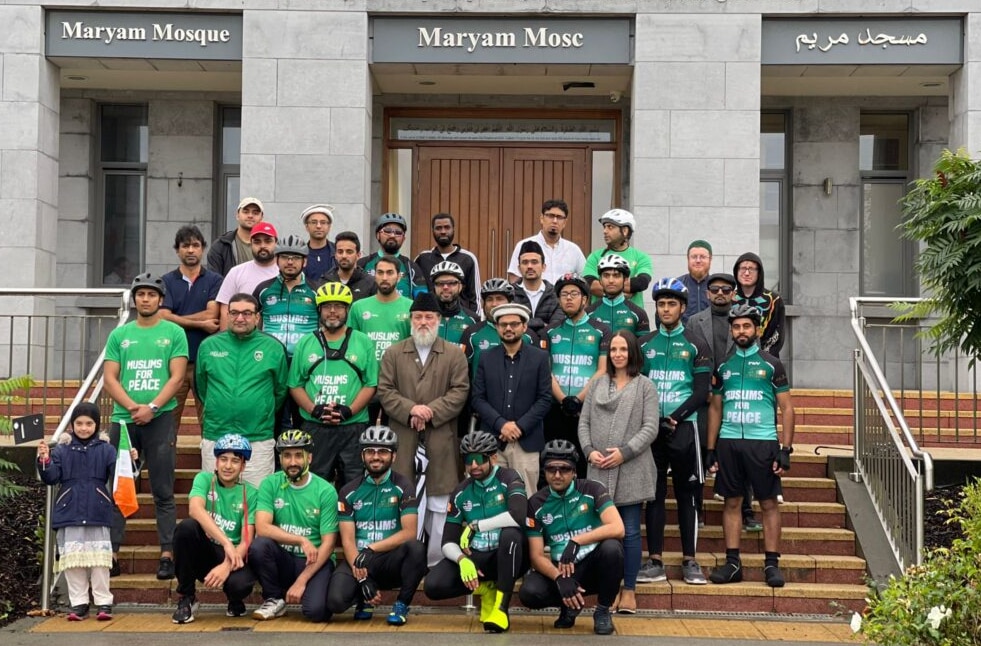 This year funds were raised through online fundraising pages, door-to-door cash collections by Majlis Atfal-ul-Ahmadiyya and registration on the day of the event.
Over 17,000 Euros were raised through the event for three charities: Croi, COPE and Simon.
In order to motivate members to take up cycling and enrol for the first-ever charity cycle, a number of events and training rides were held in the beautiful surroundings of Dublin city.
On 17 September 2021, at 9 am, a short ceremony was held at Corkagh Park, in South Dublin, to see the 12 cyclists off. The ceremony was attended by Mayor Peter Kavanagh and TD Emer Higgins who were invited to say a few words.
Although the day started off wet, spirits were very high. As the cyclists got onto the cycle greenway in Maynooth the skies cleared making way for some beautiful sunshine for the rest of the day.
Members of the public were able to see the message "Muslims for Peace" and the motto "Love for All, Hatred for None", which were printed on the jerseys.
Just after sunset, having cycled over 120 km, all the cyclists arrived safely in Athlone where they were welcomed by members of the Midlands Jamaat.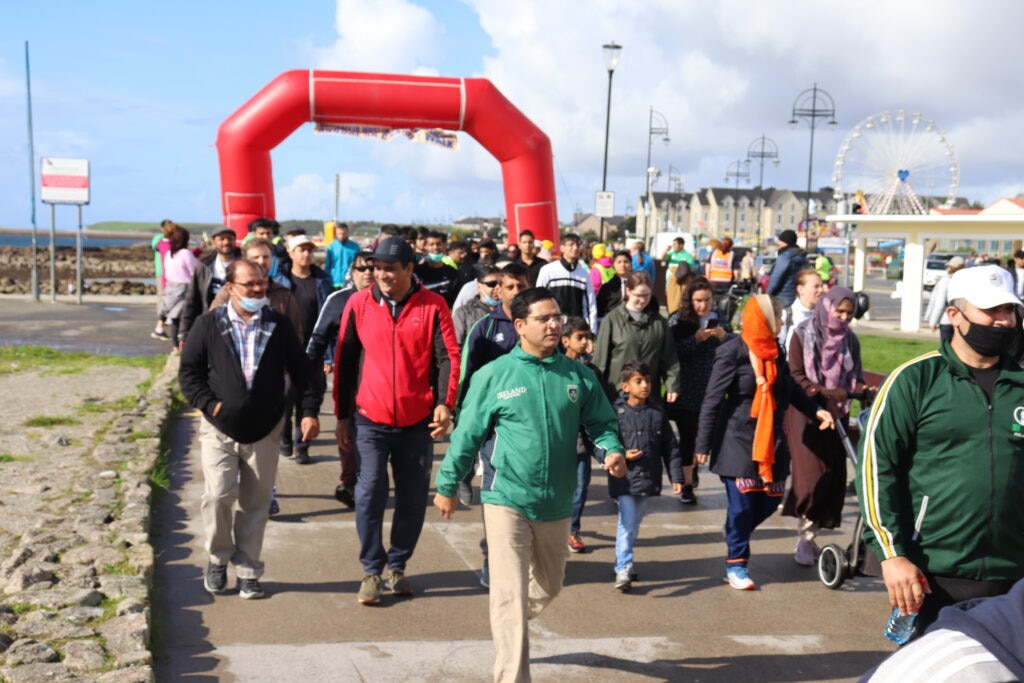 The next morning was an 80-kilometre cycle ride through the stunning countryside into Galway where there was a special reception for the cyclists at Maryam mosque.
The next day, the formal inauguration of the Charity Walk commenced at 11 am with a recitation from the Holy Quran. The chief guest, Eamon O'Cuiv who is a famous Irish politician and an old friend of the Jamaat, distributed medals amongst the Ahmadi cyclists, some of the organisers, charity representatives and top fundraisers.
Thousands of people learnt about Jamaat-e-Ahmadiyya and its humanitarian works, and over 150 people participated in the walk.
Majlis Ansarullah, Atfal-ul-Ahmadiyya and Lajna Imaillah made extraordinary efforts. Lajna members prepared delicious snacks for the charity cycle and charity walk inauguration.
Both events received good coverage in local papers, social media and on radio stations.