Last Updated on 12th November 2021
Al Fazl, 10 August 1923
On the fifth of this month as announced earlier, men and women gathered at Masjid Aqsa at the time of Maghrib. Hazrat Khalifatul Masih IIra combined the Maghrib and Isha prayers as heavy rain had poured throughout the day amidst cloudy skies. He then instructed the worshippers to offer Witr later on in their homes. He delivered a brief address as follows:
As I announced in the previous Friday Sermon, the foundations for the Berlin Mosque shall, by the grace of Allah the Almighty, be laid today. Its time, as we have come to know from the telegram, is three o'clock in the afternoon, which, in respect to the difference of timings, matches the current time here. Announcements regarding it have also been made externally.
We have also gathered here to pray that God Almighty blesses the construction of this mosque. Although a plot has already been purchased for a mosque in London, it has not yet been built as a mosque due to the fact that a sufficient and required sum of rupees has thus far not been accumulated.
Hence, our very first mosque in Europe is the Berlin Mosque. In fact, this is the first mosque built by Muslims though three mosques have already been constructed in Europe earlier. One is in Woking, which an Englishman had constructed, and the second is in France, which the French government have built. There is also an old and derelict mosque in Berlin which the government had erected too.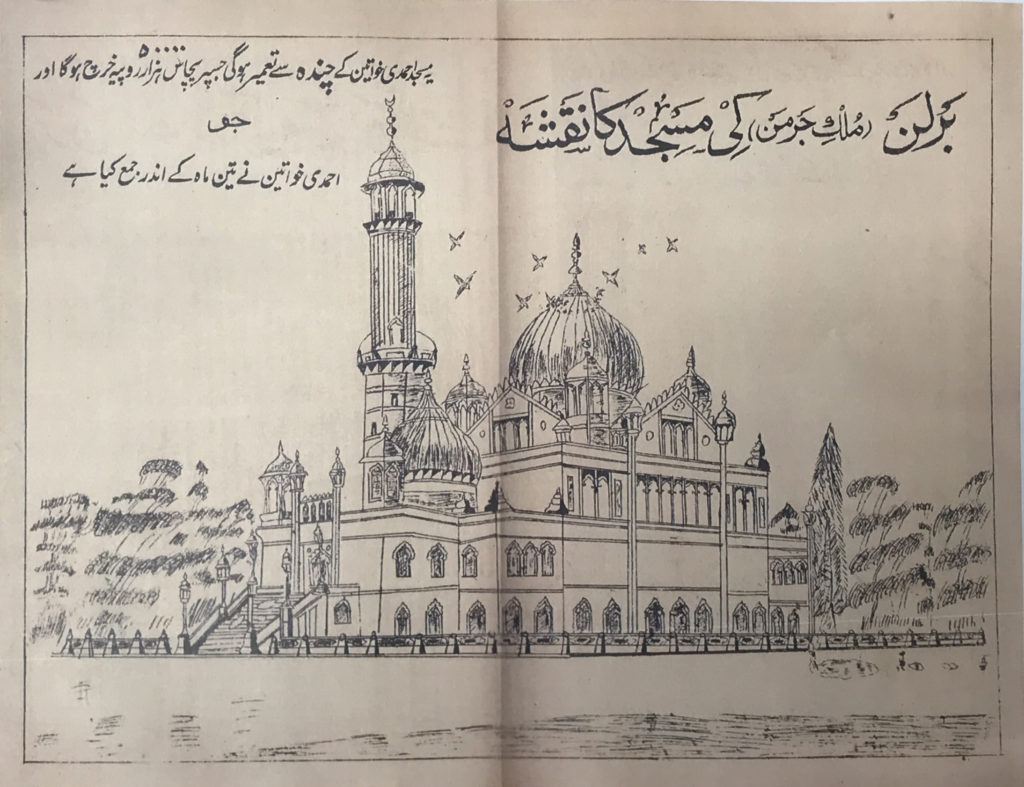 When the Germans captured numerous war prisoners from Russia, they consisted of many Muslims who numbered around 12,000 and the government had constructed that mosque for them. Hence, the very first mosque built by Muslims in present-day Europe shall be this mosque.
I specifically mentioned "present-day Europe" because Muslims have in fact lived in different parts of Europe for thousands of years and built mosques in those lands. However, those mosques disappeared when they were coerced into Christianity. To this day in Europe, there still exist mosques in areas populated by Muslims but they are not deemed to be part of Europe, rather they are declared to be outside its territory.
Hence, this area, which is considered to be Europe and from where Muslims were ousted at the time holds its very first mosque. For this reason, it is my desire for all of us to collectively pray that God Almighty blesses this mosque and makes it a means for the propagation and expansion of Islam.
Along with the progress of the Jamaat, the mosque in which we are currently gathered is similarly also entitled for expansion. For this objective, there was an old plot of land which we had purchased. However, due to some reasons, it was not included. I have now thought that if we use this part to offer prayers, we might as well get the one adjacent to this new plot.
I shall initially place its foundation stone and then return here to pray.
Afterwards, Huzoorra headed downstairs with a few companions, descending the staircase of the mosque's southern flank. He placed seven bricks with his hands into the eastern corner of the present mosque. Then, he went back to the mosque and led a lengthy supplication in which both men and ladies participated.
(This mosque could not see completion and was built in the time of Hazrat Amirul Momineen, Khalifatul Masih Vaa and was formally inaugurated in 2008.)