Last Updated on 20th November 2020
Sadaqat Ahmad Sahib, Missionary-in-charge Jamaat-e-Ahmadiyya Germany, said:
"I was immensly happy when I was informed by the private secretariat that Hazrat Amirul Momineenaa had kindly approved a virtual meeting with the missionaries in Germany for 15 November 2020. At the same time, however, with the escalation of the coronavirus pandemic, there were fears and anxieties that the government might announce precautionary measures and the opportunity to meet Huzooraa and seek his guidance could be lost. But with the grace of Allah, no such obstacle arose.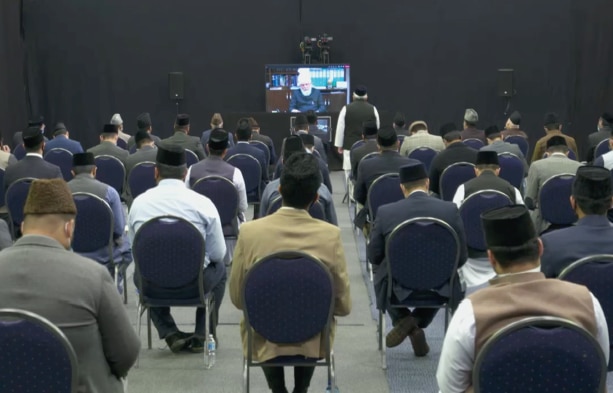 "This was the first meeting of German field missionaries with Huzooraa since my appointment as missionary-in-charge Germany. Where I was anxious about my own performance since assuming this responsibility, there was also a concern that we should be fully prepared whilst answering any question asked by Huzooraa during the meeting. All missionaries were busy preparing for their respective jamaats and at the same time, prayers and istighfar were also going on that Allah the Almighty may cover our shortcomings. All missionaries were encouraged to give sadaqah before the meeting.
"Seeing Huzooraa live in front of us like this caused our hearts to fill with joy and happiness.
"We saw Huzooraa and carefully took notes of the instructions he gave directly to the missionaries of Germany. A new energy and strength emerged in our bodies and souls, alhamdolillah.
"May Allah reward all the members of the MTA team who worked day and night to provide us with this extraordinary joy. Amin.
"I was nervous at the beginning because Huzooraa was to address me first of all. I had only uttered half a sentence to express gratitude for granting us this blessed opportunity, when Huzooraa said with a smile, 'You have conveyed your thanks, now let us move on.'
"All the instructions of Huzooraa are a way of life for us, but what I especially want to mention is his advice in which he said that missionaries should try to have a living relationship with God, offer Tahajud for at least one hour, try to improve their spiritual conditions, recite the Holy Quran and reflect on its deeper meanings, because the spiritual change which we will bring in ourselves will lead to the transformation of the members of the Jamaat.
"Another piece of advice that Huzooraa gave us and which I consider necessary to mention – because without following it, there is no guarantee of our spiritual life – is that every command and every guidance issued by Khalifatul Masih must be obeyed at any cost. We must accept it and try to act upon it completely. There is no need to interpret it according to our thinking and this is what we have to try and instill in the hearts of other members of the Jamaat.
"May God help us to understand this and explain it to others. More than an hour in Huzoor'saa blessed company passed by very fast. We are happy and our hearts are full of gratitude and we feel a new zeal, enthusiasm and strength to carry out our assigned duties.
"I pray to Allah the Almighty that He may bless our dear Imamaa in his life and works. May his blessed shelter always remain over our heads and create beautiful opportunities of service for us. Amin."
Laiq Ahmed Munir Sahib, Missionary of Jamaat Hamburg, said:
"Today was a lot like Eid day for us. We are always conscious about whether we are able to live up to the expectations Huzooraa has from us; however, talking to Huzooraa and taking direct guidance from him is what keeps us motivated.
"From this mulaqat, I was encouraged by the way Huzooraa comforted us and reminded us of our responsibilities and the feelings of anxiousness turned to reassurance."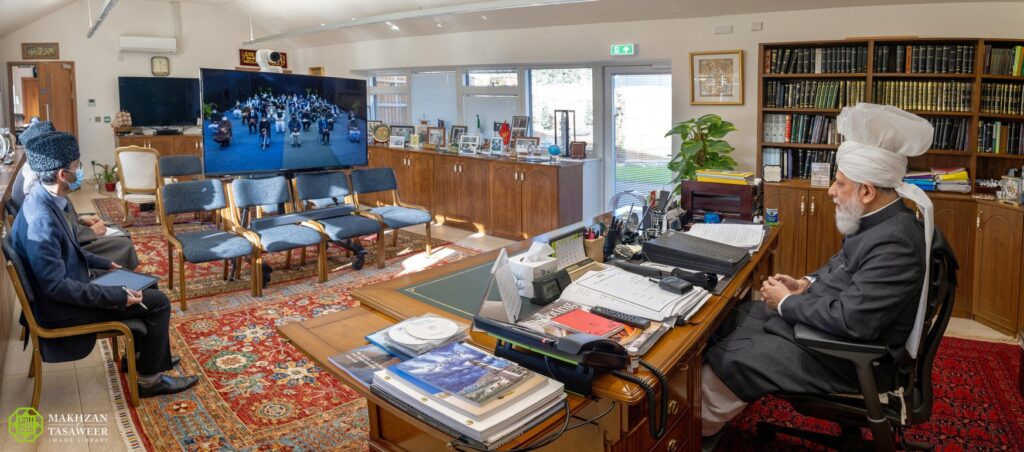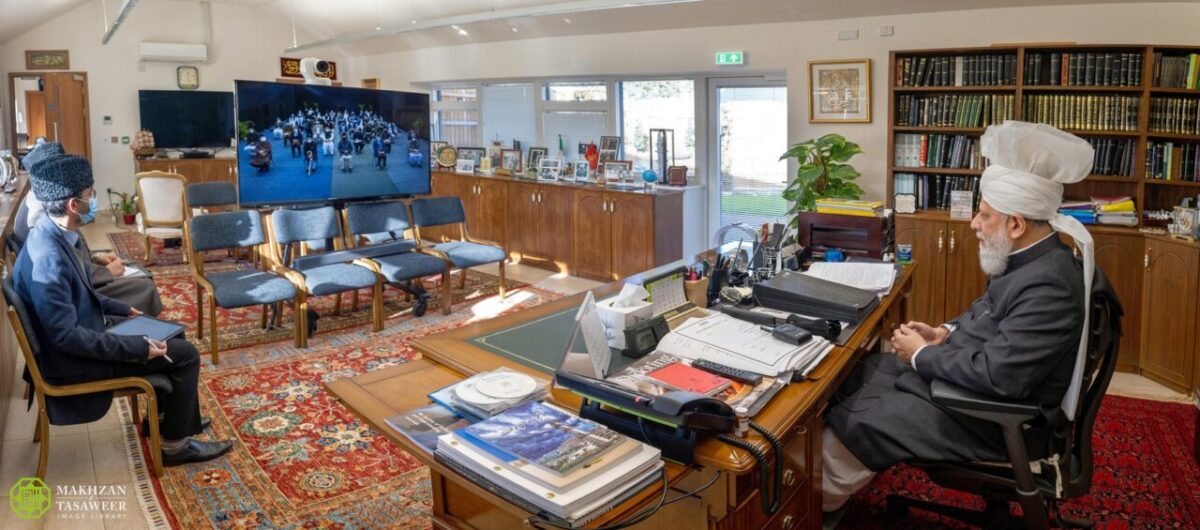 Basil Tariq Sahib, missionary of Groß-Gerau said:
"Before the meeting, there was a slight feeling of anxiousness as it was the first experience of meeting Huzooraa online. While realising my weaknesses, I kept on seeking Allah's forgiveness that He may cover up my shortcomings, and I offered Sadaqah as well.
"What a great blessing Khilafat is! In today's meeting, we learned that without progress in spirituality, we cannot become true servants of of Khilafat. Another thing which we learned is that we should obey each and every guidance of Khalifatul Masih and should never make our own interpretations. It was a very blessed meeting. It was a source of great pleasure. May Allah the Almighty keep us under Huzoor'saa shade forever. Amin."
Sajid Ahmad Naseem Sahib, Missionary of Kassel Jamaat, said:
"We eagerly desired for this pandemic to end soon so that we may have the opportunity to meet the most beloved of God in this world again.
"When there is no Jalsa Salana and no other Jamaati activity, then this desire surges. However, Allah bestowed His grace upon us and our dear Imamaa compassionately took time out for us.
"During the mulaqat, we learned that we should strengthen our relationships with God and strive to become truly obedient servants of Khilafat-e-Ahmadiyya.
"The virtual meeting experience was very good. Until the meeting started, it seemed as though we were watching a live programme on television. But as soon as Huzooraa was seen, instantly, that feeling vanished. It felt like it was a face-to-face meeting."
Mashood Ahmad Zafar Sahib, Missionary of Jamaat Mahdi Abad, said:
"Emotions before and after the meeting were very different. Until the arrival of Huzooraa, there was some fear and apprehension, but when he was suddenly seen sitting in front of us online, there was no end to the joy. Seeing his face, the situation changed completely. I had never imagined such a meeting.
"Huzooraa not only recognised some attendees, including myself, who wore masks, but also called them by name. This was a very happy moment for me. I also noted how much my dear Imamaa cares about the physical health of missionaries.
"The online meeting experience was a first, but in the current situation, it is a great blessing in fact. May Allah bless our Imam with a long and healthy life. Amin."
Shahid Ahmad Butt Sahib, a missionary, said: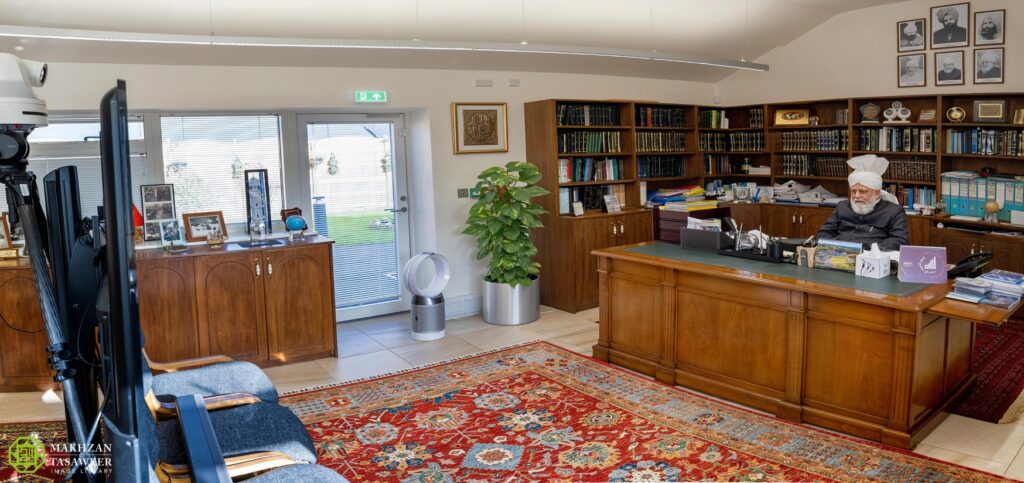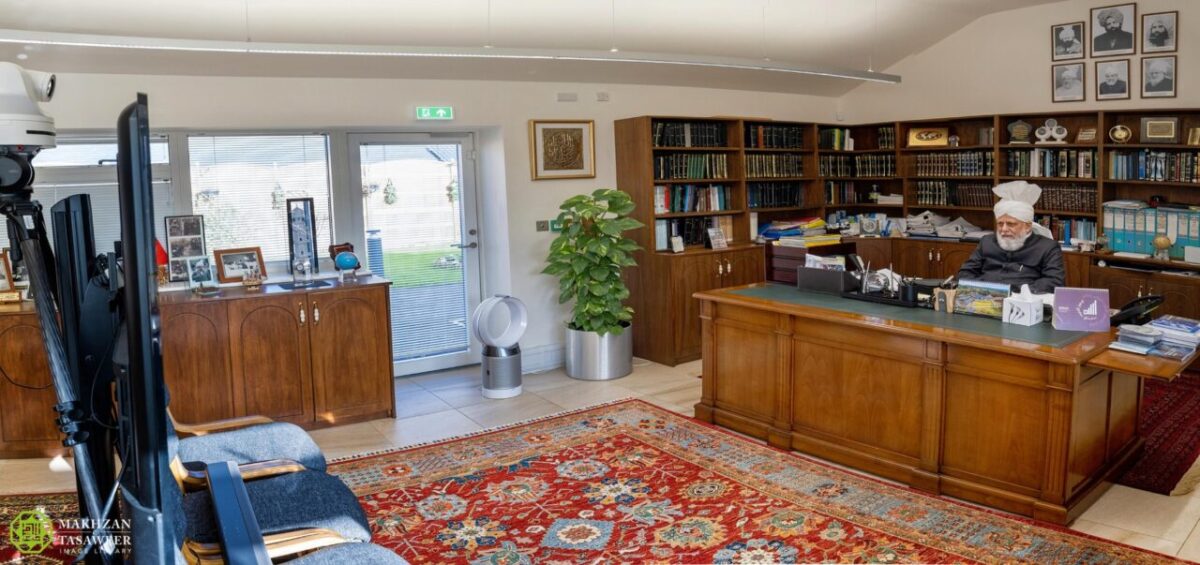 "Alhamdolillah, I was blessed with my first meeting with Huzooraa since 2014. Before the meeting, I had the same concerns as the other missionaries had, not knowing what Huzooraa would ask, so I kept praying that Allah the Almighty would conceal my flaws. My dear Imamaa addressed me with a smile and remarked, "You look very tense". This removed all my previous anxieties and gave me the courage to get up and ask questions.
"I learned from this meeting that sometimes we get so engrossed in occasional and unnecessary details in order to find solutions to problems that we get away from the duties and the real purpose. Huzooraa, like a compassionate teacher, advised us to turn our attention towards the basic and principal things, following which man can achieve success. He also taught us how to grow in spirituality and progress in nearness to God.
"I have never enjoyed an online meeting so much. It felt as if Huzooraa was amongst us and not hundreds of miles away.
"Huzooraa once again taught us that the guidance of the Khalifa should immediately be followed, instead of making our own interpretations. This should be the level of obedience.
"May Allah the Almighty grant us the ability to put into practice the advice of Huzooraa with the spirit of obedience and grant us the ability to become his ardent servants. Amin."
Muhammad Zafarullah Salam Sahib, Missionary of Jamaat Trier, said:
"The hadith of the Holy Prophetsa was once again fulfilled with more grandeur that in the Latter Days, distances would be reduced. Our hearts were filled with praise and our attention was repeatedly drawn to the revelation of the Promised Messiahas:
انت الشیخ المسیح الذی لا یضاع وقتہ
"'You are that noble Messiah, whose time shall not be wasted.' May Allah the Almighty grant health and safety to our dear Imamaa and make us his ardent servants and grant us the fruits of these online meetings more than our expectations. Amin"
Kamran Ashraf Sahib, Missionary of Rüsselsheim, said:
"I was very tense before the meeting, but when the time for the meeting approached, I was very nervous because it was my first meeting with Huzooraa since becoming a missionary. When I saw Huzooraa, I felt a sense of relief and all my worries vanished. After the meeting, my heart felt very happy and my soul felt refreshed.
"I had the opportunity to learn many things. Huzooraa had said that we should offer Tahajud prayer for an hour daily and establish a strong relationship with God and that when we recite the Holy Quran, we should reflect on its meanings for one hour.
"It was my first experience of an online meeting and it was great, even in these circumstances when we cannot physically meet our Imamaa.
"I want to state that our success lies in our bond with Khilafat and we are very fortunate that our Imamaa took time out of his precious schedule to meet us. May Allah help me and all of us serve our Imamaa. Amin."
Nafees Ahmad Ateeq Sahib, Missionary of Jamaat Mörfelden, said:
"Allah the Almighty promised to the Holy Prophetsa that he would be granted awe across a distance of seven nights. This miracle is still seen today in the servant of Muhammadsa, Khalifatul Masih. Despite the distance of several hundred miles, even though it is so far away, even though it was online, the spiritual reflection of Huzooraa appeared with all its beauty and glory. during the meeting."
Javed Ahmad Sahib, Missionary of Jamaat Wittlich, said:
"I had no idea what it would feel like to see Huzooraa through a virtual meeting. This was exactly the scene during the meeting and it was felt that the angels of God Almighty were conveying our voices to Huzooraa and were busy conveying his blessed words to us. When the meeting was over, it seemed as though that scene was over and we were back in the normal world."
Shakeel Ahmad Sahib, Missionary of Jamaat Hamburg, said:
"Alhamdolillah, Huzooraa kindly granted us the honour of having an online meeting. We were all nervous and got prepared as well, in case Huzooraa enquired about specifics. Huzooraa was introduced to everyone and then gave us valuable advice. This meeting was very important for us and has created a new motivation and spirit in everyone.
"All the words of Huzooraa are noteworthy for us. On one question, Huzooraa instructed us to make good relationships with new converts and train them with love and affection. When they are taught about the importance of prayers and financial sacrifice, they will act accordingly. We should teach them Salat and its translation as well. Huzooraa reminded missionaries that according to a hadith, we are all answerable to Allah about those whom we are responsible for. Huzooraa instructed to keep him informed through letters also."
Saeed Arif Sahib, Missionary of Jamaat Berlin, said:
"Before the mulaqat, I felt excitement; however, after the mulaqat, I felt motivated to work harder on my spirituality. I learned that I need to be obedient without interpreting instructions. I had to get my head around understanding that I am not watching Huzooraa on MTA but that it is an online mulaqat where I can also be seen by him. I would love to have mulaqats like this in future also."
Ferhad Ghaffar Sahib, Missionary of Jamaat Wiesbaden, said:
"The experience was amazing. It seemed as though I had found something I had lost. Due to the pandemic, personal mulaqats are not possible and the thirst of seeing my beloved Imamaa increased to such an extent that I felt empty inside. Huzoor'saa voice during a mulaqat differs from a khutba, something which I truly missed. It was heart-warming to meet Huzooraa once again.
"Huzooraa gave some important advice regarding some issues we have to face in the field, but he also addressed issues which we face in our daily lives, spirituality for example. Huzooraa focused on the importance of Tahajud and the recitation of the Holy Quran. The experience was amazing. The thirst I have had is finally quenched. It is incumbent upon us to follow every single directive given in the mulaqat."
Syed Abrar Shah Sahib, Missionary of Jamaat Nidda, said:
"When I came to know about the mulaqat, on the one hand, there was a state of joy and on the other, pondering upon my flaws, I was also in a state of fear. I was reminded that the only way to succeed is to establish a living bond with Allah the Exalted. It is always something special for a believer sitting in front of a person most beloved to Allah the Almighty."
Syed Salman Shah Sahib, Missionary of Jamaat Bremen, said:
"Like all missionaries, before the meeting, it was definitely a time for self-reflection and to pray to Allah to cover any shortcomings we may have. There was also a deep sense of happiness that I would be interacting with my beloved Imamaa again, face to face, for the first time in a long while, albeit through the blessings of technology that Allah has given us. One thing in particular that stood out to me was that although we should take every word that Huzooraa says as an instruction or an opportunity to learn, whether it is through Friday sermons, speeches or personal mulaqats; however, we constantly need reminders. Much like a parent morally trains their child, Huzooraa wants us to achieve the high level of expectations he has of us. Huzooraa explained the way to do that; by strengthening our bond with Allah. Huzooraa shows so much affection for missionaries, but we need to reciprocate by showing results and prove we are worthy of his love and care. Huzooraa had reminded us that until we perform Tahajud with humility for at least an hour and read and understand the meanings of the Holy Quran, we can never be successful in this world."
Athar Sohail Sahib, Missionary of Jamaat Florsheim, said:
"I thank God Almighty for giving us this opportunity. For a long time we have been longing to see Huzooraa face to face. Alhamdolillah, Huzooraa graciously took time out for us. Our Imamaa, while telling us the purpose of life, said that we should grow in our relationship with God, work in the field with the help of God Almighty and then our work will be blessed, insha-Allah. As far as Huzoor'saa presence is concerned, it is something very special. But in these circumstances, the opportunity of this online meeting is, of course, the culmination of bliss and happiness that cannot be put in words. While this is a source of happiness, there is also a great responsibility that we must try our best to meet the expectations of Huzooraa."
Haseeb Ahmad Ghumman Sahib, Missionary of Jamaat Kiel, said:
"It was a pleasure to have such an opportunity, but since it was about responsibilities and duties and I knew that I could be asked about this, there was also a fear.
"As soon as the meeting started, a strange situation arose. As soon as we heard Huzoor'saa voice, the fear turned into peace and a smile appeared on all our faces; this continued throughout the meeting. And so far, there is a state of peace and happiness which is difficult to explain.
"I was able to learn a lot and I felt an amazing impact in every word said by Huzooraa. Surprisingly, if the same thing is heard from someone else, it does not leave such a deep impression on the heart. But every word uttered by Huzooraa has a profound impact and is a treasure trove.
"The bottom line is that I have learned to be consistent, not to tire and to forge a connection with Allah; this is the solution to every problem.
"This meeting greatly motivated me. The guidance of Huzooraa has been very encouraging and a strong desire to fulfill our responsibilities in a better way and to become his true servants has touched my heart. It is a great blessing of Allah that He gave us such an opportunity. May Allah help us and enable us to follow all the instructions of Huzooraa. Amin."
Mansoor Ghumman Sahib, Missionary of Reutlingen, said:
"It was astonishing that Huzooraa remembered the names of the missionaries and it seemed that he knew everyone personally. His compassion for each missionary with a smile on his face showed his deep love for us. It is a great characteristic of Huzooraa that he presents easy points and solutions."
Naveed-ul-Haq Shams Sahib, Muavin Daftar Missionary-in-Charge, said:
"Prior to the meeting, it was clear that the responsibility as a missionary is huge. However, the hope was that Huzooraa would pray for us and grant us golden advice. After the meeting, we realised that with each advice, our responsibilities increased.
"May Allah help us fulfill our responsibilities. I have noticed that even though Huzooraa has hopes from young missionaries, he completely relies on God Almighty. We should thank Allah that Huzooraa gave us so much time from his busy schedule."