Saleem Shaukat, Secretary Tabligh, Jamaat Adelaide South, Australia
Jamaat-e-Ahmadiyya Adelaide South held Holy Quran exhibitions and Islamic bookstalls to present the peaceful message of Islam Ahmadiyyat to Australians.
As restrictions eased up after the pandemic, Jamaat Adelaide South is back on track trying to hold these displays in regional areas of South Australia.
This month, an annual – and very large – country show was held in Kingston SE. This year it was the 135th Kingston SE Show. Kingston SE is around 290 km away from Adelaide city and its total population is 2,380.
Jamaat-e-Ahmadiyya Adelaide South got a chance to hold a stall in the show. It was the first time a tabligh stall was held at the Kingston SE Show in which waqifeen-e-nau also participated and experienced preaching Islam first hand. They thoroughly enjoyed the trip as this was a new experience for them and indeed they helped a lot.
On 3 October 2021, a group of seven Jamaat members travelled to Kingston SE. This journey started from the Noor Mosque, with silent prayers at 4 am. The duration of the journey to Kingston SE was around four hours. When the members arrived in Kingston SE, they set up the exhibition at the show. The weather was not favourable as heavy rain started while we were setting up the stall.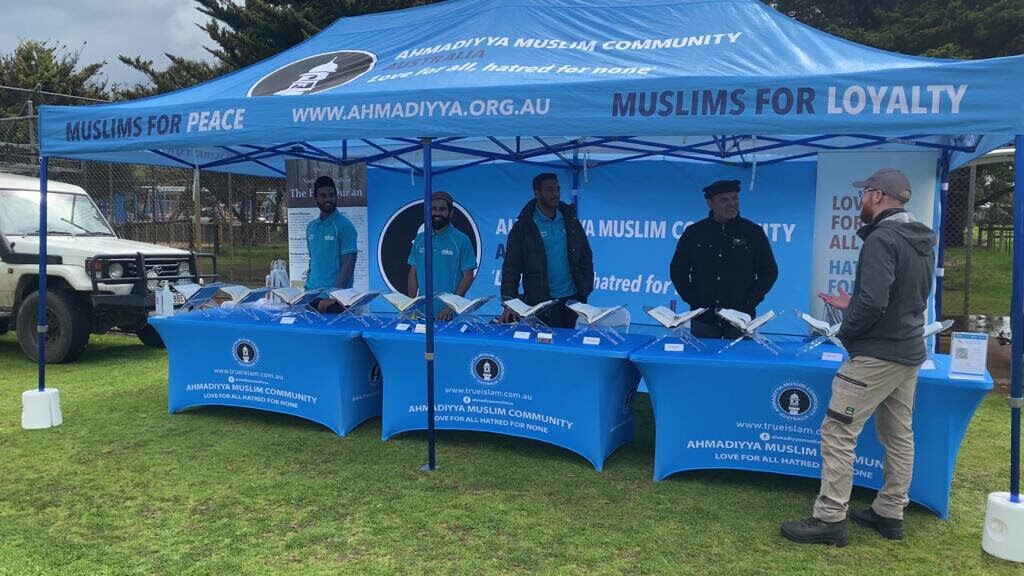 At 9 am the show officially commenced. There were a variety of different stalls. These included food stalls, a horse cultural show and agriculture stalls etc. Through Allah's blessings, the weather also cleared up as the show began, helping our stall with more visitors.
People from different parts of the region came to the show. Around 1,200 people visited the show and about 150 people came to our stall, had conversations about Islam and discussed some books we had on display. The visitors were very impressed with the information we had on display. Through the display of the stall, the peaceful message of Islam reached around 800 people.
The exhibition included ten different translations of the Holy Quran in various languages, and other books such as Life of Muhammad, The Philosophy of the Teachings of Islam, World Crisis and the Pathway to Peace and Islam's Response to Contemporary Issues.
We also had various leaflets – some of these were titled: "Muslim for Peace", "Muslim for Loyalty", "Muhammadsa in the Bible" and "Messiah has come".
The president of the show also visited the stall and encouraged the way we were displaying the stall peacefully without disturbing other stallholders.
Many people who visited the stall saw the Holy Quran for the first time in their lives and eagerly wanted to touch and open the Holy Quran.
Verses of the Holy Quran, written in Islamic calligraphy, were also displayed.
Some of the questions which were asked to us by members of the public were based on topics such as:
• How Muslims can build peace in the world?
• The Messiah
• Women's rights
• Shariah law