Zubair Khalil Khan, Director Projects, South-East Europe, Humanity First Germany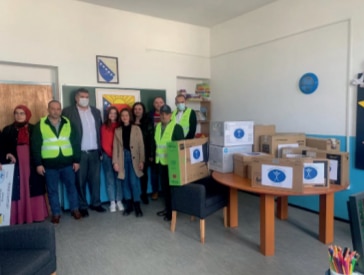 Kiseljak is a town and municipality located in Central Bosnia Canton of the Federation of Bosnia. The town has an approximately 23000 population, of whom 63% are Catholic Croats, 35% Muslims and 2% Orthodox Serbs. After the Bosnian War, many Muslim families who migrated from the town started coming back but not in the same number as were prior to the war.
The school, Kiseljak 1, the first four-grade state school, was built and started operating in 1907 and was located on the site of today's school.
Until World War II, the school had two teachers, and in one school year, a maximum of 120 students were enrolled. From 1970 to 1975, new school buildings were built in Brestovsko and Bilalovac with a total of 13 classrooms and other accompanying rooms for modern teaching.
With the rapid development of education in this area, there was a need to form an independent primary school in Brestovski (Hrastovi), which includes the regional four-grade school in Bilalovac.
Until April 1992, the school was attended by students from the area of MZ Brestovsko, MZ Bilalovac, a small number of students from MZ Gromiljak, and from the municipalities of Visoko and Fojnica.
Afterwards, due to the war, the school stopped operating. Now, the work of this elementary school has been continuously going on since 4 October 1993, but under the new name of the elementary school, Kiseljak 1, Bilalovac.
The school has a total of 793 students and 107 employees. In addition to the fact that the school has a complex teaching process, the students participate in all municipal and cantonal competitions, organised by various bodies.
A few months ago, the director of the school, Mr Nermin Merhemic approached Mufeezur Rehman Sahib, Director Humanity First Bosnia, to provide help in the procurement of IT-related equipment. Director Humanity First Bosnia approached Humanity First Germany for the provision of funds. Due to the kind courtesy of Humanity First Germany, approximately 10.000 euros were earmarked for this Bosnian school. In accordance with the demand of the school, six laptops, two printers, 3 computers, four sound boxes, a monitor and four projectors were procured.
On 21 February 2022, during a ceremony, the equipment was handed over to the school authorities.
While addressing participants, the school director, Mr Nermin Merhemic, very amicably explained his concept of utilisation of the equipment donated by Humanity First. He also whole-heartedly thanked Humanity First for this generous and timely donation in the field of education.
In the end, the director of the school presented memorable souvenirs.