Besmir Yvejsi, Secretary Ishaat, Jamaat-e-Ahmadiyya Kosovo
Kosovo is one of the last countries in the Balkan Peninsula which was affected by Coronavirus and according to the National Institute of Public Health of Kosovo, the first case in Kosovo was recorded on 13 March 2020. However, on 11 March, the Government of Kosovo had already interrupted the educational process in public and private educational institutions at all levels in Kosovo, as a precautionary measure.
In the middle of March, Kosovo Education Ministry had started online teaching for all grades of primary and secondary schools and by the expertise of the Government, this online teaching will continue for more than six months. The problem is that the online teaching will be accessible to children via internet and the children which are not in a good financial situation and their parents are in social assistance, will have difficulties to take part. The government is not in a position to help these families because they are helping them with food packages.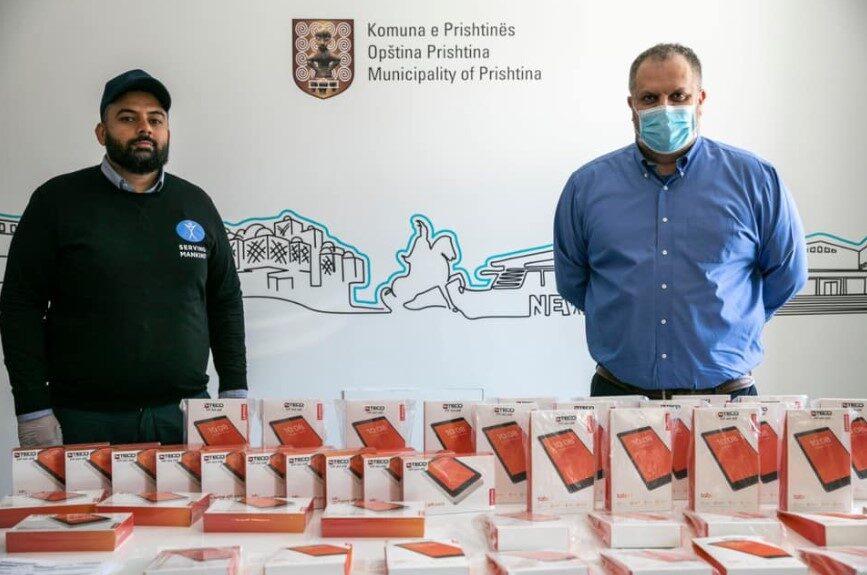 A request to Humanity First from the Municipality of Prishtina came to equip these children with laptops or tablets, so that the children can participate in virtual learning. So, on 24 April, Humanity First Germany donated 45 Lenovo Tablets to the Municipality of Prishtina. The Mayor of Prishtina, Mr. Shpend Ahmeti, thanked Humanity First Germany in all its official social networks (Facebook, Instagram and Twitter) for this successful assistance, and said:
"To our call for donating electronic devices for the children of Municipality of Prishtina, many different citizens and companies have responded. Today we have received 45 tablets from Humanity First. We thank them all for supporting the initiative so that no child in Prishtina is left without attending distance learning".
The Municipality of Prishtina was also thankful for this donation, and said:
"We are amazed by the response of citizens, institutions and businesses for the equipments they are donating to the children of our city. We are very happy for our community and especially for our children. During these days, many individuals, businesses and organisations have joined us. So, on behalf of the children of the city and the Municipality of Prishtina, thank you all for your contribution".
Some online newspapers have also published the news about this donation and the total number of those who have followed this donation is about 900,000 people. All this help reminds us of the keynote Address of Hazrat Amirul Momineen, may Allah be his Helper, at the Humanity First International Conference 2018, where he said:
"Wherever people are facing material suffering and deprivation of any kind, Humanity First should seek to be at the forefront of providing aid and assistance. No matter where in the world, or which communities they hail from, Humanity First should seek to provide relief to those mired in poverty or hardship".
We request all readers of Al Hakam to pray for the whole world in general and for the people of Kosovo in particular, that God Almighty protect them and that they get rid of this pandemic as soon as possible and return to normal life. Amin